Long-Term Disability Lawyer Serving New Haven, CT
Developing a health condition that is serious enough to take you out of work can be an upsetting and stressful experience.  It can be a comfort to have long-term disability (LTD) insurance to fall back on, but filing a claim can be difficult and confusing, especially if you are trying to manage your health at the same time.
The legal team at Chisholm Chisholm & Kilpatrick serving New Haven, CT is available to help you with your claim.  Whether you are filing your initial claim or appealing a loss or denial of benefits, the attorneys at CCK have the experience you need to help you successfully get the benefits you deserve.  For a free consultation with a member of our team, you can contact us today at (401) 251-0641.
How CCK Can Help You With your Long-Term Disability Claim
You always have the option of handling your long-term disability claim yourself, but there are benefits to contacting a lawyer.  CCK attorneys serving New Haven, Connecticut have 33 years of collective experience working with long-term disability and ERISA law.  When our attorneys review your policy, they will be able to help you understand the definition of disability you must meet for your claim to get approved, and guide you through the process of collecting the best evidence.  CCK will act as a point of contact between you and your insurance company, handling all interactions and ensuring that your claim is being treated fairly.
Insurance companies do not tend to prioritize the claimant over their own business needs, and our lawyers understand how this can cause difficulties for your claim.  If your benefits have been denied, or wrongly terminated after an initial approval, our lawyers may be able to help.  We understand that dealing with an insurance company can be difficult when you do not feel that you are being treated fairly.  CCK can step in and handle the burden for you to ensure your claim is being taken care of correctly.
If you are appealing a wrongful denial of benefits, ERISA law may affect the way your case is handled.  Under ERISA, the appeal stage is the last chance you will have to submit new evidence.  If your case is denied again and taken to court, you will not be able to submit further evidence.  Our attorneys can assist you in gathering the right kind of evidence for your appeal so that you can avoid taking your case to court at all.  CCK wants to make the long-term disability process as smooth as possible for you.
Our Attorneys Know How to Fight for Your Long-Term Disability Benefits
You will need to meet your policy's definition of disability to be granted long-term disability benefits by your insurance company.  Our attorneys serving New Haven, CT will thoroughly evaluate your policy to gain an understanding of what evidence will best support your claim.  We have worked with clients from different backgrounds and professions, successfully filing claims for psychiatrists and contractors alike.
While medical records are often the most important source of evidence in a long-term disability case, these documents alone may not be enough. Especially if you were diagnosed with a mental health disorder, you might need additional proof to claim benefits for bipolar disorder, depression, and other conditions. Additional types of evidence can include:
A report from your treating physician:

A personal report written by your treating physician can illuminate certain aspects of your condition that are not clear in your medical records.

For example, if you suffer from asthma

, your physician may be able to highlight how certain symptoms specifically disable you and show how severely your condition affects you.

Their report can help you claim

benefits for asthma

.

Testimony from personal acquaintances: Loved ones and coworkers have likely witnessed how your health condition has come to affect you.  It can be a good idea to get testimony from people who have seen how you function with your disability in your personal and professional life.  They may be able to point to certain ways your condition negatively affects you at home and in your work environment.

Their testimonies can increase your chances of securing

benefits for breast cancer

and other debilitating conditions.

Additional opinions from medical and vocational experts: The attorneys at Chisholm Chisholm & Kilpatrick have a range of connections to outside experts who can help strengthen your evidence with additional evaluations.  Such evaluations can include functional capacity evaluations, neuropsychological evaluations, and evaluations of how well you are able to perform not only your own occupation, but any occupation.  Documentation from vocational experts can serve as a strong way to back up your medical records.

If you suffer from a severe condition, like leukemia, you may not be able to work at all.

Medical and vocational experts can help you prove that to insurance companies.

Documentation from vocational experts can back up your medical records to help you specifically access

benefits for leukemia

.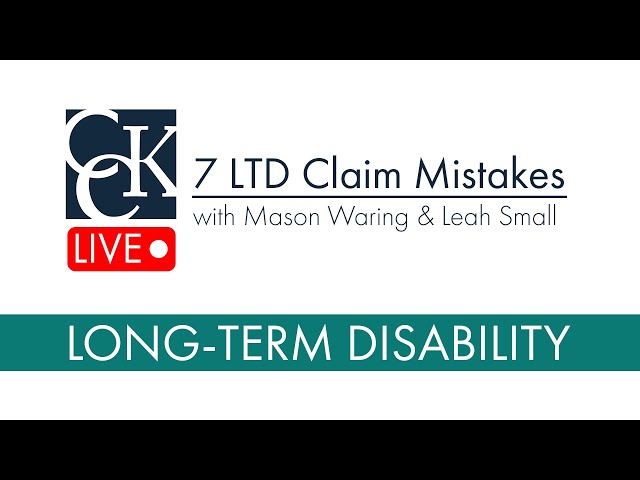 Chisholm Chisholm & Kilpatrick Can Guide You Through the Long-Term Disability Process
CCK knows that filing for long-term disability while trying to manage a disabling health condition can be stressful and exhausting.  We can help you manage this process and take the burden of paperwork, deadlines, and communication with your insurance company off your shoulders.
The attorneys at CCK have the experience and expertise to navigate the long-term disability process with as little worry as possible.  They will keep track of important deadlines, make sure that your doctors and your insurance company are responsive to your needs, and ensure that all the right evidence and documentation is acquired.
If your claim is approved and you begin to receive monthly benefits, your relationship with CCK does not have to end there.  We will continue to serve as a point of contact between your and your insurance company and can handle future requests for updated documentation.
If you find that after initial approval your insurance company terminates your benefits, CCK attorneys are equipped to help you make a case against your insurance company so you can resume receiving benefits.  Our attorneys want to make getting long-term disability coverage in New Haven, CT straightforward and expedient.
Contact CCK for A Free Consultation
If you suffer from a disabling medical condition and cannot work, the legal team at Chisholm Chisholm & Kilpatrick serving New Haven, CT is here to help.  Whether you are filing an initial claim, appealing a denial, or appealing a sudden termination of benefits after initial approval, we can meet you wherever you are in the process.  We want to help you receive the benefits to which you are entitled.
You can call a member of the CCK team today for a free consultation about your case at (401) 251-0641 or contact us online.