Long-Term Disability (LTD) Lawyer Serving Hartford, CT
If you become disabled and are unable to work, you will likely need to file a long-term disability (LTD) claim.  Filing for long-term disability benefits can be a strenuous process, particularly when you are also trying to manage your health at the same time.  You may be filing an initial claim or appealing a denial of benefits.  The legal team serving Hartford, CT at Chisholm Chisholm & Kilpatrick is here to aid you wherever you are in the process.
If you are filing a disability claim or appealing a denial, you can call today for a free consultation with a member of our team serving Hartford, CT at 800-544-9144.
Why You Should Contact an Attorney for Help with your Long-Term Disability Claim
Claimants can carry out their long-term disability claims on their own, but there are advantages to bringing an attorney on to assist.  You may discover that when corresponding with your insurance company, they do not always prioritize your interests and instead put their business first.  Oftentimes they are looking find ways to pay claimants as little as possible, which can make getting your claim approved difficult.
The legal team serving Hartford, CT at Chisholm Chisholm & Kilpatrick has over three decades worth of experience working with insurance companies.  We understand the ways they operate their businesses.  We will thoroughly review your policy and evaluate your definition of disability, which defines the terms you must meet to qualify as disabled.  This definition can be specific or confusing, but we can help you gather evidence that will satisfy this definition.
Policy deadlines are a crucial part of the long-term disability process, and if you miss one, it can result in a loss of benefits.  Our team will keep track of these deadlines and ensure that all documents are submitted in a timely manner.  This is particularly essential in ERISA-governed long-term disability claims, as the administrative appeal is often your last chance to get evidence into the record.  CCK will take care of your deadlines so that you are able to focus on taking care of your medical condition.
Our Team Will Prove That You Are Entitled to Long-Term Disability Benefits
You will need to submit medical records as evidence for your long-term disability claim.  Unfortunately, medical records alone are often not enough to prove your case, even if you have one of the more common types of long-term disabilities.
Reports from your treating physician: Obtaining a personalized report from your physician can be beneficial to your claim because it may be able to highlight certain aspects of your condition that your medical records may skim over.

For example, a condition like

osteoarthritis

can impact you on both physical and emotional levels.

Your physician is aware of the ways your condition affects you beyond a basic diagnosis and submitting a report with such details can clarify the symptoms that warrant you disabled.

Serious medical events, like strokes, can have a strong emotional impact on the victim's family. Coworkers can attest to how your condition negatively impacts your ability to work, while friends and family can highlight the ways it affects your home life. Witness statements from multiple sources can strengthen your chances to receive

benefits after suffering a stroke

.

Outside expert opinions: Opinions from outside sources can serve as a great way to bolster your medical records.  CCK works with experts in various fields that can perform supplemental evaluations to prove your condition is disabling.  These examinations can include functional capacity, neuropsychological, and vocational evaluations that provide extra appraisals regarding your condition and your occupation.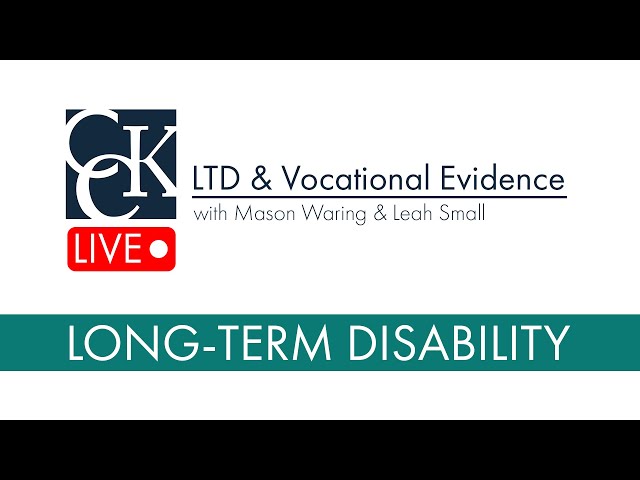 Chisholm Chisholm & Kilpatrick Will Alleviate the Stress of The Long-Term Disability Process for You
CCK knows that filing a long-term disability claim while managing your health can be difficult to juggle.  Our legal team serving Hartford, CT wants to make it as simple for you as possible.  We can serve as a point of contact between you and your insurance company, as well as your doctors, to ensure all transactions are handled smoothly.
It can be helpful to have an attorney to advise you in order to avoid missteps that may lead to denial of benefits.  Under ERISA law, you often will not have the chance to submit more evidence in court, and CCK can help you get your claim approved before your case reaches that stage of the process.
Further, our lawyers can help you transition from short-term to long-term disability benefits. Short-term disability insurance offers benefits if you cannot work for a relatively short period due to an injury or temporary disability. If your condition now qualifies as an LTD, we can help you access the benefits you deserve.
Once your claim is approved and you begin to receive monthly long-term disability benefits, we will continue to help you manage any further requests from your insurance company.  Oftentimes they require updated documentation, and we can continue to serve as a point of contact to make sure nothing is missed.  The legal team at CCK wants you to be able to take care of your health and well-being while we take care of the long-term disability process.
Contact Chisholm Chisholm & Kilpatrick Today for your Free Consultation
If you have a medical condition that impairs you and keeps you out of work, Chisholm Chisholm & Kilpatrick can help you file for long-term disability benefits.  Whether you are filing an initial claim or fighting an appeal of benefits, we can assist you at any step in the process. We have the experience to prove that your medical condition meets the requirements of your long-term disability insurance policy.  The long-term disability lawyers serving Hartford, Connecticut want to help you receive the benefits to which you are entitled.
For a free consultation with a member of our team, you can contact us online or call (800) 544-9144 today.