CCK News
How to Prepare for a Remote Position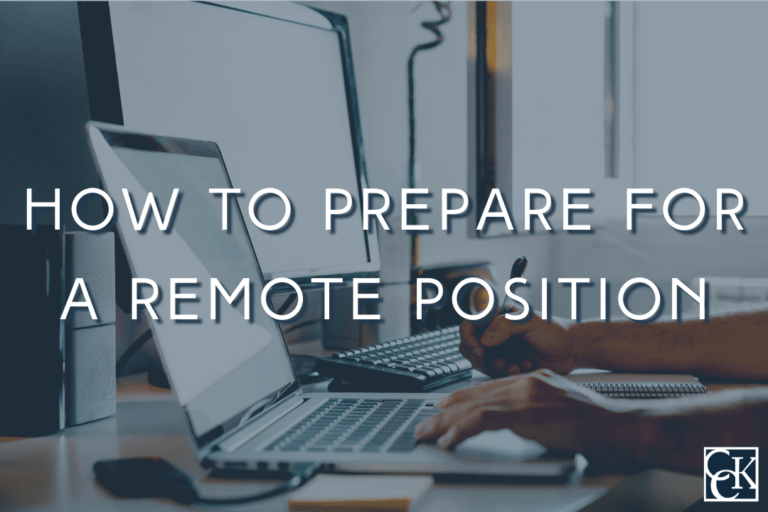 The importance of digital literacy and preparedness in a remote working world.
Since the onset of COVID-19, the working world has become more accustomed to operating in a remote capacity.  This transition has elicited the need for companies to be proactive in taking additional cybersecurity measures to keep client information safe.  For many, this continues to remain a top priority.
As a new hire, understanding the importance of digital literacy is essential to successfully working in a remote environment.
The following information will help you best prepare to work in a remote environment.
How to Be Remote Work Ready
1. Understand the Equipment You Need
Consider the following questions:
Do you have a private home router? Where is it located in your home?
Who is your Internet provider?
Do you have a Wi-Fi password? What is it?
Will you be successful in your role using only a laptop screen, or would an additional monitor be helpful?
Do you need an HDMI cord? Does your laptop have an HDMI port?
Would an Ethernet cable be useful? When would you need it?
2. Do You Have an Adequate Remote Work Environment?
Many companies have implemented messaging and video systems for enhanced communication within their remote teams (e.g., Microsoft Teams, Slack, Zoom, etc.)
Consider the following questions:
Do you have a desk, comfortable chair, and quiet, dedicated office space?
Will you be able to interact with colleagues over video conferences and chats?
Does your home typically have distractions? What is my plan to limit them?
3. Be Aware of the Importance of Cybersecurity
Cybersecurity is the practice of deploying people, policies, processes, and technologies to protect organizations (i.e., their critical systems and sensitive information) from digital attacks.  Cybersecurity is important because it protects this information from being stolen or damaged.
Follow all instructions from your employer regarding cybersecurity.
4. Critical Thinking Skills in the Digital Sphere
Hackers have become sophisticated in their phishing attempts, so digital critical thinking is crucial to maintain confidentiality of electronic records and files.  Use this skill when opening emails, clicking on unfamiliar links, and visiting websites.
A few examples include:
Determining which information should be shared or kept private.
Deciding who can be trusted to share information with.
Determining if information you receive is legitimate.
5. Get Familiar with Digital Literacy
A working knowledge of the following terms is important to prepare for a remote role:
Authentication – Essentially, the process of proving to the service, after signing into your online accounts, that you are who you say you are.
Connection LAN – LAN (Local Area Network) is a wired Internet connection through a cable between a modem/router/broadband service and your computing device.  It provides a more stable connection and faster access to the Internet.
Digital Attack – An attempt to make an online service unavailable to users.
Malware – An intrusive software designed to damage and destroy computers and computer systems.
Operating Systems – More commonly referred as "the OS"; this software supports basic computer functions such as scheduling tasks and executing applications.  Examples: Linux, Microsoft Windows, and macOS.
Pairing – Setting up an initial linkage between computing devices to allow communication between them.
Phishing – The practice of sending fraudulent communications that appear to come from a reputable source.  This is usually performed through email.
Wi-Fi – The wireless form of connecting to your router/modem to get access to the Internet, allowing multiple devices to connect to the Internet simultaneously.
Am I Prepared for Remote Work?
Successful remote work requires confidence/efficiency in the following:
Knowledge of how to set and create strong passwords, manage privacy settings, and determine what is safe and unsafe to click on or visit online.
Learning and applying online etiquette, figuring out how to navigate between multiple streaming services, and analyzing news content and its sources.
Researching phishing tactics, scams, and understanding malware.
Having a solid understanding of the equipment you will be using in a remote work environment.
Next Steps
If you are interested in a remote legal position, check out current available opportunities at Chisholm Chisholm & Kilpatrick LTD!  Also, be sure to read our tips for applying to a legal position and preparing for an interview to learn how to put your best foot forward.