Burn Pit Locations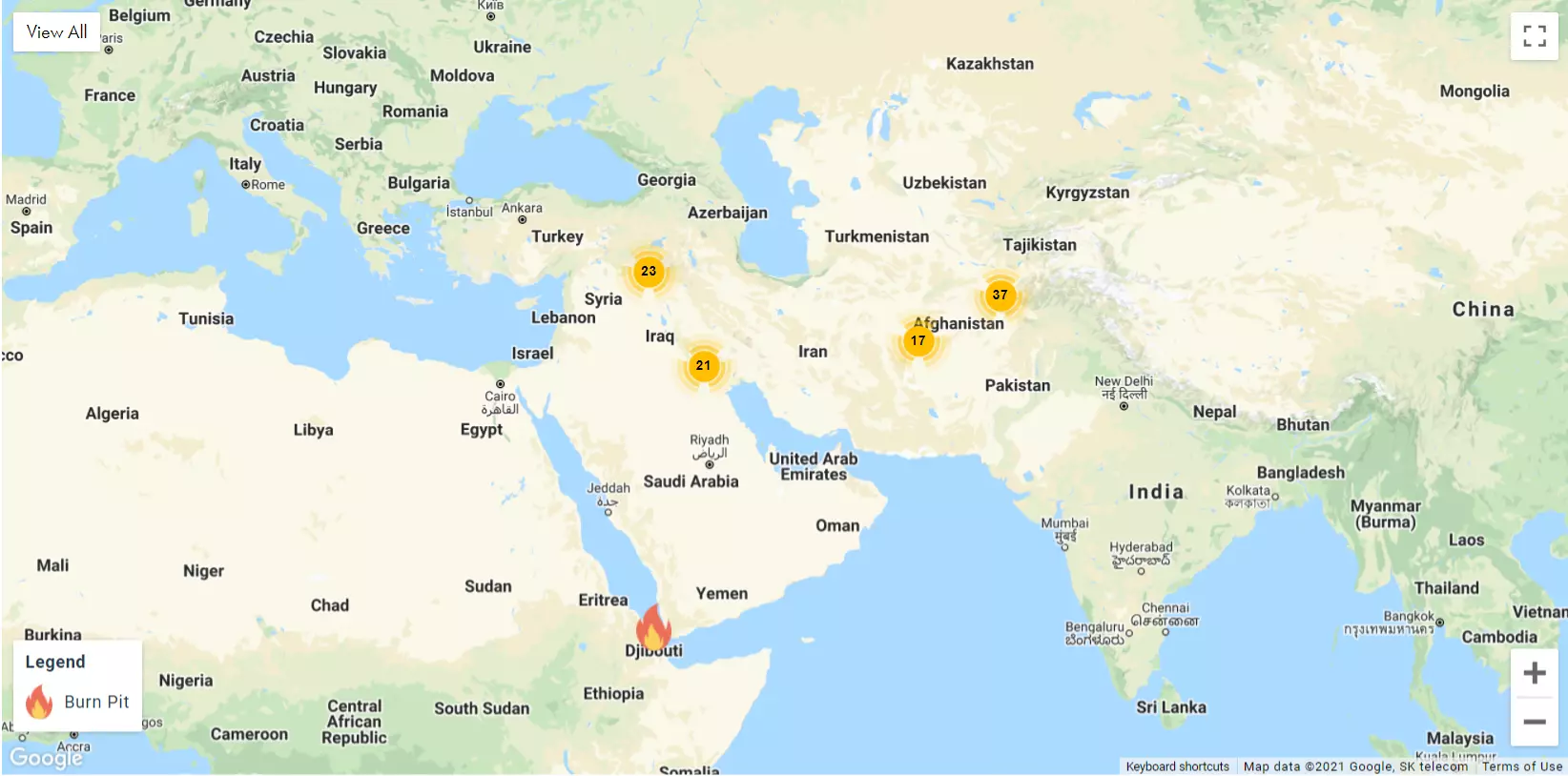 During the post-9/11 era, the United States military operated large burn pits to dispose of waste at forward operating bases in countries in Southwest Asia – including Iraq and Afghanistan – and certain other areas listed on the burn pits map above.
Military Burn Pits: What Was Burned?
From 2002 until 2009, there were no regulations for what could or could not be burned.  Therefore, many of the items burned were extremely hazardous and toxic.  U.S. military veterans within the vicinity of these burn pits were exposed to plumes of toxic smoke, leading to potentially long-term, serious health effects.
The following are just some of the many items incinerated in the military burn pits:
Airplane parts
Oil and gas
Vehicle parts
Plastic chemical drums
Batteries
Paint
Fluorescent bulbs
N,N-diethyl-meta-toluamide (DEET)-soaked tents
Medical waste
Pesticide containers
Styrofoam
Coated electrical wires
Electronics
Tires
Chemlights
Bloody gauze
Weapons and munitions
Aerosol cans
Plastics
Flame Resistant Organizational Gear (FROG) suits
Toxic Chemicals at Joint Base Balad in Iraq
As shown in the burn pits map above, the largest burn pit – at Joint Base Balad in Iraq – expanded to an area of almost 20 acres.  At its peak, it burned about 200 tons of solid waste every day.
The Balad burn pit emitted hundreds of toxic chemicals, exposing veterans to highly contaminated air.  Veterans experienced acute symptoms due to the smoke exposure, including reddened eyes, persistent coughs, and irritated respiratory passages.  According to reports released about the Joint Base Balad burn pit, the emitted toxins can also lead to long-term and potentially severe health effects.
The U.S. Department of Defense (DoD) conducted air samplings at this base, in which the following pollutants were detected:
1. Particulate Matter
Particulate matter is a mixture of tiny particles and droplets (e.g., dust, dirt, smoke, or soot) polluting the air.  Some particles are visible to the human eye while others are so small only electron microscopes can detect them.
If inhaled, particulate matter can burrow deep into the lungs and even infiltrate the bloodstream, leading to serious health effects.  According to the U.S. Environmental Protection Agency (EPA), health effects may include cardiac arrhythmias, heart attacks, asthma attacks and other respiratory effects, and even premature death.
2. Polycyclic Aromatic Hydrocarbons (PAHs)
Polycyclic aromatic hydrocarbons, or PAHs, consist of more than 100 different chemicals produced during the incomplete burning of coal, oil, gas, garbage, and other organic substances.
The DoD detected the following PAHs during testing at Balad:
Acenaphthene
Acenaphthylene
Anthracene
Benzo(a)anthracene
Benzo(a)pyrene
Benzo(b)fluoroanthene
Benzo(b)fluoroanthene
Benzo(g,h,i)perylene
Benzo(k)fluoroanthene
Chrysene
Dibenz(a,h)anthracene
Fluoranthene
Fluorene
Indeno(1,2,3-cd)pyrene
Naphthalene
Phenanthrene
Pyrene
PAHs may lead to long-term health effects, such as cataracts, kidney and liver damage, jaundice, the breakdown of red blood cells, and more.
3. Volatile Organic Compounds (VOCs)
Volatile organic compounds, or VOCs, are often human-made chemicals found in paints, pharmaceuticals, and refrigerants.  They are also components of petroleum fuels, hydraulic fluids, and dry-cleaning agents.  VOCs contain a variety of chemicals, some which may have long- or short-term health effects.
Some VOCs detected were:
Acetone
Acrolein
Benzene
Carbon Disulfide
Chlorodifluoromethane
Chloromethane
Ethylbenzene
Hexane
Hexachlorobutadiene
m/p-Xylene
Methylene Chloride
Pentane
Propylene
Styrene
Toluene
According to the EPA, long-term health effects of VOCs may include liver, kidney, and central nervous system damage, different forms of cancer, and more.
4. Toxic Organic Halogenated Dioxins and Furans
Toxic organic halogenated dioxins and furans are known to persist in the environment and have harmful health effects.  Dioxins are also commonly associated with herbicides, such as Agent Orange.
The following dioxins and furans were detected at Balad:
1,2,3,4,6,7,8 HPCDD
1,2,3,4,6,7,8 HPCDF
1,2,3,4,7,8,9 HPCDF 1,2,3,4,7,8 HXCDD
1,2,3,4,7,8 HXCDF
1,2,3,6,7,8 HXCDD
1,2,3,6,7,8 HXCDF
1,2,3,7,8,9 HXCDD
1,2,3,7,8,9 HXCDF
1,2,3,7,8 PECDD
1,2,3,7,8 PECDF
2,3,4,6,7,8 HXCDF
2,3,4,7,8 PECDF
2,3,7,8 TCDD (the most toxic dioxin)
2,3,7,8 TCDF
Octachlorodibenzodioxin
Octachlorodibenzofuran
Highly toxic dioxins may cause numerous health effects, including cancer, reproductive and developmental problems, and damage to the immune system.
Burn Pits in Iraq, Afghanistan, and Djibouti
Over the years, documented studies have offered brief insights into burn pit locations, namely in Iraq, Afghanistan, and Djibouti.
In 2006, an Enhanced Particulate Matter Surveillance Program (EPMSP) conducted at 15 sites – including locations in Iraq, Afghanistan, Djibouti, Qatar, United Arab Emirates, and Kuwait – determined that particulate matter in these areas was most likely from geologic dusts, burn pits, and metal sources.
Additionally, DoD reports have suggested that large military bases in Iraq and Afghanistan produced approximately 60,000 to 80,000 pounds of solid waste per day.   This waste was most likely incinerated in massive burn pits at these sites.
Iraq Burn Pit Locations
According to the DoD – although data was not made available for all the U.S. military sites – as of November 2009, 14 out of the 41 existing small military sites, 30 of the 49 medium-size sites, and 19 out of the 25 large sites all had operating burn pits.  The number of burn pits in Iraq has since declined.
Afghanistan Burn Pit Locations
The use of burn pits lasted for a longer period in Afghanistan.  In January 2011, 126 out of the 137 small sites, 64 of the 87 medium-size sites, and 7 of the 18 large military sites had operating burn pits.
Djibouti Burn Pit Locations
Djibouti   *Only particulate matter exposure can be confirmed for this location.
A 2004 U.S. Army Center for Health Promotion and Preventive Medicine (CHPPM) study indicated a "moderate" overall risk (due to levels of particulate matter, acrolein, and aluminum in the air) from a burn pit located approximately 2 kilometers (or 1.24 miles) from Camp Lemonier in Djibouti.
Other Possible Burn Pit Locations: Lebanon, Syria, Kuwait & More
In addition to Iraq, Afghanistan, and Djibouti, there have also been reports of burn pits and/or airborne hazards in the following countries and regions:
Kuwait
Saudi Arabia
Bahrain
Gulf of Aden
Gulf of Oman
Oman
Qatar
United Arab Emirates
Persian Gulf waters
Arabian Sea
Red Sea
Syria
Uzbekistan
Egypt
This list of burn pit locations is not exhaustive and is subject to change.  Veterans exposed to U.S. military burn pits who served in one of these regions can document their exposure and health concerns in VA's Airborne Hazards and Open Burn Pit Registry.
Burn Pit Legislation & Presumptions: 2022 PACT Act
Efforts made to provide medical care and compensation to burn pit victims have been plagued by delays on the part of Congress and the Department of Veterans Affairs (VA).  Finally, on August 10, 2022, the Honoring Our Promise to Address Comprehensive Toxics (PACT) Act was signed into law.  This bill offers much needed relief to veterans suffering from the effects of burn pit exposure.
The PACT Act added 23 conditions to VA's presumptive list for military toxic exposure for "covered veterans."  This means veterans suffering from certain conditions who served in eligible locations and time periods may qualify for VA disability benefits on a presumptive basis, making it significantly easier for burn pit exposure veterans to obtain service connection.
The bill defines covered veterans as the following:
A veteran who, on or after August 2, 1990, performed active military, naval, air, or space service while assigned to a duty station in, including air space above:
Bahrain
Iraq
Kuwait
Oman
Qatar
Saudi Arabia
Somalia
United Arab Emirates
A veteran who, on or after September 11, 2001, performed active military, naval, air, or space service, while assigned to a duty station, including the airspace above:
Afghanistan
Djibouti
Egypt
Jordan
Lebanon
Syria
For these eligible (i.e., covered) veterans, the presumptive list of health conditions includes:
Asthma diagnosed after service
Head cancer (of any type)
Neck cancer (of any type)
Respiratory cancer (of any type)
Gastrointestinal cancer (of any type)
Reproductive cancer (of any type)
Lymphoma cancer (of any type)
Lymphomatic cancer (of any type)
Kidney cancer
Brain cancer
Melanoma
Pancreatic cancer
Chronic bronchitis
COPD
Constrictive bronchiolitis or obliterative bronchiolitis
Emphysema
Granulomatous disease
Interstitial lung disease
Pleuritis
Pulmonary fibrosis
Sarcoidosis
Chronic sinusitis
Chronic rhinitis
Glioblastoma
The presumption also applies to surviving spouses of veterans seeking retroactive Dependency and Indemnity Compensation (DIC) benefits.
Particulate Matter Presumption: How Does it Relate to Burn Pits?
On August 2, 2021, about a year prior to the enactment of the PACT Act, VA announced that claims for three respiratory conditions – chronic asthma, rhinitis, and sinusitis – were to start being processed on a presumptive basis.  The particulate matter presumption extends to veterans diagnosed with chronic asthma, rhinitis, or sinusitis within 10 years of a qualifying period of service in Southwest Asia and certain other areas.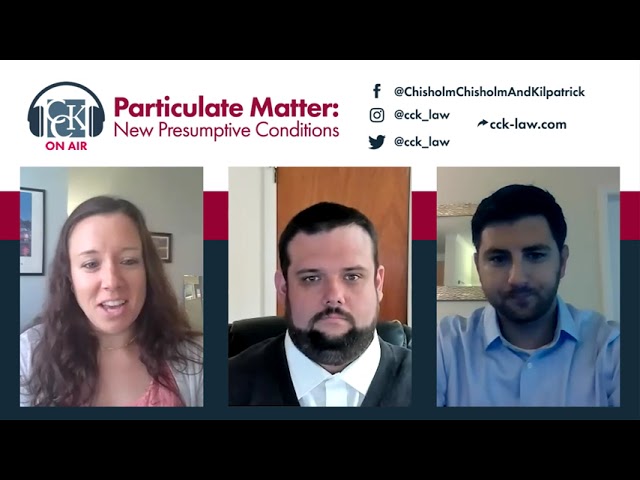 A portion of this particulate matter pollution was produced by U.S. military burn pits, as evident in the toxic chemicals found at Joint Base Balad and other military bases in the Southwest Asia theater of operations.
This presumption served as the first recommendation from a newly formed VA internal process dedicated to supporting rulemaking based on scientific evidence.
VA Disability Compensation for Burn Pit Exposure
Veterans who served during Operation Iraqi Freedom, Operation Enduring Freedom, and Operation New Dawn after September 11, 2001 may have been exposed to pollutants from burn pits.  VA currently processes most burn pit claims on a case-by-case basis.
To receive disability benefits for a medical condition caused by burn pit exposure, veterans must show evidence of the following:
A current, disabling medical condition;
An in-service occurrence (i.e., burn pit exposure);
Medical evidence or expert medical testimony connecting the disabling condition to burn pit exposure.
There is additional information available about disability benefits for conditions related to burn pit exposure on our website.
Looking to Learn More About Burn Pits?
CCK presents its new eBook: The Use of Military Burn Pits, Health Effects, and VA Benefits, now available for free download!
This comprehensive guide offers an in-depth look into military burn pits, conditions associated with exposure, and how to win VA disability benefits.  Each section contains critical tips from the experienced veterans' advocates and professionals at CCK.
From an extensive list of (possible) burn pit-related conditions to details on the new presumptive respiratory conditions related to particulate matter exposure, this guide provides much needed information for veterans looking to secure VA compensation.
Fill out the following form to start your download.