Veterans Law
Common Secondary Service-Connected Conditions among Veterans
What Is a Secondary Service-Connected Condition?
Many veterans develop additional conditions that stem from their service-connected disabilities.  These are known as secondary conditions.  Veterans can qualify for Department of Veterans Affairs (VA) disability compensation for these secondary conditions if they establish service connection on a secondary basis.
How to Establish Secondary Service Connection
To prove secondary service connection for a condition, veterans must provide the following:
A current diagnosis of a secondary condition by a medical professional; and
A nexus, or link, between the secondary condition and the primary service-connected condition.
The nexus between your primary condition and your secondary condition must be clearly established to be granted secondary service connection by VA.
Once VA confirms secondary service connection, secondary conditions are rated under the appropriate diagnostic code in the VA Schedule for Rating Disabilities (VASRD).  Disabilities that are service-connected on a secondary basis are rated in the same manner as other service-connected disabilities.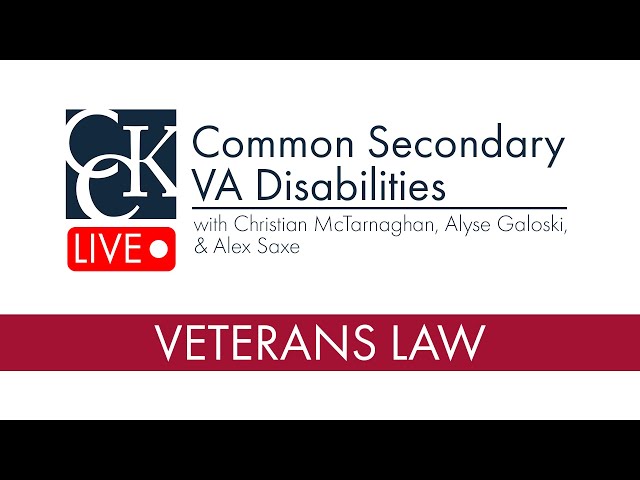 VA Disability: List of Secondary Conditions
The following are some of the most common secondary service-connected conditions among veterans:
Peripheral Neuropathy Secondary to Diabetes Mellitus Type 2
There are multiple medical conditions that a veteran may develop as a result of service-connected diabetes mellitus type 2.  One of the most common conditions secondary to diabetes is peripheral neuropathy.  Peripheral neuropathy impacts a veteran's peripheral nerves and can cause numbness, weakness, and tingling in the upper and lower extremities, usually in the feet and hands.
Service-connected diabetes may also lead to conditions such as diabetic retinopathy, erectile dysfunction, or kidney disease.  Veterans can receive secondary service connection for these conditions as well.
Radiculopathy Secondary to Back Disabilities
Radiculopathy is a nerve condition that occurs when a veteran's nerve is pinched in their spinal column, resulting in weakness, tingling, or numbness in their legs or arms.  Radiculopathy can occur in the cervical spine (neck), thoracic spine, or lumbar spine depending on the location of the veteran's back condition.
Radiculopathy is commonly experienced due to back conditions, such as a herniated disc or spinal stenosis.  Veterans with a service-connected back condition who later developed radiculopathy may qualify for secondary service connection.
Read about three common back conditions among veterans.
Depression Secondary to Parkinson's Disease or Cancer
Veterans commonly develop depression as a result of service-connected Parkinson's Disease or types of cancers.  However, depression can also be related to many other service-connected conditions, including orthopedic conditions.
A veteran may develop depression because their terminal or otherwise aggressive condition prevents them from being able to do the same activities.
Hypertension Secondary to Post-Traumatic Stress Disorder
Veterans with post-traumatic stress disorder (PTSD) may develop hypertension (i.e., high blood pressure) secondary to their PTSD.  This can be due to the increased stress and anxiety they experience, which may cause them to develop high blood pressure.  Veterans who develop hypertension due to their PTSD may be able to qualify for secondary service-connected disability benefits.
ED Secondary to Prostate Cancer
A common secondary condition found among veterans is erectile dysfunction (ED) secondary to prostate cancer.  While erectile dysfunction is typically given a noncompensable rating, veterans who are service connected for ED may be eligible to receive SMC(k), a level of Special Monthly Compensation that is awarded in addition to the veteran's monthly disability compensation.
Other common residuals of prostate cancer are frequent urination and urinary incontinence, both of which a veteran can be service connected for as secondary to their prostate cancer.
Other Common Secondary Conditions
Other examples of common secondary among veterans may include:
Migraines secondary to depression
Sleep apnea secondary to hypertension
Sleep apnea secondary to PTSD
Secondary conditions related to traumatic brain injury (TBI)
Gastroesophageal reflux disease (GERD) secondary to PTSD or sleep apnea
Depression or anxiety secondary to PTSD
Foot condition secondary to a back disability
And more.
CCK Can Help You Prove Secondary Service Connection
If VA denied your claim for secondary service connection, Chisholm Chisholm & Kilpatrick LTD may be able to help.  Our dedicated team of accredited attorneys and claims agents have decades of experience representing veterans in appeals for secondary service connection, and we may be able to put our experience to work for you.
Reach out to CCK today to speak with a member of our team.
About the Author