Veterans Law
Beyond Vietnam: Other Military Areas Where Agent Orange was Used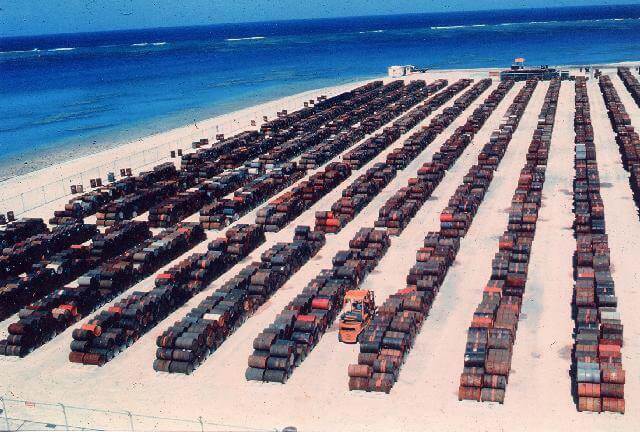 As one of a group of chemicals referred to as the rainbow herbicides, Agent Orange served as the most well-known defoliant used in the Vietnam War. It was used to push enemy troops out of the jungles, forcing them to fight out in the open.
Dubbed 'Operation Ranch Hand,' millions of acres were being sprayed in Vietnam by the late 60s. The poison spray rained down from military aircraft, and millions of people on the ground were exposed—with many eventually becoming ill due to 'hot spots' of dioxins left in the geography. That legacy was also carried back to the US, as dependents of veterans have been born with serious birth defects such as spina bifida.
Herbicide Use Outside of Vietnam
Vietnam was not the only area where herbicides were used, stored, or tested. The uses of numerous herbicides at many sites were recorded, to include:
Testing of 2,4,5-T, 2,4-D and other herbicides in Puerto Rico.
Research and testing of Agents Purple, Orange, White and Blue at Eglin Air Force Base in Florida, where some contamination of the soil was discovered in trace amounts.
Testing of Agents Orange, Purple and Blue at the Gagetown military base in New Brunswick, Canada, where eventually the Canadian government was forced to pay restitution to citizens who claimed health problems due to the dioxin contamination.
During the Vietnam War, herbicides were also stored at military bases all over the world. With facilities in Cambodia, India, Korea, Laos, Thailand, Puerto Rico, Canada, as well as at sea, Agent Orange was stored at many overseas location—as well as used for testing purposes—up until 1970.
There were also 21 military bases used for storage during the war and up until the time that use of Agent Orange was discontinued in 1971. After the war, remaining barrels of the herbicide were sent to both Seabees base in Gulfport (where there was documented contamination) and Johnston Island in the Pacific in April 1972, where all that was left was eventually destroyed at sea.
All substantial, physical remains of the substance may have been destroyed, but the terrible legacy of Agent Orange use is still seen in the physical disabilities of those in Vietnam and our US veterans. Service members who were exposed to Agent Orange can receive disability compensation for a number of presumptive conditions including type II diabetes, AL Amyloidosis, heart disease, Parkinson's, and more.
Agent Orange in Hawaii at Fort Detrick
Hawaii was one of the main sites for the storage and testing of Agent Orange throughout the 1960s. In December of 1966, Fort Detrick personnel conducted field tests of Agent Orange in Hilo, HI in order to evaluate variables such as rates, volume of application, season, and vegetation. An aerial application of the herbicide was completed and data was recorded. Around this same time, another testing project was administered in the State Forest area of Mauna Loa, HI. The purpose of this project was to evaluate the herbicide Tordon in mixtures with Agent Orange, to determine if it would be a successful defoliant agent. Following this, Agent Orange was again tested from 1967 to 1968 in Kauai, HI. Here, a short-term evaluation was orchestrated by personnel from Fort Detrick's Plant Science Lab in coordination with contract research completed by the United States Department of Agriculture and University of Hawaii sites. Overall, this research involved field tests of different mixtures and formulations of the herbicides produced by chemical industries. When evaluating the effectiveness of herbicide mixtures, Agent Orange was used as the standard.
Agent Orange in Puerto Rico
Puerto Rico was also home to the storage and testing of Agent Orange from 1956 to 1957, and then again from 1966 to 1968. This occurred in many locations spanning Puerto Rico including: Mayaguez, Guanica, Joyuda, Loquillo, Las Marias, and near the Rio Grande. Specifically, in 1956, numerous herbicide chemicals were evaluated on tropical woods in Mayaguez and Guanica, PR. The chemicals were applied in highly concentrated solutions using a micro-sprayer. This testing was repeated again in 1957 to determine the effectiveness of such herbicides as defoliants and killing agents. After a brief hiatus, testing resumed in 1966 with the aerial application of Agent Orange taking place in Loquillo and Las Marias, PR. Subsequently in 1967 the Dow Chemical Company, a manufacturer of Agent Orange, was awarded a Department of Defense research contract. The objective of this research was to prepare mixtures of various herbicides in the form of pellets, and to test them on variations types of vegetation.
Agent Orange and other Herbicides Stored at Davis-Monthan Air Force Base
While Agent Orange was burned at sea after the war, another "rainbow herbicide" of the Vietnam War era called Agent Blue, could not be burned disposed of via incineration due to its high concentration of arsenic. Agent Blue was stored at Johnston Atoll along with Agent Orange, but was then stored at Davis-Monthan Air Force Base near Tucson, Arizona. Since Agent Blue could not be burned, the herbicide was sprayed on the Air Force base as a way to dispose of the remaining stores. Davis-Monthan Air Force Base was known is home to the aircraft boneyard, where retired military aircraft are stored. Agent Blue was used from approximately 1973 to 1977 on the Air Force Base grounds.
Agent Orange in Thailand
Several reports show that Agent Orange and other herbicides were used and stored on numerous Royal Thai Air Force Bases (RTAFB) during the Vietnam War. These bases include: Ubon, Udorn, Takhli, Korat, Don Muang, U-Tapao, and Nakhom Phanom. The US used C-123 aircraft to spray the herbicides over the forests of Vietnam during Operation Ranch Hand. These C-123s were often staged at Air Force bases in Thailand, and the barrels and spraying equipment on the aircrafts were known to leak, exposing service members to the toxic herbicides.
In addition to being storage areas for Agent Orange, herbicides were used on these Air Force bases to control vegetation along the perimeter of the bases in order to improve visual observation of the perimeter.
Rules for Disability Compensation Related to Agent Orange Exposure
The VA presumes that anyone who served in country in Vietnam with boots on the ground anytime between January 9, 1962 and May 7, 1975 was exposed to Agent Orange. If you meet this requirement, you do not need to prove actual exposure to Agent Orange to receive compensation for an illness that is caused by Agent Orange exposure. This same presumption exists for those who served in the Korean demilitarized zone between September 1, 1967 and August 31, 1971. Members of the Air Force Reserves who worked on C-123 aircraft after the Vietnam War, and those who served in a regular Air Force unit location where C-123 aircraft were assigned between 1969 and 1986 are also eligible for the presumption.
Those who were exposed to Agent Orange outside of Vietnam or Korea must provide evidence that they were actually exposed to the herbicide. This includes those who served at military bases in Thailand, bases where Agent Orange was stored and tested.
Once exposure to Agent Orange has been proven, service connection will be presumed for illnesses that are listed by the VA as being associated with Agent Orange exposure. You can also apply for benefits for other illnesses, but you will have to show a medical connection between herbicide exposure and your disability.
Was Your VA Disability Claim Denied?
If you believe you were exposed to Agent Orange in service, are suffering from one or more of the associated health conditions, and have been denied VA disability benefits, seek help now. While you focus on taking care of yourself, let us take care of the claim process and secure the disability benefits you deserve. Call for immediate help at 401-331-6300 or contact us online.