Qualifying Conditions
Getting Veterans (VA) Disability for Coronary Artery Disease
If you served in the U.S. military and later developed ischemic coronary artery disease, you may be eligible for disability compensation from the VA. Depending on your specific diagnosis and service record, the VA might presume your condition has a service connection. Unfortunately, without presumed service connection, getting veterans (VA) disability for ischemic coronary artery disease can be difficult.
The VA disability attorneys at Chisholm Chisholm & Kilpatrick LTD can examine your situation and help you build a strong case. We are experienced in filing VA disability claims for veterans and can put our extensive knowledge and resources to work for you. Call our office today for a free consultation: 401-331-6300.
What do I need to do to get disability for ischemic coronary heart disease?
The first step to getting VA disability for coronary artery disease is obtaining a medical diagnosis. The VA has strict requirements on how a doctor must diagnose and report heart conditions for a veteran to be eligible for disability. Therefore, it is imperative that we obtain a diagnosis using an approved method.
For coronary artery disease, the most appropriate diagnostic tool is the METS test. The doctor looks for symptoms, such as dizziness and fatigue, which indicate your muscles are not receiving an adequate level of oxygen. The earlier the onset of these symptoms during the test, the more severe your diagnosis.
The next step is proving your diagnosis is service-connected. In other words, we must show that something that happened in your military service caused or contributed to your coronary artery disease. You may be eligible for presumptive service connection based on your service, in which case a diagnosis and your service records is all we need to provide.
In other cases, we must provide evidence that your diagnosis is service-related. We have several ways to do this. We can point to specific items in your service record, refer to published studies, and interview medical and military experts.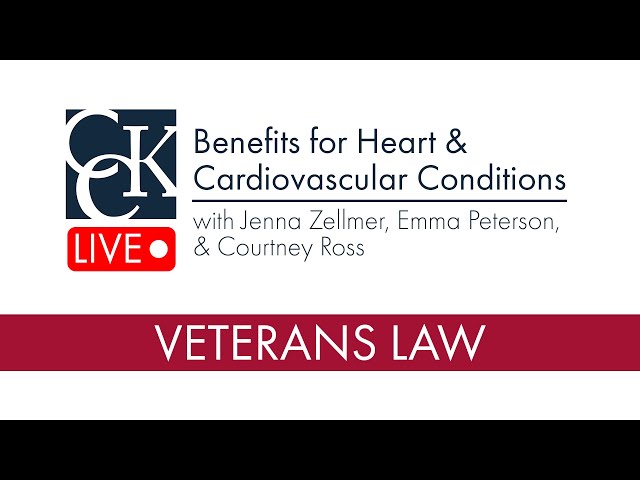 Establishing a Presumptive Service Connection
The VA presumes heart disease to be service-connected in certain situations. If you suffered exposure to certain chemicals or received a diagnosis that meets certain criteria, the VA does not require you to prove service connection.
Agent Orange
If you served in Vietnam between 1962 and 1975; in the Korean Demilitarized Zone (DMZ) between September 1, 1967 and May 7, 1975; or in Thailand as a military dog handler or military police between 1962 and 1975 the VA assumes you were exposed to Agent Orange. Veterans who served in Thailand with other military occupational specialties may also be eligible for service connection, however they must demonstrate that they were in exposed to herbicides. Research has shown that Agent Orange exposure can lead to a host of health problems, including cancer and heart disease.
Coronary artery disease is on the list of medical conditions eligible for presumptive service connection due to Agent Orange exposure.
How much compensation can I receive for ischemic coronary artery disease?
The VA issues disability compensation based on the severity of your disability. It uses a rating system to pay out benefits. For ischemic coronary artery disease, you may receive a rating of 10, 30, 60, or 100 percent.
As of December 1st, 2022 the VA disability rate benefit amounts are as follows:
0 percent disability rating: $0.00 per month
10 percent disability rating: $165.92 per month
30 percent disability rating: $508.05 per month
60 percent disability rating: $1,319.65 per month
100 percent disability rating: $3,621.95 per month
A rating of 30 percent or higher also qualifies you to receive benefits on behalf of dependents in your household.
The results of your testing largely determine your disability rating for coronary artery disease.
Why should I get a VA disability attorney to help me?
Fighting for disability benefits from the VA can be a stressful, frustrating process. It is the last thing you need to handle if you are already struggling to manage your coronary artery disease.
Moreover, the VA disability regulations include complicated language that can be difficult to understand if you do not have experience fighting these claims. It is common for veterans to be denied on their first attempt even if they have a legitimate diagnosis and evidence of service connection. If you get denied, you can appeal, and that process features its own difficulties. We can help you strengthen your case to increase your chances of receiving a grant of benefits.
The attorneys at Chisholm Chisholm & Kilpatrick LTD specialize in VA disability cases and can put our experience to work for you. We have helped many veterans receive the benefits they deserve. We can figure out the best way to present your case so you have the highest chance of approval. Call our office for a free consultation today: 401-331-6300.