Qualifying Conditions
Getting Veterans (VA) Disability for Back Pain Injury
Many veterans suffer from back pain following their military service. Chronic back pain can limit your ability to work, earn a living, and even perform basic activities, such as bathing and dressing. If you can establish service connection for your back injury, you might be eligible to receive veterans (VA) disability benefits for your back pain injury. Service connection is the acknowledgment by VA that a veteran's current health condition is related to their military service.  Importantly, there are several ways in which veterans can establish service connection for their back pain, including the following:
Establishing Service Connection for Back Pain or Injury
Direct Service Connection for Back Pain or Injury
Generally speaking, to establish direct service connection veterans must show that they not only have an injury or medical condition, but also that it resulted from a specific event in their military service.  Therefore, in regards to direct service connection for back pain, veterans must show evidence of the following:
A current diagnosis of a back condition;
An in-service event, injury, or illness; and
A medical nexus (i.e. link) between the current, diagnosed back condition and the in-service event, injury, or illness.
To establish service connection for our clients, we first obtain all relevant medical records to prove that you have a diagnosed medical condition. Then, we identify an event from your military service that caused or contributed to your condition. After that, and only if necessary, we obtain a medical opinion in which an expert in the relevant field links the event with the injury and shows causality. We then submit these three elements with a thorough legal argument in support of your claim.
Medical Diagnosis
Back pain is a broad term, and not all forms of it qualify for VA disability. In other words, back pain, even if it is constant and severe, does not mean you can receive benefits based on that alone. You need to have a medical diagnosis, and the VA requires that your diagnosis meets certain criteria.
The VA provides a list of back injuries that are eligible for disability benefits. For instance, if your back pain results from spinal stenosis, and your injury is service-connected, the VA should approve your application.
Evidence of Event in Service
No matter how severe your back injury, the VA will not consider it eligible for disability benefits until we prove it is service-connected. Our advocates have a strong track record of analyzing service records, interviewing military personnel and expert witnesses, and drawing a nexus, or link, between our clients' injuries and their service in the military.
Chances are, your military service included either combat or strenuous training exercises, both of which present a risk of back pain injury.
Linking Medical Opinion
The VA requires an opinion from a medical expert stating that your injury likely resulted from a service event. We work to obtain this evidence and compellingly present it to the VA.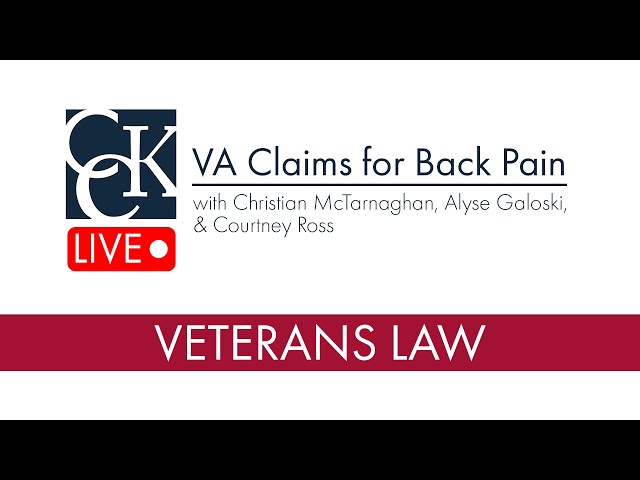 VA provides a list of back injuries that are eligible for disability benefits; however, it is important to note that there is an exception to the first element of direct service connection involving a current diagnosis.  In April 2018, the Court of Appeals for the Federal Circuit held in Saunders v. Wilkie that VA must award disability benefits for pain due to military service.  This means that if a veteran has pain related to their time in service, but does not have an underlying medical diagnosis, they can still receive VA disability benefits.  As such, veterans may be eligible to receive service-connected compensation for back pain stemming from their time in service even if they do not have a specific diagnosis that serves as a cause for the pain.
Secondary Service Connection for Back Pain
Veterans can also be service-connected for back conditions on a secondary basis, meaning the back condition is not directly related to service.  Instead, the veteran's back condition may have resulted from an already service-connected condition.  Here, veterans must provide medical evidence linking their back pain to their already service-connected condition.  For example, a veteran has a service-connected hip condition that causes them to favor one side when walking, resulting in an altered gait.  This uneven shift in weight then contributes to back pain.  In this case, the veteran's back pain is caused by their service-connected hip condition, and therefore warrants secondary service connection.
VA Disability Ratings for Back Pain
VA rates back conditions under 38 CFR § 4.71a, Schedule of Ratings, Musculoskeletal System.  The criteria are based largely on a veteran's range of motion and functional loss.  Specifically, VA will determine the severity of a veteran's back condition based on both the range of motion measurements provided by an examiner and the point at which the veteran starts to experience pain.  For example, a veteran might be able to bend forward 80 degrees but starts to experience pain at 50 degrees.  Here, the veteran should receive a disability rating that is consistent with both of these factors related to their back pain.
In addition to range of motion measurements and functional loss, VA examiners should also address the presence of flare-ups.  If veterans experience flare-ups of back pain, they may be eligible for a higher evaluation due to the fact that during a flare-up, a veteran's back condition typically becomes much more disabling.  If an examiner does not consider the impact of flare-ups, then the examination is inadequate for VA rating purposes and a new examination may be warranted.
How much can I receive in VA disability compensation for my back pain injury?
The amount of monthly compensation you can receive depends on the disability for your service-connected back pain.  Generally speaking, the more disabling your back condition is, the more compensation you will receive.  VA uses a disability rating schedule from 0 to 100 percent to assign a percentage consistent with the level of severity.  Your disability rating then determines the monetary amount you will receive.
Range of motion (ROM) is the primary criterion the VA uses to assign disability ratings to back pain injuries. The more restriction in your ROM, the more money you will receive in compensation.
For example, the VA assigns a 100 percent disability rating for a veteran with unfavorable ankylosis of the entire spine, while it only assigns a 10 percent disability rating for a vet with forward flexion between 60 and 85 degrees.
A rating of 0 percent does not qualify for monthly disability benefits. A rating of 100 percent allows you to receive the highest amount of benefits. The following is the general rating schedule for diseases and injuries of the spine. Muscle and disc injuries might differ.
As of December 1st, 2022 the VA disability rate benefit amounts are as follows:
0 percent disability rating: $0.00 per month
10 percent disability rating: $165.92 per month
20 percent disability rating: $327.99 per month
30 percent disability rating: $508.05 per month
40 percent disability rating: $731.86 per month
50 percent disability rating: $1,041.82 per month
60 percent disability rating: $1,319.65 per month
70 percent disability rating: $1,663.06 per month
80 percent disability rating: $1,933.15 per month
90 percent disability rating: $2,172.39 per month
100 percent disability rating: $3,621.95 per month
Importantly, with a disability rating of 30 percent or higher, you may also be eligible to receive additional compensation for qualifying dependents including your spouse, children under 18 years old, children between 18 and 23 years old who are still in school, and dependent parents. Our advocates can help you determine how much you might receive.
Individual Unemployability for Back Pain Injury
Veterans who are unable to secure and follow substantially gainful employment as a result of their back pain injury may be eligible for total disability based on individual unemployability (TDIU).  If granted, veterans will be compensated at the 100 percent level even if their combined schedular rating does not come to 100 percent.
Do I need a lawyer to receive VA disability benefits for my back pain injury?
While the VA does not require you to have a lawyer to apply for VA disability benefits, it can greatly boost your chance of winning your case. The VA has a reputation for being complex, unwieldy, and difficult to work with. The decisions it hands down are often arbitrary. Many veterans receive a grant for benefits only after first receiving multiple rejections, and the appeals process is long and arduous. The entire task from beginning to end is unpleasant and trying.
The VA disability attorneys at Chisholm Chisholm & Kilpatrick LTD can take the burden off your shoulders by handling your case for you. We have helped many veterans win VA disability, and we can put our vast resources to work for you. Call our office today for a free consultation: (800) 544-9144.