Qualifying Conditions
Getting Veterans (VA) Disability for Tinnitus
Veterans suffering from tinnitus or other hearing-related conditions may be eligible to receive monthly disability compensation from the Department of Veterans Affairs.  However, to receive veterans (VA) disability for tinnitus, you must establish a nexus between your condition and an injury, illness, or event that occurred during your military service.
Unfortunately, proving service connection and receiving the correct disability rating is easier said than done and many deserving veterans receive denials.  The Department of Veterans Affairs gives you the option to appeal its decision; however, appealing your denial often presents even more difficulty than your initial application.  That said, you do not need to handle this alone.  The veterans disability lawyers at Chisholm Chisholm & Kilpatrick LTD have helped many clients who were previously denied win on appeal.
For a free case evaluation, call 800-544-9144.
What is Tinnitus?
Tinnitus is usually not a permanent condition.  Nonetheless, it can be very irritating and distracting.  In addition to noise exposure, tinnitus can also be caused by blockages, infections, Meniere's disease, and a host of other conditions, including injuries to the neck and head.  Symptoms include the following:
Ringing
Buzzing
Hissing
Clicking whistling
Veterans Experience Extreme Exposure to Noise
Symptoms of tinnitus can be more pronounced at night when one is lying down to sleep simply because it is quieter.  For veterans on active duty, however, quiet may not be something experienced very often.  For this reason, a veteran may not even notice tinnitus symptoms until after service.
As a result, tinnitus and hearing loss are common conditions from which veterans suffer.  For the civilian who has suffered blockage or an infection – or perhaps a few hours of loud noise – it's entirely possible that tinnitus can be turned around due to time and healing or therapy.
Service members are exposed to loud noise on a regular basis, and tinnitus can lead to other medical issues such as fatigue from lack of sleep, anxiety, irritation, and more.  Men over the age of 65 are most prone, and while there are some white-noise devices and other machines that are meant to overcome the condition more naturally, medication can also be prescribed.
"Because tinnitus has many causes, many of which are outside the audiology scope of practice, the approach to tinnitus should be interdisciplinary," explained Dr. Paula Myers, Audiology Section Chief at the Tampa VA hospital, shared in recent information from the U.S. Department of Veterans Affairs.
"Some of these services are performed by audiologists and some are referred to appropriate professionals.  The goal is not to silence tinnitus, because there is no cure.  Rather, the goal is for patients to learn to self-manage their reactions to the tinnitus."
Tinnitus – The Most Common Veterans Disability Claim
Tinnitus is the most commonly claimed disability for VA compensation, but it is rarely given a rating of more than 10 percent.  The current consensus is that a lot can be done to relieve tinnitus in terms of the symptoms, despite the damage that may have been done.
In applying for disability for tinnitus, veterans generally only need to give their statement of the condition along with connection to exposure to noise in service.  There may be the request for a diagnosis of the condition as well.  If you have questions about disability or an appeal, contact us at 800-544-9144.  With many years of representing veterans around the U.S., we have the experience to help you gain the benefits you deserve.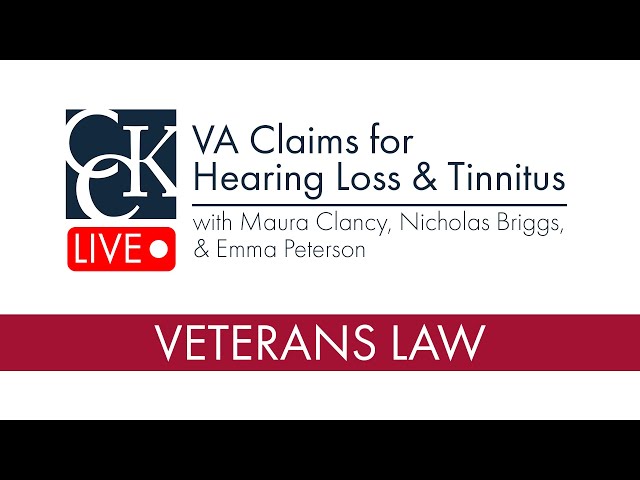 What is Service Connection?
In many cases, veterans receive denials because they did not provide enough evidence to successfully establish service connection.  While your entire case hinges on this, service connection simply means your tinnitus resulted from an in-service event, injury, or illness.
How Can I Establish Service Connection for Tinnitus?
This is where CCK may be able to help.  To establish service connection for your tinnitus, we must prove there is a connection between your diagnosis and an injury, illness, or event that occurred during your service.
We can use the following types of evidence to strengthen our appeal of your tinnitus denial:
Your service records (these may show or support regular and/or prolonged noise exposure during training exercises or in combat)
Your medical records (this can establish that you did not have hearing-related issues prior to your military service)
Lay evidence or buddy statements
Statements from your doctors (your doctors can establish when you began complaining of the ringing in your ears and what treatment you have undergone to mitigate the symptoms)
An expert's medical opinion (a medical expert can opine as to the cause of your tinnitus)
What Monthly Benefit Might I Be Entitled To?
When VA reviews your application for disability benefits, it rates your condition on a scale of 0 to 100 percent disabled.  The severity of your disability, and the extent to which it impacts your ability to work and carry out daily living activities, determine where the VA rates it on the scale.
A rating of 0 percent does not qualify you to receive monthly compensation, though you can still get ancillary benefits, such as health care.  A 100 percent disability rating makes you eligible for the maximum award.
The standard rating for recurrent tinnitus is 10 percent, and this rating applies whether your condition affects both or just one ear.  According to the VA compensation table for December 2021, a 10 percent rating warrants a monthly benefit of $152.64 for tinnitus.
Schedule Your Free Consultation Today by Calling 401-237-6412
The veterans advocates at Chisholm Chisholm & Kilpatrick LTD have a successful history of appealing denials and helping veterans obtain grants for the benefits they need to help support themselves and their families.  In fact, we have effectively handled thousands of cases with the Board of Veterans' Appeals and the Court of Appeals for Veterans Claims.