Video
70% to 100% VA Disability Rating: Increase VA Rating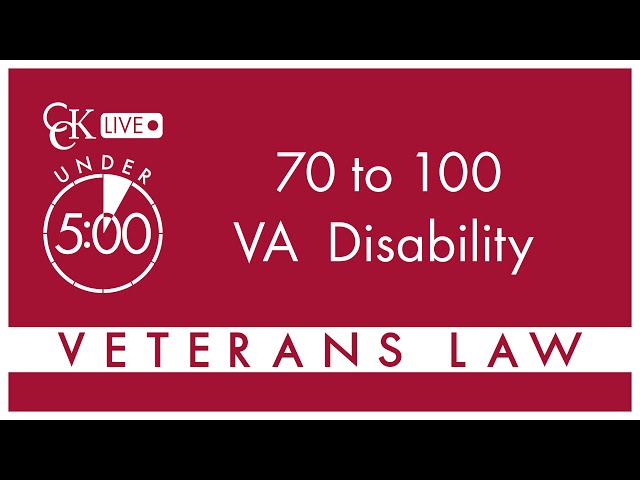 Video Transcription
Michael Lostritto: Welcome to CCK Under Five. I'm Michael Lostritto. I'll be reviewing how to go from a 70% to a 100% VA disability rate today.
For a single veteran with no dependents, the amount of monthly compensation awarded for a 70% rating in 2022 is approximately $1,529.94. While those veterans who are rated at the 100% level receive a substantially increased amount of $3,332.06 per month.
Under certain circumstances, VA may increase a veteran's disability rating if the evidence shows that the veteran's condition has in fact worsened. If you think your service-connected condition warrants a higher disability rating than the one that you might currently have, you have essentially two options.
Number one, you can file a claim for an increased rating. But if you're still, if the veteran is still within the time to appeal a rating decision that addresses that same issue, they can and should file an appeal seeking an increased rating for that condition. In both situations or in other situations, veterans should be mindful of the rating criteria that are specific to the condition and apply that criteria when arguing that an increased rating is warranted.
You can read through the rating criteria. It's all publicly available, and determine how your symptomatology lines up with what is listed in the diagnostic code. You can also have a private doctor provide an opinion on the severity of your condition and submit that as additional evidence.
Veterans have one year from the date that their VA Regional Office decision was issued to file an appeal. Under the new Appeals Modernization Act, or AMA system, veterans now have three different appeal options to choose from when deciding how to appeal their rating decision. The first option is the Higher-Level Review lane, the second option is selecting the Supplemental Claim lane, and the third option is to appeal the case directly to the Board with what's known as a Notice of Disagreement.
If veterans are outside of the period to appeal and instead they have to rely on sending a new claim seeking an increased rating, then they'll want to do that on the appropriate form in AMA. In the new system that would be VA Form 21-526EZ. Just a word of caution, that can, oftentimes will, result in VA ordering a new examination, what's known as a Compensation and Pension Examination, or C&P Exam. So, veterans will oftentimes have to attend a new examination for VA to assess whether the severity of the condition has increased.
Veterans unable to work due to their service-connected conditions may qualify for TDIU which is a benefit that compensates veterans at the 100% level even if they otherwise aren't rated at the 100% rate. To qualify for what's known as schedular TDIU, a veteran has to have one service-connected disability rated at least 60% disabling or greater, or have more than one service-connected disability with a combined overall rating of at least 70% or greater, and with one of those service-connected conditions rated individually 40% or higher.
So, that's all we have today. Thanks for watching. To learn more about the topics mentioned in this video, please check out our blog or explore our extensive video library on YouTube, and also don't forget to subscribe to our channel.