Veterans Law
Individual Unemployability (TDIU) Myths vs. Facts
Overview of VA Individual Unemployability (TDIU)
Total disability based on individual unemployability (TDIU) is a disability benefit that allows veterans to be compensated at VA's 100 percent disability rate, even if their combined schedular rating does not equal 100 percent.  TDIU is awarded in circumstances in which veterans are unable to secure and follow substantially gainful employment as a result of their service-connected conditions.  VA defines substantially gainful employment in its Adjudications Manual as "employment that is ordinarily followed by the nondisabled to earn their livelihood with earnings common to the particular occupations in the community where the veteran resides."  In other words, substantially gainful employment refers to whether a veteran's annual income meets or exceeds the federal poverty threshold for a single person.
If Veterans Don't Meet TDIU Rating Percentage Requirements, They Do Not Qualify for TDIU: MYTH
VA outlines TDIU regulations under 38 CFR § 4.16, which encompasses subsections (a) and (b).  Each subsection describes the ways in which veterans can meet the eligibility requirements for TDIU.  In order to qualify for TDIU under 38 CFR § 4.16(a), or schedular TDIU, a veteran must have:
One service-connected condition rated at 60% or higher; or
Two or more service-connected conditions, one of which is rated at 40% or higher, with a combined rating of 70% or higher.
Veterans who do not meet the schedular requirements under 38 CFR § 4.16(a) may still be considered for extraschedular TDIU under § 4.16(b).  Importantly, extraschedular TDIU does not have any underlying rating requirement.  Instead, VA will determine if your case should be referred to the Director of Compensation Service for extraschedular consideration.  If your TDIU claim is referred, the Director will look at your case and write an opinion as to whether your service-connected condition(s) prevent you from securing and following substantially gainful employment.  VA will then agree or disagree with the Director's opinion to either grant or deny TDIU on an extraschedular basis.
Advice and Evidence for VA TDIU Claims
Valuable types of evidence for TDIU claims include the following:
Lay evidence (i.e., lay statements, buddy statements)
Medical records
Employment records
Social security determinations
Expert Vocational reports
Veterans Can Collect Social Security Disability and TDIU Benefits at the Same Time: FACT
There are certain government benefits for which there are double-dipping rules, meaning individuals cannot receive both programs at the same time. Social Security Disability Insurance (SSDI) and VA disability benefits do not count as double-dipping.  There is something called Supplemental Security Income (SSI), where individuals receive benefits that are needs-based.  While there is an offset for someone receiving VA benefits and SSI benefits, there is no offset for SSDI benefits and VA benefits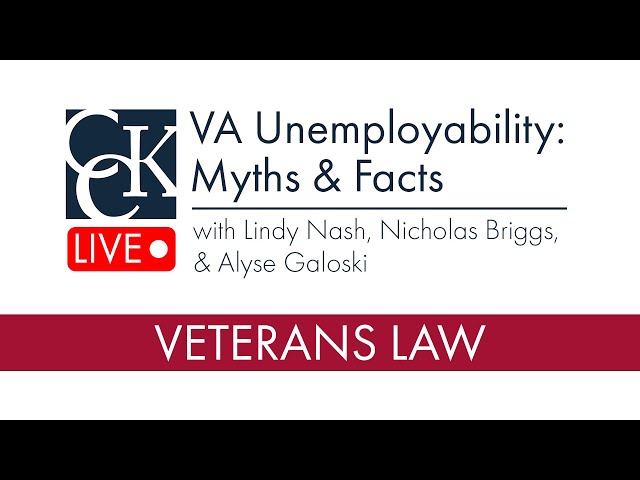 If the SSA Deems a Veteran Totally Disabled, They Should Automatically Be Eligible for TDIU Benefits: MYTH
The Social Security Administration (SSA) and VA are two different adjudicatory systems and they are separately administrated.  As such, they have two separate definitions of what renders an individual totally disabled.  Therefore, veterans will not automatically receive TDIU benefits if they are receiving SSDI benefits.  However, receiving SSDI benefits could potentially help with veterans' TDIU claims.  VA is required to take SSA's decisions into consideration if they are related to a veteran's service-connected condition(s).  Importantly, veterans must make VA aware of the SSA's decision by submitting the relevant evidence.  Once VA is aware of a veteran's SSA records, it must attempt to obtain those records.  Such records may contain medical opinions or vocational reports from SSA staff that could help support claims for TDIU benefits.  Additionally, if an SSA adjudicator finds that a veteran's service-connected condition alone prevents them from working, a VA adjudicator who disagrees must provide an adequate explanation as to why.
VA Can Deny TDIU Benefits if Veterans are Over Retirement Age: MYTH
There are certain things VA cannot take into account when evaluating veterans for individual unemployability, one of which is age.  VA should only be evaluating the effects that the veteran's service-connected condition(s) have on their ability to work.  Even if the veteran has retired long ago, the operative question remains: does the veteran's service-connected condition(s) prevent them from working?  However, it is important to note that VA cannot grant TDIU benefits based on age either.  That is, the mere fact that a veteran might be 80 years old is not in and of itself a reason that VA can grant unemployability.  Again, entitlement to TDIU is limited to the consideration of whether service-connected conditions prevent veterans from engaging in substantially gainful employment.
VA Can Reduce or Terminate a Veteran's Individual Unemployability Rating: FACT
 TDIU is not a guaranteed benefit unless VA has determined that the veteran has a condition that will not improve, and that is something veterans receive when their condition is deemed permanent and total (P&T).  TDIU can become P&T, but it is not automatically awarded.  If a veteran's TDIU benefits are permanent, VA will indicate that in the Rating Decision in one of three ways: (1) a box will be checked indicating that their 100 percent disability is permanent; (2) language such as "eligibility to Dependents Chapter 35 DEA are established," as these benefits are reserved for dependents of veterans who are permanently and totally disabled; (3) if the Rating Decision says "no future exams scheduled," their TDIU benefits are permanent.
 VA can rescind TDIU benefits for a couple of reasons, including the following:
The veteran's ability to sustain substantially gainful employment changes (i.e., their service-connected condition improves and they are able to get a job); or
An improvement in the VA disability rating for one or more of your conditions (i.e., your condition improves, and your combined disability rating goes from 70% to 50% thereby dropping below the rating requirements under § 4.16(a)).
If veterans fail to submit VA Form 21-4140, Employment Questionnaire, on an annual basis.
Veterans Cannot Work at All While Receiving TDIU Benefits: MYTH
There are certain circumstances in which a veteran can continue to work and still be granted entitlement to TDIU.  If a veteran is working in a marginal capacity (i.e., marginal employment), meaning that they are making less than the federally established poverty threshold.  This is regardless of whether a veteran works part-time or full-time.  Again, if they are earning less than the federal poverty threshold (currently around $13,000), their employment cannot be considered gainful, and as a result, they can still be granted TDIU.  Importantly, it must also be determined that the veteran is limited to no more than marginal employment due to their service-connected conditions.  However, there are additional circumstances in which the veteran can earn above the poverty threshold and still qualify for TDIU benefits.
Veterans may still be considered unable to work if their employment is only maintained because it is in a protected work environment.  VA's regulation does not exactly define what a protected work environment is, it simply provides examples (e.g., family business, sheltered workshop).  However, at the most basic level, a protected work environment is a situation where a veteran's excused from the critical functions of their job due to their service-connected conditions.  They are generally less productive and reliable than other employees, and they may not be penalized for certain behavioral issues or mistakes that might get traditionally employees fired or reprimanded.  Importantly, the veteran may still get paid the same, or similar to, other employees despite the accommodations and protections.  Protective work environments represent a recognition on the employer's part that if not for those accommodations, the veteran would not be able to work.  In those situations, VA should still be granting the veteran entitlement to TDIU.
Veterans in Receipt of Individual Unemployability Benefits Have a 100% VA Disability Rating: MYTH
Again, veterans do not need to have a 100% schedular disability rating in order to receive TDIU benefits.  TDIU represents an alternative path to receiving a 100% monthly payment.
Veterans Must File a Separate Claim for VA TDIU Benefits: MYTH
As a general rule, VA is required to assume that a veteran is seeking the highest possible rating for their service-connected condition, to include entitlement to individual unemployability.  This means if a veteran is seeking an increased rating for a service-connected condition, and there is evidence suggesting that they cannot work due to that condition, VA is supposed to consider entitlement to TDIU as a reasonably raised issue.  That being said, it is better to assist VA in this process by submitting VA Form 21-8940, the formal application for TDIU.  This form provides a lot of information that might not be included in the veteran's claims file.
Advice from CCK on Applying for TDIU Benefits
Submitting VA Form 21-8940
We recommend filing a VA form 21-8940 when seeking TDIU benefits. When submitting VA Form 21-8940, the application will request information regarding the veteran's last five years of employment.  However, in many cases, veterans may have been unemployed or frequently switching jobs.  All of this information is important for VA to be aware of.  It can be useful in showing that a veteran cannot work and that their service-connected conditions affected their attempts to secure and maintain employment.
Submitting Evidence
With regard to other types of evidence, it is important that veterans do not rely solely on medical evidence.  Instead, lay statements can be very helpful insofar as they can outline when and why you stopped working.  Moreover, they can paint a more realistic picture of the service-connected condition and how it impacts daily life.