Veterans Law
Unaccredited VA Representatives: How to Spot Them and What to Do
What Is an Accredited Representative?
VA-accredited attorneys or representatives are individuals recognized by the Department of Veterans Affairs (VA) as legally authorized and capable of assisting claimants in pursuit of VA benefits.
VA offers an accreditation program to attorneys and claims agents who wish to represent veterans.  This program exists to ensure that veterans and their family members receive adequate, informed representation throughout the VA benefits claims and appeals process.
VA-accredited representatives can include:
Attorneys
Accredited claims agents
Veteran service organizations (VSOs)
State or county government entities
What Is VA's Accreditation Process?
To receive VA-accreditation, all representatives must initially apply (using VA Form 21a) to VA's Office of General Council (OGC); submit a certificate of good standing from all courts, state bars, or state or Federal agencies; and pass a character and fitness test.  Attorneys and agents must also complete periodical continuing legal education (CLEs).  In addition, non-attorney representatives must pass an examination to receive their accreditation from VA.
What to Look Out for When Choosing a Representative
There are several red flags to be aware of when seeking a veterans' representative.
Do Not Work with an Unaccredited Representative
First, veterans should not work with unaccredited representatives.  The law requires that an individual preparing, presenting, or prosecuting a claim on behalf of veterans, dependents, and their survivors must be accredited by VA.  Claimants can use the VA Office of General Counsel (OGC) database to find out if the representative who wants to help them is accredited.
Understand When and How Much a Representative Can Charge
Second, claimants should understand when and how much they can be charged by a representative.  Congress has determined who can charge a claimant and how much they can be charged, as well as when representatives can enter into fee agreements with a claimant.  Specifically, representatives cannot charge a veteran to file an initial claim, nor can they charge fees based on future benefit payments.
According to VA regulation, fees taken from retroactive benefits which are 20 percent or less are presumed reasonable, while fees exceeding 33.3 percent are presumed unreasonable.
Often, unaccredited VA representatives state that they do not charge for the filing of a claim and are merely "consulting" or "coaching," and yet they require claimants to sign contracts that will make them pay unregulated sums from future benefits.
Avoid Representatives That Ask for Access to Personal Information
Some unaccredited representatives may request banking information or login information to VA websites.  This is because VA does not recognize them as a representative and therefore does not provide them with claim information directly.
It is important to never provide personal login information for bank accounts, eBenefits, any other VA system.  Accredited individuals should have access to the information they need once their veteran client signs a power of attorney, and, therefore, will not ask for login information.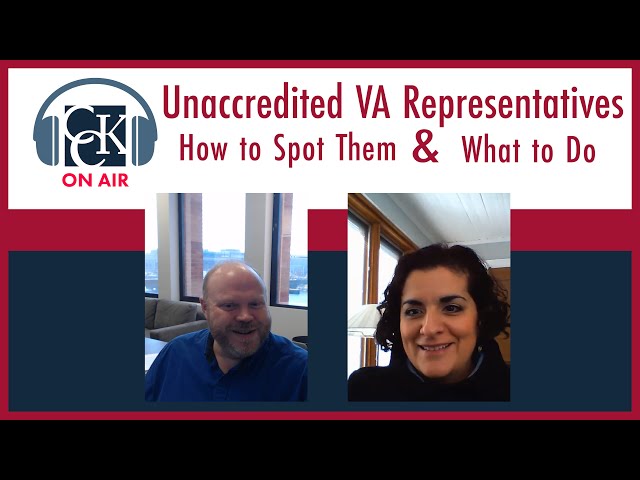 Reporting an Unaccredited VA Representative
If you have encountered an unaccredited representative or have been working with one, you can report them.  There are several ways to file a complaint against an organization or unaccredited individual who charged a veteran or claimant outside of the statutory scheme.  You can start by contacting any of the following organizations or offices:
VA Office of General Council (OGC) – This accreditation complaint program is only intended to discipline accredited individuals who failed to meet VA's standards of conduct. The OGC does not exercise jurisdiction over unaccredited individuals.  To report concerns to VA, you can email the OGC at

[email protected]

.
VA Office of Inspector General (OIG) – The OIG provides independent oversight over the operations of VA. If you reported to the OGC and they did not respond or sent an unfavorable response, you can report the issue to the OIG.  To reach OIG, you can call 800-495-8244 or register your complaint online here.
Federal Trade Commission (FTC) – The FTC protects consumers from unfair and deceptive marketplace practices. To register a complaint, visit FTC's website here.
State Attorney General – The state attorney general is the top attorney in the state and serves as the "people's lawyer." For example, the Louisiana State Attorney General recently obtained a permanent injunction against a VA benefit consulting and management business operating without accreditation.  Find your state attorney general.
State Consumer Protection Agency: Each state has a consumer protection agency to protect against fraudulent business practices. Find your state agency.
How the Accredited Representatives at CCK Can Help
If you have a service-related injury or illness but VA denied your claim for disability compensation, an accredited attorney or claims agent at Chisholm Chisholm & Kilpatrick LTD may be able to help you secure the benefits you deserve.  CCK has decades of experience successfully representing veterans before VA, the Board of Veterans' Appeals, and the Court of Appeals for Veterans Claims (CAVC).
To schedule your complimentary case review, contact CCK today.
About the Author