Veterans Law
How Much Can a VA Disability Lawyer or Agent Charge?
While legal process for VA benefits can be confusing, it is important that veterans and claimants know their rights when it comes to their representation, whether that be a veterans disability lawyer, agents, or VSOs.  One of the things I'm sure you are wondering is how much does a disability lawyer cost? VA regulates who may represent claimants in VA benefits cases, and how much they may be paid, under 38 CFR § 14.636. 
Who Can Represent Claimants in Cases Before the VA?
Lawyers or Agents must be accredited in order to represent claimants before the Department of Veterans Affairs.  The accreditation process exists to ensure that veterans and their family members receive skilled and informed representation throughout the VA claims and appeals process.
Lawyers, claims agents, veterans service organizations (VSOs), and state or country government entities may all represent claimants during the VA claims and appeals process, so long as they are accredited.
Veterans Service Organizations, or VSOs, are licensed before VA to represent claimants during the claims and appeals process.  Examples of VSOs include Disabled American Veterans (DAV) and the American Legion.  Organizations like these can be very beneficial to veterans because of their experience and their services are free of charge.
VA-accredited attorneys and claims agents typically represent claimants once VA has issued a rating decision on the veteran's initial claim.  Once an initial claim is decided by the VA attorneys and claims agents may charge a fee for their representation.  Attorneys and claims agents may use their expertise to compile evidence and make persuasive legal arguments which could be advantageous in order to win a claimant's appeal.
What Does "Accredited" Mean?
To legally represent veterans in VA disability benefits cases, individuals must be accredited by VA.  Accredited representatives are recognized by VA as being legally authorized and capable of assisting claimants in the pursuit of benefits before the Department of Veterans Affairs.
In order to become accredited, individuals must participate in the accreditation program.  During the accreditation process, non-attorney representatives must pass an examination, a background check, and attend continuing education courses regularly.  They must also follow VA's guidelines, which are as follows:
VA-accredited individuals shall:

Execute their duties faithfully on behalf of a VA claimant;
Be truthful with claimants and VA;
Deliver competent assistance to claimants; and
Provide prompt and diligent claim assistance.
VA-accredited individuals shall NOT:

Evade a rule of conduct "through the actions of another;"
Engage in deceitful, fraudulent, misrepresentative, or dishonest conduct;
Violate any provisions included in Title 38 United States Code, or Title 38, Code of Federal Regulations;
Charge, solicit, or enter an agreement for unreasonable or unlawful fees;
Receive or solicit funds related to services provided prior to when VA issues its initial decision;
Hinder the processing of a claim;
Deceive, threaten, mislead, or coerce a claimant about benefits or rights;
Act or encourage a claimant to act in a manner that is detrimental to the conduct of VA proceedings;
Disclose any information provided by VA for representation purposes without the claimant's permission; or
Take part in unlawful or unethical conduct.
When a representative such as a lawyer is accredited, it means they are legally qualified to represent veterans, service members, dependents, and survivors before VA for a number of VA benefits, which can include disability compensation benefits or dependency and indemnity compensation.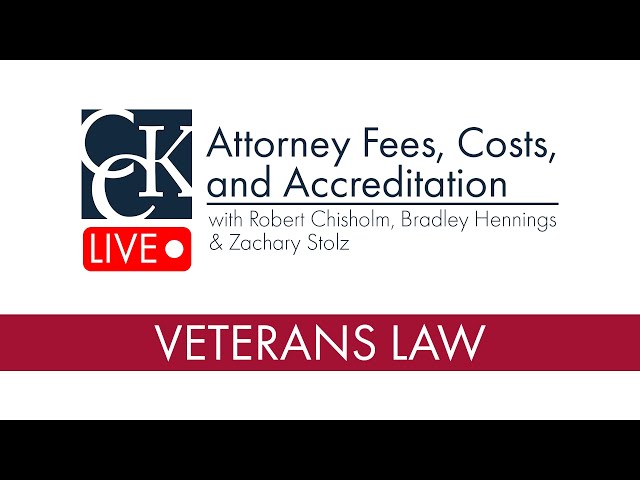 How Can Veterans Find VA-Accredited Lawyers or Representatives?
VA hosts a searchable database where veterans can look for accredited representatives.  The database includes accredited VA disability lawyers, claims agents, or VSO representatives.  Additionally, those seeking representation may also visit their local Regional Office for assistance.
To appoint a representative, claimants may use eBenefits.  Veterans may also use VA Form 21-22a: Appointment of Individual as Claimant's Representative.  Those seeking to appoint a Veterans Service Organization as representation may use VA Form 21-22: Appointment of Veterans Service Organization as Claimant's Representative.  Forms may be sent to VA's Claims Intake Center at:
Department of Veterans Affairs
Claims Intake Center
PO Box 4444
Janesville, WI 53547-4444
How Do Accredited Representatives Get Paid?
Typically, accredited veterans' advocates charge a contingency fee based on retroactive benefits recovered.  This means that if a claimant is awarded retroactive benefits, based on eligibility stemming from a previous date in time, then the veteran's advocate would receive a percentage of those retroactive benefits, according to the agreement entered into between the claimant and the representative.
Accredited representatives should not charge fees based on future benefits, as this is illegal.  An example of this would be if a claimant receives an award, such as an increase from a 50 percent rating to a 100 percent rating, and their representative wants a portion of that new award for four years into the future.  This is prohibited.  Accredited representatives, such as CCK, who charge on a contingency basis do not get paid unless the claimant is awarded and paid retroactive benefits.
Importantly, no representative may charge veterans for assistance filing initial claims nor may they take any portions of future VA monthly payment.  An initial claim is the first claim filed for a specific condition.  An example of this would be if a veteran files a claim for benefits for a back condition they incurred during service, they will receive a rating decision that may grant or deny the claim.  An initial claim decision is the first decision on a particular claim,  meaning it has yet to be appealed.  A representative may help the claimant file their initial claim, so long as they do not charge a fee.
How Much Do Accredited Lawyers or Representatives Get Paid
There are ethical rules of reasonableness to which VA disability lawyers are held by VA.  VA will look at many different factors to determine if a fee is "reasonable" or "unreasonable."  Accredited agents and lawyers typically work on contingency agreements.  This means that they will take a percentage of past-due benefits awarded as their fee.  There are exceptions, however, as different amounts of work can correlate to different victories which can lead to complications.  When assessing if a fee is reasonable, VA will look at some of the following:
Extent and type of service
Complexity of the case
The level of skill and competence required of the representative
Rates charged by other representatives for similar services
Amount of time the representative spends on the case
Results the representative achieved
The level of review at which the claim was taken and the level of review at which the representative was retained (i.e., how many levels of appeals the representative saw the claim through)
Whether or not, and to what extent, the payment of fees is contingent upon the results achieved
Reasons why an agent or attorney was discharged or withdrew representation before the date of the decision which awarded benefits, if applicable
Presumptions of Reasonableness
VA regulations assert that fees which are 20 percent or less are presumed to be "reasonable."  In other words, fees from retroactive benefits, benefits that go back to the initial date of the claim, that are up to 20 percent are presumed reasonable.  Fees that exceed 33.3 percent are presumed to be unreasonable.
What Are Some Red Flags to Watch Out For When Hiring Lawyers or Representatives?
The individual is not accredited – Individuals may not legally represent claimants in cases before VA unless they are accredited.
The representative is charging a fee based on future benefits – Charging fees based on future benefits is illegal. Most accredited representatives charge a contingency fee based on retroactive benefits recovered.  If a person is charging a percentage of benefits the claimant is going to receive over a certain period of time, they are charging fees unethically and illegally.
They have minimal professional experience in VA disability law – Veterans disability law is complex. Appealing a VA case can involve demanding evidence requirements and strict deadlines.  If a representative has less than 3 years of experience, veterans may not feel comfortable trusting them with their VA disability case.
They do not take cases to Court – If a claimant receives a denial at the Board of Veterans' Appeals, their case may need to be appealed to Court. Not all accredited agents and lawyers represent veterans before both the Department of Veterans Affairs and the Court of Appeals for Veterans Claims (CAVC).  Experience before the CAVC allows an advocate to stay up to date on the court decisions that affect how the Board of Veterans' Appeals and Regional Offices decide claims.
They outsource their legal work – If a representative outsources their legal work, they may not be giving the case the full amount of attention it requires. Veterans may also become frustrated when speaking with their representative if they are not knowledgeable about their case, since the legal work has been outsourced.
Why Might You Need a Lawyer for Your VA Disability Appeal?
Oftentimes, the VA claims and appeals process can be long and challenging for many veterans.  This may lead a veteran to feel frustrated, overwhelmed, or even want to give up on their claim entirely.  Because of this, a veteran may seek a VA-accredited lawyer or VA-accredited representative to help fight their case.
Why Hire CCK For Your VA Disability Appeal
Chisholm Chisholm & Kilpatrick LTD is a national leader in the field of Veterans Law, with decades of experience successfully representing Veterans before the Department of Veterans Affairs, the Court of Appeals for Veterans Claims (CAVC), and the Court of Appeals for the Federal Circuit.
Our team is made up of experienced VA disability lawyers and advocates who have the knowledge and resources to fight for the benefits you deserve.  For a free case evaluation with a member of our team, call us at 800-544-9144.