Long-Term Disability Lawyer Serving Winchester, MA
You might be unable to work if you have a disabling health condition, which can be a difficult life change to manage.  Fortunately, you may be able to apply for long-term disability (LTD) benefits to cover a portion of your pre-disability work earnings.  Filing a claim can difficult, and appealing a denied claim can be stressful, but the team of attorneys serving Winchester, MA from Chisholm Chisholm & Kilpatrick may be able to help you with your case.
No matter where you are in the process of filing for or appealing a denial of long-term disability benefits, CCK is able to assist.  If you would like a free consultation to discuss your case, you can call us at 800-544-9144.
CCK Can Help You With your Long-Term Disability Claim
You will need to meet your long-term disability policy's definition of disability in order to be approved for benefits.  This definition will outline the criteria your condition must satisfy to qualify as a disability that merits benefits.  In order to prove your disability qualifies, you will need to gather sufficient supporting evidence.  This can be a difficult task, especially if your insurance company has strict requirements, but the CCK lawyers serving Winchester, MA are able to help.
While it is possible for you to handle your claim on your own, it can be beneficial to seek the help of an experienced long-term disability attorney.  Our attorneys will evaluate your policy to determine the best evidence that will support your claim.  We know that insurance companies can have requirements in their policies that are difficult to satisfy and may sometimes act in their own business interests instead of prioritizing your needs.  Our lawyers can advocate on your behalf to ensure that your claim is being treated fairly.
If your plan is governed by ERISA, it may be subject to additional requirements.  Under ERISA, you must get all your evidence in during the initial claim or appeal stage, because you will not be allowed to introduce any more evidence should your claim be taken to court.  If your claim is taken to court, it will not be allowed a trial by jury, which can make approval even more difficult.  CCK can help you ensure that your claim meets all requirements and abides by all ERISA guidelines.
Our Attorneys Will Help You Gather Evidence for your Long-Term Disability Claim
Often, your health records alone will not be enough to satisfy your definition of disability.  To strengthen them, additional forms of evidence may be needed. Your insurance provider may request supporting evidence even if you seek benefits for COPD or other chronic medical conditions. Our attorneys serving Winchester can advise you and help you gather such additional pieces of evidence, including:
Treating physician reports: A personal report from your physician can be a great supporting document to your health records. Often, your medical records may not provide a detailed account of the specific ways your condition disables you. 

If you seek

benefits for epilepsy

or any other disruptive condition, y

our physician likely knows how certain symptoms and aspects of your illness disable you in your personal and professional life and can attest to them in their report.
Testimony from friends, family, and colleagues: Statements from people you are acquainted with may also be an asset to your claim. Friends, family, and coworkers have likely witnessed how your condition has impaired your everyday tasks. 

For example, if you claim

benefits for Crohn's disease

, t

hese people can speak to how your disability impacts your abilities to carry out your daily activities, both inside and outside of work.
Outside opinions from medical and vocational experts: CCK works with a variety of experts in various fields that may be able to provide you with additional evaluations. Vocational experts can assess your ability to perform your occupation given the limitations caused by your condition.

We will consider a wide range of

vocational evidence

, including your training and your job skills to help you build a strong case.

 Medical experts may be able to provide evaluations not done by your physician, which can include functional capacity and neuropsychological assessments.  These additional tests can be valuable pieces of supporting evidence for your claim.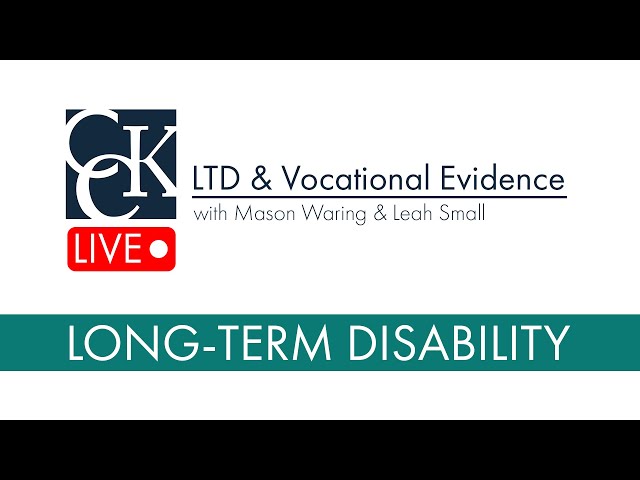 Chisholm Chisholm & Kilpatrick Will Handle the Burden of Your Claim
We aim to make the process of filing for or appealing long-term disability benefits as easy and stress-free for you as possible.  Managing a disabling health condition like Meniere's disease while handling a long-term disability claim is difficult, and we want you to be able to focus on your health without the added strain.  At CCK, our team of long-term disability attorneys have over three decades of experience helping claimants win their long-term disability cases.
We will act as a point of contact between you and your insurance company, as well as your doctors and any additional experts.  We will keep track of your documents and policy requirements, ensuring that every need in your claim is met.  Meeting your deadlines is also imperative, as a missed deadline can result in a denied claim or loss of rights to long-term disability benefits altogether.  Our team will keep track of your deadlines and make sure that all documentation is submitted in a timely manner.
Once you do begin receiving benefits, your insurance company may still require you to submit further documentation and medical records for the duration of your claim.  Our attorneys can provide continued assistance so that your claim is never in danger of termination.  We know that handling a long-term disability case while taking care of your health can be difficult, and we want to make the process as worry-free for you as possible.
Contact CCK Today for a Free Consultation
If you are unable to work due to a medical condition, the lawyers at Chisholm Chisholm & Kilpatrick serving Winchester, MA may be able to assist you with your claim.  Our experienced team of attorneys is prepared to handle your case and prove that you are entitled to benefits.  We understand that being disabled and unable to work is difficult, and we want to ease the burden of filing for benefits.
CCK wants you to be able to focus on your health while we take care of your claim.  For a free consultation with a member of our team, you can contact us online or call us at 800-544-9144.