Long-Term Disability Lawyer Serving Wellesley, MA
You may want to file for long-term disability (LTD) insurance if you find yourself with a health condition that is affecting your ability to do your job.  Long-term disability benefits can cover a portion of your income while you are out of work.  Filing a claim can come with challenges, however, especially if you are seeking treatment for your health at the same time.
The long-term disability lawyers serving Wellesley, MA can help you with your claim and take on the legal burdens.  Our team has knowledge of long-term disability laws and the expertise to help you get the benefits to which you are entitled.  For a free consultation with a member of our team, you can call 800-544-9144.
CCK Can Help You with Your Long-Term Disability Claim
Your claim must meet your policy's definition of disability in order to be approved for benefits.  This definition defines the terms your condition must satisfy to be acknowledged as a disability warranting benefits.  The attorneys serving Wellesley, MA can evaluate this definition, and the rest of your policy, to help you gather the strongest evidence that will satisfy your insurance company.
It is important to note that claimants can handle their claims on their own, but seeking the help of an attorney can be highly beneficial to your case.  Our attorneys understand the ways in which insurance companies may not always act in the interest of the insured.  This may include issuing confusing policies and making requirements overly difficult or challenging for claimants.  A long-term disability lawyer can act as an intermediary between you and your insurance company, handling communication and the transfer of information.  They can also provide guidance and instruction as you navigate your claim.
ERISA law governs group long-term disability insurance policies, and it can often work in favor of insurance companies rather than claimants.  ERISA enforces strict rules and deadlines for long-term disability claims and missing a deadline can result in a denial of benefits.  Our attorneys will keep track of deadlines and documentation for you and ensure that your claim is always on the right track.  Whether you are in the process of filing an initial claim or appealing a denial, we make sure that nothing is left unattended.
We Can Help You Gather the Evidence You need For Your Long-Term Disability Claim
When filing your long-term disability claim you will need to include your medical records, but often medical records alone are not enough evidence to prove your case.  It can be beneficial to obtain other forms of evidence to back up your medical records.  Such forms of evidence may include:
Reports by your treating physician: Personal reports from your physician may be beneficial supplements to your medical records. Your physician may be able to highlight certain aspects of your condition that may not be as apparent by your medical records alone.  It is important that you have an honest relationship with your doctor about your condition, so that they are able to provide as much detail for your claim as possible.
Outside opinions by experts: Chisholm Chisholm & Kilpatrick attorneys work with a variety of experts in various medical and vocational fields. These professionals may be able to provide you with additional evaluations that can be helpful to your claim.  Vocational experts may assess how you are unable to perform the duties of your job with your condition, while medical experts may be able to offer additional specialized medical examinations not typically done by your treating physician.
Impact statements by personal references: Testimonies by the people you interact with in your daily life can also be important supporting evidence to your claim. Family, friends, and coworkers have likely seen how your condition disables you in your daily routines and can attest to these impacts.  Such statements may be of a more intimate nature than medical records and may be able to highlight aspects of your illness that your physician or a vocational expert may not have documented.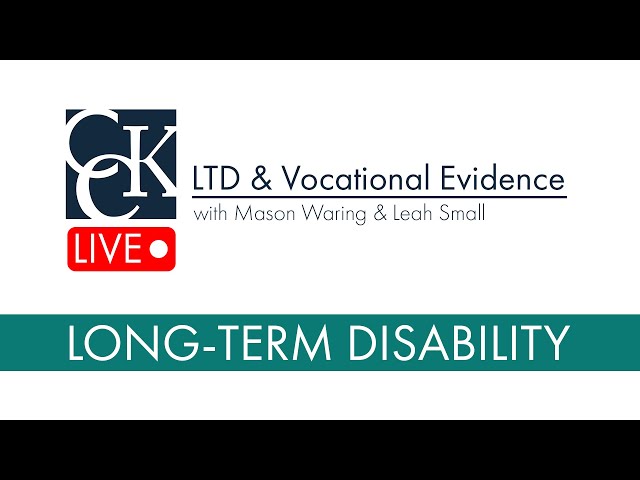 Chisholm Chisholm & Kilpatrick Will Bear the Burden of Your Claim
The long-term disability attorneys at CCK understand that filing for LTD insurance is a difficult and often tiring process, especially as you manage your health at the same time.  Fortunately, we are equipped to handle your case.  Our long-term disability attorneys have over three decades of combined experience working to prove LTD claims and appeals and are prepared to assist you with yours.
Even after your claim is approved and you begin to receive monthly benefits, your relationship with CCK does not have to end.  Insurance companies will often require updated information from claimants or make policy changes that may disrupt your claim.  We will continue to serve as a point of contact between you and your insurance company, and can handle future requests for updated documentation and reevaluate your policy to make sure that you continue to get the benefits you deserve.
We want you to be able to rest assured that the Chisholm Chisholm & Kilpatrick team is taking care of your case while you focus on your health.  It is our aim to ease the burden of the long-term disability process for you.
Contact CCK Today for a Free Consultation
If you find yourself diagnosed with a disabling medical condition and can no longer work, our long-term disability attorneys serving Wellesley, MA may be able to help.  We can evaluate your policy and ensure you have the best evidence to get your claim or appeal approved.  We want you to be able to focus on your condition while we take care of the stress of filing your claim.
For a free consolation with a member of our team, you can contact us online or call us at 800-544-9144 today.