Long-Term Disability Lawyer Serving Norwalk, CT
If you find yourself with a health condition that disables you enough to take you out of work, you may be able to file for long-term disability (LTD) insurance.  Unfortunately, filing a claim can be challenging, especially if you are managing your health at the same time.  It can be even more difficult if you are fighting a denial of benefits after an initial claim and need to strengthen your case for an appeal.
The long-term disability attorneys at Chisholm Chisholm & Kilpatrick serving Norwalk, CT can help you with your claim. Wherever you are in the long-term disability insurance process, our team has the experience and knowledge to help you get the benefits you deserve.  For a free consultation with a member of our team, you can contact us today at (800) 544-9144.
Chisholm Chisholm & Kilpatrick Can Help You with Your LTD Claim
In order for your claim to be approved for long-term disability benefits, you need to meet your policy's definition of disability. This definition defines the terms you must meet for your medical condition to qualify as disabling and thus warrant benefits.  The attorneys serving Norwalk, Connecticut from CCK will evaluate your LTD policy to help you gather the strongest possible evidence to meet this definition and ensure your claim is approved.
While it is possible for you to handle your claim on your own, seeking the help of an attorney can benefit your case.  Insurance companies do not always act in the interest of claimants.  Their policies can be confusing to navigate and challenging to satisfy, especially while you manage a disabling health condition.   Our attorneys understand the ways in which this can be a difficult process and can act as an intermediary between you and your insurance company.
Strict requirements and deadlines are often listed in policies.  When requirements are not met or deadlines are missed, your claim can end in a denial or a loss of rights to benefits entirely.  Chisholm Chisholm & Kilpatrick attorneys will keep track of your deadlines for you.  We want to take care of your policy's requirements and gather evidence while you focus on your health.  CCK will ensure that wherever you are in the process of filing or appealing for long-term disability benefits, nothing is left unattended.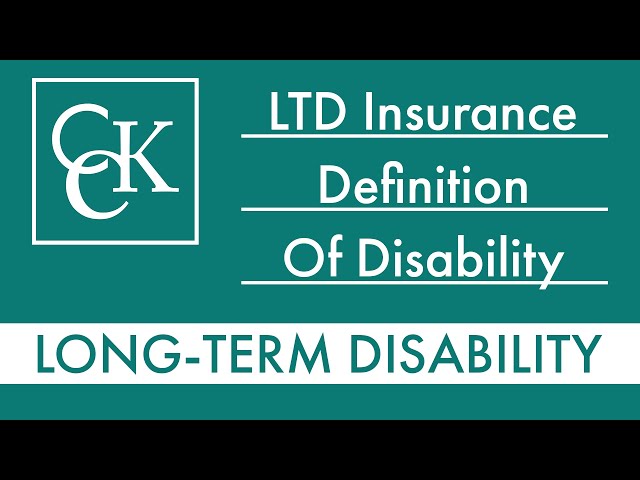 CCK Attorneys Gather the Evidence You Need to Prove Your Claim for Long-Term Disability Benefits
The long-term disability lawyers at Chisholm Chisholm & Kilpatrick have experience working with claimants to gather the strongest records of evidence to prove your case for disability benefits. Oftentimes, medical records alone may not be enough to get a claim approved and additional forms of evidence may be needed. Insurance companies will put up a fight against claims for common types of long-term disabilities too, requesting additional proof. Such forms of evidence include:
Treating physician reports Medical expert reports can be helpful additions to your claim because medical records do not always fully represent the scope of your condition. If you suffered from a medical event, like a stroke, a report by your treating physician can outline how certain symptoms may disable you more than others. Your doctor can also demonstrate the specific ways your condition affects you that may not be included in a formal diagnosis.  It is important to have an honest relationship with your physician so they can provide such details to help you claim benefits after suffering a stroke.
Impact statements by personal references can highlight how your health condition affects your everyday life. Such references can include those by family, friends, and coworkers who have likely seen you living with your disability and know how it affects you.

Even if you suffer from a seemingly common and often milder disease, like hypertension, the symptoms you experience can be debilitating.

Coworkers may be able to attest to how your condition affects you at work, while friends or family may be able to speak on the ways your condition impacts you in your personal life.

Their testimonies can help you get

benefits for hypertension

and other medical conditions.

Outside opinions from medical and vocational experts can be very strong forms of additional evidence, and the attorneys at CCK work with a variety of experts in various fields. These experts can perform additional evaluations in support of your medical records showcasing why you are unable to fulfil the duties of your job.  Such evaluations may include functional capacity, neuropsychological, or vocational evaluations.
Chisholm Chisholm & Kilpatrick Will Handle the Burden of Your Claim
Whether you are in the process of filing for long-term disability benefits or appealing a denial, Chisholm Chisholm & Kilpatrick is equipped to handle your case.  Our LTD attorneys have over 33 years of collective experience working to prove long-term disability insurance claims and appeals and are prepared to help you with your case.
Our lawyers are experienced in ERISA law, which often governs long-term disability cases. Unfortunately, ERISA often works in favor of insurance companies rather than claimants.  Under ERISA, the administrative appeal is often the last opportunity to get evidence onto the record, which means you want to get your strongest evidence on file before your claim can be taken to court. Our attorneys have the knowledge and experience to help your long-term disability claim get approved under ERISA.  We will ensure that your case is handled fairly.
We will also make sure that you stay informed and up to date with requests for information from your insurance company.  We know that dealing with a difficult health condition can be upsetting and challenging on its own, and we want to ease your burden as much as possible when it comes to filing for long-term disability benefits.
Contact Us Today for a Free Consultation
If find yourself disabled because of a medical condition and unable to work, our long-term disability attorneys serving Norwalk, CT may be able to help you file for long-term disability benefits.  Our experienced attorneys are prepared to prove that your condition warrants LTD benefits, and we can assist you no matter where you are in the process.  We want you to be able to focus on your health while we take care of the stress of filing an initial claim or appealing a denial or wrongful termination of benefits.
For a free consultation with a member of our team, you can contact us online or call us at (800) 544-9144.