Veterans Law
What Benefits Are You Eligible for as a Disabled Veteran?
The U.S. Department of Veterans Affairs (VA) and other government institutions offer an array of benefits to veterans with disabilities, injuries, or illnesses.  To qualify for such benefits, veterans typically must meet specific criteria.  Read on to learn what  these benefits for disabled veterans are and if you are eligible.
VA Disability Compensation
VA offers disability compensation as a tax-free monthly monetary benefit to qualifying veterans.  Veterans who have one or more qualifying service-connected conditions (i.e., conditions incurred in or caused by active military duty) may be eligible for this benefit.
To apply for disability compensation, veterans should file a claim with VA.  After confirming service connection, VA assigns a disability rating to the veteran's conditions.  Disability ratings – ranging from 0 to 100 percent and increasing in severity by increments of 10 – determine a veteran's monthly compensation rate.
Special Monthly Compensation (SMC)
Special monthly compensation (SMC) is awarded to veterans with service-connected conditions so severe that they warrant a rating higher than 100 percent.  The idea is that certain disabilities or combinations of disabilities are more debilitating than accounted for by the regular rating schedule.  Special monthly compensation provides a compensation rate higher than the schedular 100 percent rate.
Total Disability Based on Individual Unemployability (TDIU)
Total disability based on individual unemployability (TDIU) is a VA disability benefit that allows for veterans to be compensated at the 100 percent disability rate, even if their combined schedular rating does not equal 100 percent.  VA awards TDIU to veterans who are unable to secure and follow substantially gainful employment due to one or more service-connected conditions.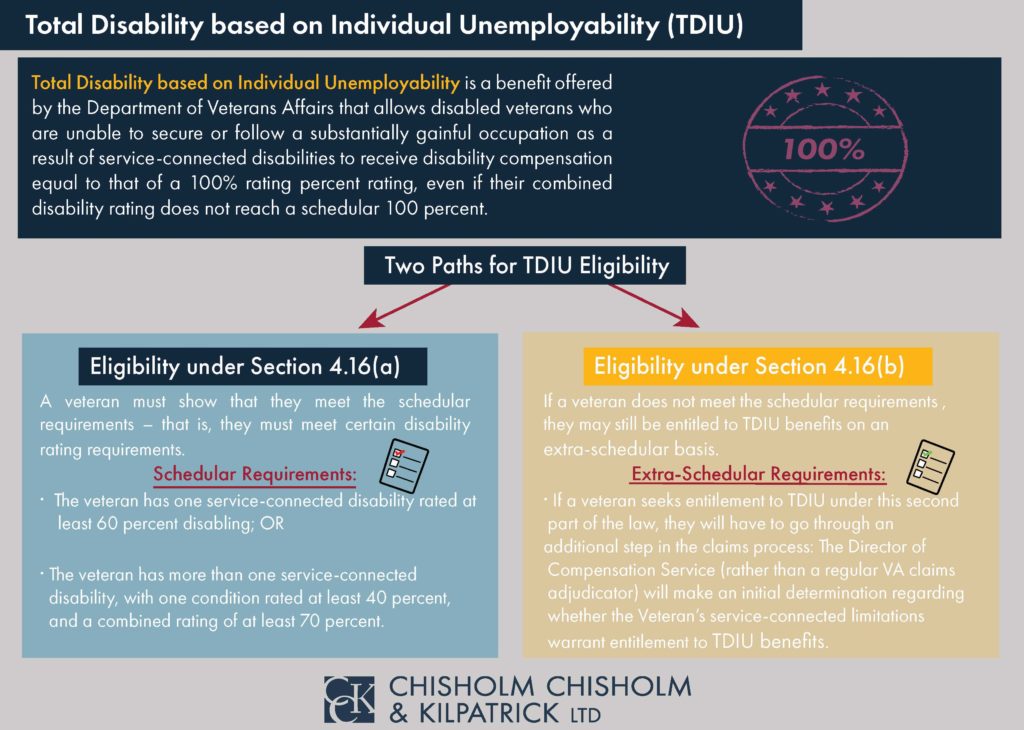 Additional VA Compensation for Dependents
Veterans with a combined disability rating of 30 percent or higher and one or more qualifying dependents are eligible for additional monthly compensation.  Qualifying dependents include: a spouse, dependent parents, children under the age of 18, and children between the age of 18 and 23 who are in school.
VA Pension
VA offers Pension, or Veterans Non-Service-Connected Disability Pension, to wartime veterans who are age 65 or older or have a permanent and total (P&T) non-service-connected disability, and who have limited income and net worth.
Monthly payment amounts for VA pension are based on the difference between the veteran's countable income and the Maximum Annual Pension Rate (MAPR), a limit on pension rates set by Congress.
Aid and Attendance (A&A)
Aid and Attendance (A&A) is a medical circumstance that veterans face when they require regular care from another person in order to carry out the activities of daily living.  A&A benefits are paid to disabled veterans, their dependents, or survivors at rates higher than standard VA pension or VA disability compensation.
Veterans can receive these benefits either under Enhanced Pensions or Special Monthly Compensation (SMC).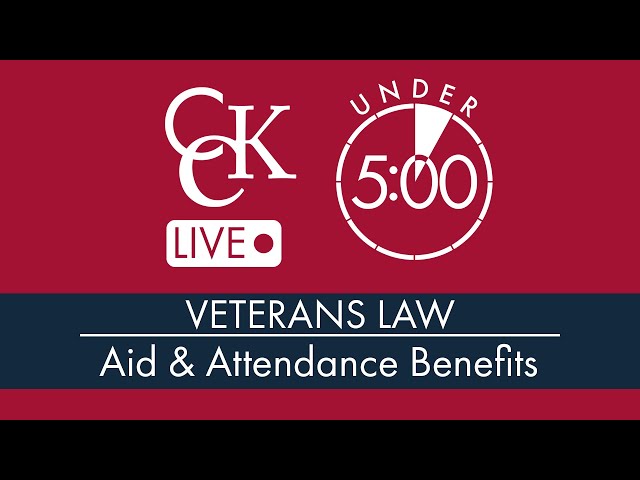 VA Healthcare Benefits
The Veterans Health Administration (VHA) is the largest integrated healthcare system in the United States.  It provides care at over 1,200 facilities and helps over nine million veterans across the country.
Generally, to qualify for VA healthcare, veterans must be service connected for a qualifying condition.  However, veterans who do not have disability ratings should still check on their eligibility status.
After applying for VA healthcare, VA will determine if the veteran is eligible and, if so, assign a Priority Group.  VA uses priority groups to categorize veterans and the different kinds of health care benefits they receive.  Veterans who meet the requirements for multiple Priority Groups will be placed in the highest for which they are qualified.
There are eight priority groups, with Priority Group One being the highest.  Each priority group has a different copay, so if a veteran is moved from one group to another then their copay may change.
VA Healthcare Services Exempt from Copayments
The following services do NOT require inpatient and outpatient copays, regardless of the veteran's Priority Group:
Care related to a service-connected disability
Special registry examinations offered by VA to evaluate possible health risks associated with military service (for example, the Agent Orange Registry exam)
Counseling and care for military sexual trauma
Compensation and Pension (C&P) examinations
Care related to VA research projects
Care for cancer of the head or neck caused by nose or throat radium treatments received while in the military
Individual or group smoking cessation, or weight reduction services
Hospice care
Eyeglasses and Hearing Aids
VA healthcare covers routine vision and hearing exams and preventive tests, but generally does not cover eyeglasses or hearing aids.  However, VA will provide eyeglasses and/or hearing aids in certain circumstances.  More information about VA's eyeglasses and hearing aid policy can be found on VA's website.
CHAMPVA
The Civilian Health and Medical Program of the Department of Veterans Affairs (CHAMPVA) is a health benefits program in which VA shares the cost of certain health care services and supplies with eligible dependents of 100 percent disabled veterans and surviving dependents.  CHAMPVA provides coverage to the spouse and to the children of veterans.
Long-Term Nursing Home Care for Disabled Veterans
All veterans who are enrolled in VA's health care system are eligible for long-term nursing home care.  A veteran's disability rating determines the level of care available and the amount of coverage.
VA Dental Care Benefits
Qualifying for dental care under VA is very difficult as the requirements are strict.  VA only offers dental care benefits to certain qualifying veterans – typically those who have a 100 percent VA rating or are deemed unemployable by VA – based on a "Class" system.  However, veterans who do not qualify for VA dental care (but are enrolled in VA healthcare) may purchase dental insurance at a reduced cost through the VA Dental Insurance Program (VADIP).
To find out more about VADIP or VA dental benefits, veterans can visit this VA website.
Education Benefits for Disabled Veterans and Their Families
Dependents' Educational Assistance (DEA)
The Survivors' and Dependents' Educational Assistance (DEA) program is a part of the GI Bill aimed at offering education and training to eligible survivors and dependents of veterans and servicemembers who died while on active duty, passed away as a result of a service-connected disability, or are permanently and totally disabled due to a service-connected condition(s).
Eligible survivors and dependents can receive educational assistance for up to 45 months.  Veterans can learn more about this program and apply on VA's website.
Disabled Veteran Student Loan Forgiveness Program
Veterans who are totally and permanently disabled can qualify for the Total and Permanent Disability Discharge through VA.  Veterans must provide documentation from VA showing they have a 100 percent disabling service-connected disability or are totally disabled based on TDIU.
Training Programs Under the GI Bill
The Post-9/11 GI Bill offers several programs to veterans and their dependents.  These include:
Entrepreneurship training
Flight training
Institutions of higher learning (i.e., undergraduate and graduate degrees)
Licensing and certification reimbursement
On-the-job training
Tutorial assistance
Vocational/technical training
For further details about the programs and benefits offered, veterans can consult this CCK article.
Vocational Readiness and Employment (VR&E)
Vocational Readiness and Employment (VR&E) is a benefit for disabled veterans and service members who are looking to increase their likelihood of obtaining employment.  To be eligible for VR&E, veterans must have a service-connected condition that is at least 10 percent disabling.
VR&E provides a range of career services, including career counseling and rehabilitation planning for employment; job training, job-seeking skills, résumé development, and other work-readiness assistance; and on-the-job-training, apprenticeships, and non-paid work experience.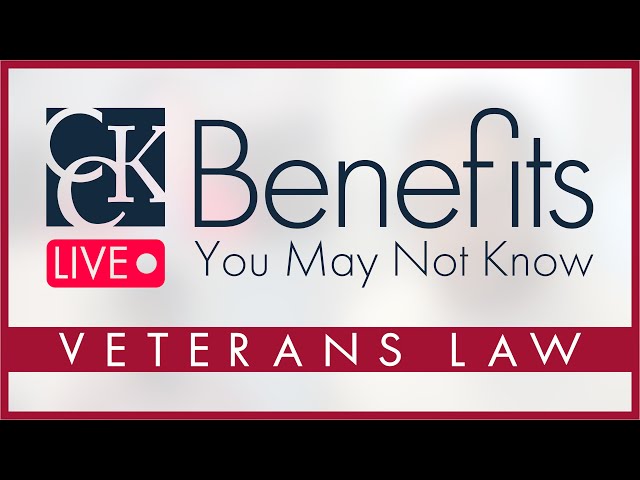 VA Housing Grants and Mortgage Life Insurance
A VA disability housing allowance is intended for veterans with severe injuries or illnesses who need to remodel, build, or purchase an adapted home to better suit their medical needs.
VA offers four types of housing allowances to qualifying veterans: Specially Adapted Housing (SAH) Grant, Special Home Adaptation, (SHA) Grant, Temporary Residence Adaptation (TRA) Grant, and the Home Improvements and Structural Alterations (HISA) Grant.
VA also offers Veterans' Mortgage Life Insurance (VMLI), which provides mortgage protection to the families of veterans with severe service-connected disabilities who have adapted a home to fit their needs.  VMLI can pay up to $200,000 in mortgage directly to the bank or other lender.
VA Clothing Allowance Benefits
VA's clothing allowance involves an annual stipend provided to disabled veterans who have unique clothing needs due to a service-connected disability or injury.  To receive payment(s), veterans must establish eligibility by August 1 of the year for which they are claiming the clothing allowance.
Each VA medical center (VAMC) should have a designated prosthetic department.  Veterans can contact a representative in the prosthetic department at their nearest VAMC to apply.
VA Automobile Allowance and Adaptive Equipment
Automobile adaptive allowance is a benefit offered by VA to veterans who have a service-connected disability that prevents them from being able to drive.  In addition to the allowance, VA offers an adaptive equipment benefit to assist veterans with certain types of impairments.
If awarded the automotive allowance, the benefit consists of a one-time payment of $21,488.29 that may be used to help buy a specially equipped vehicle as of 2021.  In terms of adaptive equipment, the benefit may be used to alter a vehicle.
Free Tax Preparation for Disabled Veterans
The IRS's Volunteer Income Tax Assistance (VITA) and Tax Counseling for the Elderly (TCE) programs assist thousands of veterans in preparing their taxes for free every year.
The IRS works with local community groups to train and certify VITA and TCE volunteers.  These volunteers then help qualifying disabled veterans prepare their taxes.  VITA and TCE also provide free electronic filing.
Concurrent Retired and Disability Pay
Concurrent retired and disability pay (CRDP) restores veterans' service pay by eliminating the VA waiver (i.e., the amount the veteran receives in VA disability compensation subtracted from the amount they receive in retired pay to avoid "double-dipping").
Veterans will not receive a separate check for CRDP.  Instead, the monthly check they receive from the Defense Finance and Accounting Service (DFAS), the administrator of military retired pay, will be increased from the docked amount to their full retired pay.  To qualify, veterans must have a service-connected condition rated 50 percent or higher.
Life Insurance for Disabled Veterans
Service-Disabled Veterans' Insurance (S-DVI)
The Service-Disabled Veterans Life Insurance (S-DVI) offers low-cost insurance coverage to eligible service members and veterans.  Veterans who meet requirements for S-DVI can receive up to $10,000 of coverage and $30,000 of supplemental coverage.
The premium amount that veterans pay for S-DVI coverage depends on age, type of plan (term or permanent), and the amount of coverage.  Importantly, only veterans who are rated totally disabled may apply to have premiums waived.
Veterans' Group Life Insurance (VGLI)
Veterans' Group Life Insurance (VGLI) is a benefit that typically follows Servicemembers' Group Life Insurance (SGLI), provided the veteran meets certain qualifications.  Veterans who continue to pay the premiums for VGLI after leaving service can keep their insurance.
Veterans can receive between $10,000 and $40,000 in life insurance benefits, based on the amount of SGLI coverage they had when they left the military.
Survivors Benefits for Veterans and Their Families
Dependency and Indemnity Compensation (DIC)
Dependency and Indemnity Compensation (DIC) is a tax-free, monthly benefit dispersed to surviving spouses, children, and sometimes parents of veterans whose death was related to military service or a service-connected condition.  DIC has its own monthly rates separate from disability compensation.
VA Survivors' Pension
Survivors Pension, also often called Death Pension, is a VA benefit available to a low-income, un-remarried surviving spouse or unmarried child of a deceased veteran.  This benefit is tax-free and only available if the deceased veteran had wartime service.
VA Burial Allowance
VA's Burial Allowance helps cover the costs of burial, funeral, and transportation.  Surviving family members of a veteran may be eligible for a burial allowance if they are paying for the funeral and burial costs and will not be reimbursed by any other organization.
A surviving spouse, partner from a legal union, child, parent, or executor/administrator of the veteran's estate can request the burial allowance.
Home Loan Programs for Surviving Spouses
A surviving spouse of a veteran can get a VA-backed home loan if they obtain a Certificate of Eligibility (COE) to show their lender.
Military Funeral Honors, Memorial Items, and Veterans Cemeteries
Most veterans are eligible to receive military funeral honors, provided by the Department of Defense (DoD), at no cost.  Veterans can also receive memorial items, such as headstones, markers, medallions, a burial flag, and a Presidential Memorial Certificate.
Some veterans may also qualify for burial in National or State Veterans Cemeteries, or the Arlington National Cemetery.
Need Assistance Getting Disability Benefits?
If your claim for benefits was denied, it does not mean your case is unwinnable.  Chisholm Chisholm & Kilpatrick may be able to help you secure the disability benefits you deserve.  For a free case review, call our office today at 800-544-9144.
About the Author