Veterans Law
Veterans, Suicide, Depression, and VA Disability Benefits
Military service can highly stressful, and often traumatic.  As a result, many veterans can experience depression after their service, whether it be due to a difficult readjustment to life at home, a disability caused from service, painful memories of what happened in service, or something else.  Veterans who experience depression may even have recurring thoughts of suicide or self-harm.  If you are a veteran experiencing this situation, help is available.  Additionally, VA disability benefits may be available to compensate you for your depression.
What is Depression?
Depression, or major depressive disorder, is a serious medical condition which can affect the way a person performs the necessary activities of life, such as eating, sleeping, and working.  Although depression is classified as a mood disorder, it is very common.  Depression can affect how a person feels and thinks.  As such, depression often takes a significant mental, emotional, and physical toll on a person.
Symptoms of Depression
Feelings of sadness, fatigue, worthlessness, guilt, or hopelessness
Loss of interest or pleasure in usual activities
Disturbances in sleep
Anxiety or restlessness
Irritability
Difficulty concentrating or remembering things
Loss of appetite and weight loss or increased appetite and weight gain
Thoughts of death or suicide
How Common is Depression in Veterans?
Depression is very common among servicemembers and veterans.  VA estimated in 2008 that 1 in 3 veterans exhibit depression symptoms, 1 in 5 veterans show serious symptoms of depression, and 1 in 8 has major depression.
In the 2020 Annual Benefits Report, depression was the second most common service-connected mental health condition among all veterans receiving VA disability benefits, just behind PTSD.  Roughly 250,000 veterans are service connected for depression as of 2020.
The Substance Abuse and Mental Health Services Administration also determined that approximately 18.5 percent of veterans returning from Iraq and Afghanistan have or have had PTSD or depression.  Studies continue to be done to analyze the link between military service and depression, however, there are a variety of theories as to why so many service members and veterans experience depression.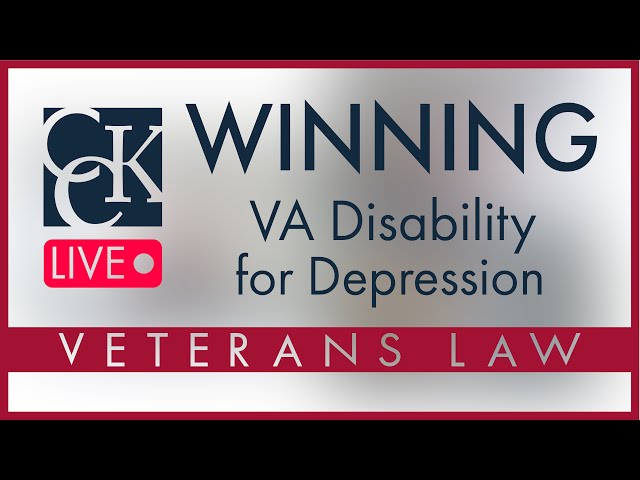 Depression and Suicide Risk in Veterans
The nature of service can cause trauma, which can have a lasting impact long after a person's experience is over.  Depression can occur shortly after a person experiences trauma, or it may take years to manifest, as can PTSD.  Veterans with depression and PTSD are more at risk to attempt suicide.
Below are some examples of trauma that could lead a veteran to develop depression or have thoughts of suicide:
Witnessing a fellow service member be injured or killed
Experiencing an injury as the result of combat
Experiencing an IED explosion
Being part of a burial crew
Living with the fear of hostile military or terrorist activity
In-service assault or threat of assault
Female veterans are at significant risk for depression and are over 250 percent more likely to commit suicide than their civilian counterparts.  The rate of military sexual trauma female veterans face could be one of the potential reasons the rates of depression and suicide are so high among this population.
What is Suicidal Ideation?
Suicidal ideation is a broad term used to describe thoughts, ideas, contemplations, wishes, or preoccupations with death or suicide.  Veterans who experience suicidal ideation may be considering or planning suicide.  Below are some warning signs VA lists that a veteran may be considering suicide:
Warning Signs of Suicidal Ideation
Sleeping all the time, or barely at all
Acting as if they do not care what happens to them
Pulling away from friends, family, and society
Loss of interest in hobbies, work, school, or other things they used to care about
Expressing feelings of guilt, shame, failure, or lack of purpose in life
Performing poorly at school or work
Acting violently and taking risks (ex: driving fast)
Preparing for a possible suicide attempt (giving away personal items, making a will, or seeking access to guns)
How To Establish Service Connection for Depression and Suicidal Ideation
In order to establish service connection for depression, veterans first need to fill out and submit VA Form 21-526EZ, Application for Disability Compensation and Related Compensation Benefits.  This form can be submitted to VA via mail, online, or in-person at a local VA center.
In addition to this form, veterans will also need to provide the following:
A current diagnosis of depression; AND
An in-service event, stressor, or incident which caused or contributed to veteran's condition; AND
A medical nexus which links the veteran's depression and the in-service stressor
In-Service Causes of Depression
It is important to note that the in-service event can include anything that is specific to the veteran's military service, occurring in the line of duty, or something that is unrelated to military service, but happens while the veteran is on active duty.
For example, if a veteran's family member passes away while they are deployed and they begin to experience depression as a result, they could still receive service connection.  Again, the in-service event does not have to be military-related.  It can be any event that happens in the veteran's life as long as it occurred while they were on active duty.
VA Ratings for Depression
Depression can be rated anywhere from 0 percent to 100 percent.  Specifically, major depressive disorder is rated under Diagnostic Code 9434.  The rating given will be based on the level of social and occupational impairment a veteran experiences and the severity of symptoms.
100%–This rating is for veterans who experience "total occupational and social impairment." Symptoms may include gross impairment in thought processes or communication, persistent delusions or hallucinations, grossly inappropriate behavior, persistent danger of hurting self or others, intermittent inability to perform activities of daily living (such as minimal maintenance of personal hygiene), disorientation to time or place, memory loss for names of close relatives, occupation, or name.
70%–Veterans rated at 70 percent experience occupational and social impairment, with deficiencies in "most" areas. Symptoms may be similar to those listed above in the 100 percent criteria.  Impairment may affect the veteran's work, school, family relations, thinking or mood.  Veterans rated at this level may also experience suicidal ideation.
50%–The 50 percent rating is given to veterans with occupational and social impairment, specifically with "reduced reliability and productivity." Symptoms can include panic attacks more than once a week, difficulty understanding complex commands, loss of memory, impaired judgement, disturbances of mood, and difficulty establishing and maintaining effective work and social relationships.
30%–To secure the 30 percent rating, veterans will experience occupational and social impairment with "occasional decrease in work efficiency" and periods of inability to perform occupational tasks. Symptoms may include depressed mood, anxiety, suspiciousness, panic attacks, chronic sleep impairment, and mild memory loss.
10% –10 percent ratings are given to veterans with occupational and social impairment from "mild or transient symptoms" that can decrease work efficiency or the ability to perform occupational tasks during periods of stress.
0%–The 0 percent rating is non-compensable, meaning that it is not associated with any financial compensation.  However, this rating is still important because it establishes service connection for the condition and can potentially help the veteran receive an increased rating in the future.  With the 0 percent rating, veterans have a diagnosis, but the symptoms may not be severe enough to interfere with occupational or social functioning.
Importantly, a veteran does not need to endorse all the symptoms listed in each rating criteria.  A Court of Appeals for Veterans Claims case, Mauerhan v. Principi, established that the symptoms listed in Diagnostic Code 9411 (i.e., post-traumatic stress disorder) are not intended to constitute an exhaustive list, but rather serve as examples of the type and degree of the symptoms, or their effects, that would justify a particular rating.
The same case law applies when determining a disability rating for depression.  Therefore, a veteran can have any number of symptoms listed in the rating criteria for depression and still meet that level of evaluation.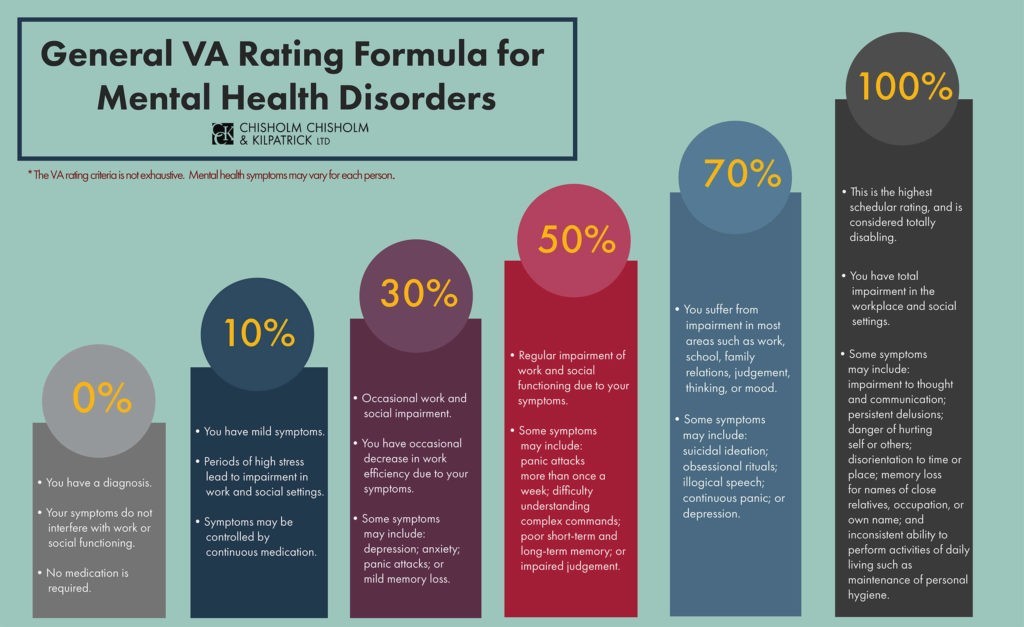 How Does VA Rate Suicidal Ideation?
As mentioned above, suicidal ideation can include suicidal thoughts, overwhelming contemplations about death or suicide, or even creating suicidal plans.  To rate suicidal ideation, VA will use the criteria listed above for depression.
Veterans who suffer from suicidal ideation may be entitled to a 70 percent disability rating per VA's rating criteria for depression.  In order to receive this rating, the veteran will need to provide evidence.  There are a multitude of ways a veteran may indicate that experience suicidal ideation:
Medical Records – Medical records can indicate the severity and frequency of a veteran's depression. If a veteran has ever been hospitalized for suicidal ideation, this may be included in their medical records.
Lay Statement from the Veteran – The veteran can also write a lay statement to indicate how severe their depression is or if they experience suicidal ideation. They may also wish to describe the nature of their suicidal ideation and how it affects their thought process on a day-to-day basis.
Lay Statement from Family or Friends – Sometimes a veteran's family member or friend may be able to describe a veteran's depression more accurately than the veteran, because the veteran may be embarrassed to discuss the truth of the severity of their condition. A family member or friend may have insight into the veteran's depression that the veteran might not have.  For example, a veteran's spouse may be able to describe how the veteran has difficulty upkeeping their hygiene or getting out of bed, whereas the veteran may not be aware of these things directly.
Resources for Veterans Experiencing Depression, Suicidal Ideation, or a Mental Health Crisis
Veterans suffering from depression, suicidal ideation, or who are having a mental health crisis should know that help is available, and they do not need to go through it alone.
The Veteran's Crisis Hotline offers 24/7 assistance.  It is confidential and anonymous, so veterans do not need to fear any stigma or retaliation for reaching out.  This resource is available to veterans, even if they do not have VA health care or have not been service-connected for any VA benefits.  The service is toll-free and veterans, as well as their family members and friends, can speak with a qualified, caring VA responder.  Veterans may call the hotline at 1-800-273-8255 and press 1, or text 838255.
Veterans can also utilize a confidential online chat session at VeteransCrisisLine.net/Chat.  Additionally, this site offers a self-check quiz for veterans to learn more about whether stress and depression may be affecting them.
To learn more about other resources available for veterans experiencing a mental health crisis, and what VA has done to respond to the veterans' suicide epidemic, you can read our blog: What is VA Doing to Help the Veterans' Suicide Epidemic.
Help for Veterans Appealing a Decision for VA Disability Benefits
If you are a veteran who has been denied VA disability benefits for depression, the skilled veterans advocates at Chisholm Chisholm & Kilpatrick may be able to help.  Our accredited representatives have successfully helped veterans win their appeals their appeals for depression claims and we may be able to help you.  Call our office for a free case review.