Veterans Law
Military Sexual Trauma (MST) Statistics
Incidents of military sexual trauma (MST) have been on the rise, according to statistics. Today, we break down the numbers based on available MST statistics.
What is Military Sexual Trauma (MST)?
Military sexual trauma, or MST, is a term used by the Department of Veterans Affairs (VA) to refer to the experiences of sexual assault or repeated, threatening sexual harassment that a veteran experienced during their military service.
VA's formal definition of MST, which comes from Federal law (i.e., 38 USC § 1720D), states the following: "psychological trauma, which in the judgment of a VA mental health professional, resulted from a physical assault of a sexual nature, battery of a sexual nature, or sexual harassment which occurred while the veteran was serving on active duty, active duty for training, or inactive duty training."  VA further defines sexual harassment as "repeated, unsolicited verbal or physical contact of a sexual nature which is threatening in character."
Examples of MST include the following:
Being pressured or coerced into sexual activities, such as with threats of negative treatment if you refuse to cooperate or with promises of better treatment in exchange for sex
Someone having sexual contact with you without your consent, such as when you were asleep or intoxicated
Being physically forced to have sex
Being touched in a sexual way that made you uncomfortable
Repeated comments about your body or sexual activities
Threatening and unwanted sexual advances
Importantly, the identity or characteristics of the perpetrator, whether the service member was on or off duty at the time, and whether they were on or off base at the time do not matter.  If any of the above-mentioned experiences occurred while an individual was on active duty or active duty for training, they are considered by VA to be MST.
Statistics of Military Sexual Trauma (MST) Among Service Members
Congress requires the Department of Defense (DoD) to provide an annual report on sexual assaults involving members of the U.S. military.  As such, the DoD Annual Report on Sexual Assault in the Military: Fiscal Year 2019 provides an update on the Department's efforts to combat sexual assault and harassment in the military force, and includes sexual assault reporting information, feedback from focus groups, and updates on efforts to prevent and respond to sexual assault.  Importantly, the information contained in the report was gathered between October 1, 2018 and September 30, 2019.
MST Statistics for Fiscal Year 2019
According to the annual report, the number of sexual assault reports from service members increased by 3 percent, from 6,053 in Fiscal Year (FY) 2018 to 6,236 in FY 2019.  In addition to the 6,236 service members who reported an incident of sexual assault, DoD also received 652 reports from service members for incidents that occurred prior to their entering military service, and 937 reports from U.S. civilians and foreign nationals who alleged being sexually assaulted by a service member.  However, it should be noted that a large number of MST experiences go unreported.  Therefore, the data collected may be underestimating the actual prevalence of MST in the past fiscal year.
Statistics show that over 25 percent of victims who did not report experiences of MST were fearful of retaliation from their command and/or their fellow service members.  Furthermore, nearly one in three victims believed the reporting process would be unfair and/or resolution would not be achieved.  Less than 50 percent of women who reported MST felt well supported by their chain of command.
MST Statistics Overall
VA's national screening program, in which every veteran seen for health care is asked whether they experienced MST, provides data on how common MST is among veterans seen by VA.  National data from this program reveal that about 1 in 4 women and 1 in 100 men respond "yes" when asked by their VA provider whether they have experienced MST.  Again, these numbers may not represent the actual rates of sexual assault and harassment experiences among all individuals serving in the military, as the data is only based off of those who have chosen to seek VA health care and report MST.
How Can Military Sexual Trauma (MST) Affect Veterans?
It is important to note that MST is an experience as opposed to an actual diagnosis or mental health condition.  However, veterans may experience mental health conditions, such as PTSD, depression, and/or anxiety, as a result of MST.  The type, severity, and duration of a veteran's difficulties following MST may vary and depend on factors such as the following:
Whether they have a prior history of trauma
The types of responses from others that they received at the time of the MST
Whether the MST happened once or was repeated over time
Research and statistics show that individuals are often very resilient after experiencing a traumatic event.  Many people are able to manage their trauma response symptoms, if any, on their own or with the help of a mental health professional.  Example of trauma response symptoms include:
Depressed mood
Intense, sudden emotional responses to external stimuli
Feeling angry/irritable most of the time
Feeling emotionally numb or having difficulty experiencing emotions, such as love or happiness
Trouble sleeping (e.g., falling/staying asleep, nightmares)
Difficulties with attention, concentration, and memory
Maladaptive substance use
Difficulties with interpersonal relationships (e.g., feeling isolated or disconnected from others, trouble with employers or authority figures, difficulty trusting others)
Again, each individual may respond to the experience of MST differently, and the list above is not intended to be exhaustive.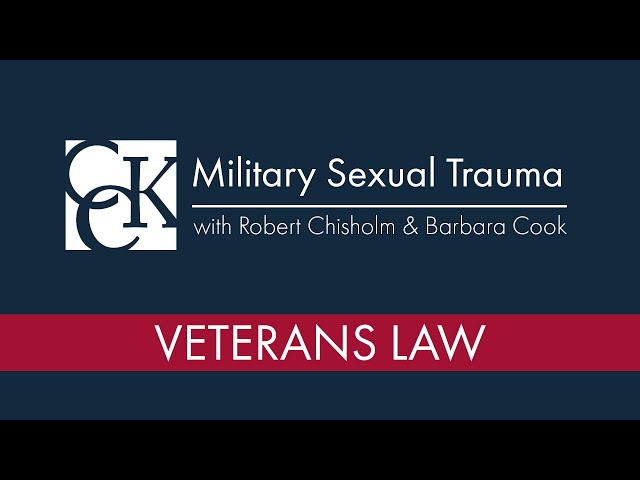 VA's Response to MST
Below is a list, published on VA's website, of action-items demonstrating the ways in which VA has responded to Military Sexual Trauma.  According to VA, the following actions have been taken to ensure that veterans have access to the help they need in order to recover from MST.
"Every VA health care facility has a designated MST Coordinator who serves as a contact person for MST-related issues. This person can help veterans find and access VA services and programs.  They may also be aware of state and federal benefits and community resources that may be helpful.
Recognizing that many survivors of sexual trauma do not disclose their experiences unless asked directly, VA health care providers ask every veteran whether they experienced MST.
All treatment for physical and mental health conditions related to experiences of MST is provided free of charge.
To receive free treatment for mental and physical health conditions related to MST, veterans do not need to be service-connected (or have a VA disability rating). Veterans may be able to receive this benefit even if they are not eligible for other VA care.  Veterans do not need to have reported the incident(s) when they happened or have other documentation that they occurred.
MST-related services are available at every VA medical center and every facility has providers knowledgeable about treatment for the aftereffects of MST. MST-related counseling is also available through community-based Vet Centers.  Services are designated to meet veterans where they are at in their recovery, whether that is focusing on strategies for coping with challenging emotions and memories or, for veterans who are ready, actually talking about their MST experiences in depth.
Nationwide, there are programs that offer specialized sexual trauma treatment in residential or inpatient settings. These are programs for veterans who need more intense treatment and support.
To accommodate veterans who do not feel comfortable in mixed-gender treatment settings, some facilities have separate programs for men and women. All residential and inpatient MST programs have separate sleeping areas for men and women."
Importantly, VA also provides training to staff on issues related to MST, including mandatory training on MST for all mental health and primary care providers.  Veterans can also call Safe Helpline at 1-877-995-5247 to get confidential one-on-one help.  Safe Helpline provides 24/7 sexual assault support for the DoD community.