Veterans Law
VA Disability Ratings for Surgery
Veterans who undergo surgery as a result of a service-connected condition may be eligible for a temporary 100 percent disability rating.
How to Qualify for Disability Benefits for Surgery
Veterans may be able to get disability benefits if they've had surgery or received other treatment at a VA hospital, approved hospital, or outpatient center for a disability related to their military service.  If veterans had surgery, both of these must be true to receive benefits:
The surgery required a recovery time of at least one month or reports show that the surgery or treatment was for a service-connected condition, and
The surgery resulted in severe issues, such as:

Surgical wounds that haven't totally healed;
Stumps of recent amputations;
Being unable to move due to being put in splints or casts to help with healing (known as therapeutic immobilizations)
Being unable to leave your house (known as house confinement)
Being required to use a wheelchair or crutches
Again, VA will often assign a temporary total disability rating if the above-mentioned criteria are met.  The VA offers three forms of temporary 100 percent disability ratings: prestabilization, hospitalization, and convalescence.
Prestabilization
A prestabilization rating is a temporary, immediate disability rating assigned to veterans who have recently been discharged from military service with a severely disabling and unstable condition that is expected to continue for an indefinite period of time.  These veterans are considered to be "most likely in need and least likely to be self-sufficient."
Prestabilization ratings are assigned in increments of 50 percent and 100 percent over a period of 12 months following the veteran's discharge date.  Veterans who receive a 100 percent prestabilization rating are suffering from an unstable condition incurred in service that will result in a severe disability.  According to 38 CFR § 4.28, a 100 percent prestabilization rating is only assigned if "substantially gainful employment is not feasible or advisable."  In order for VA to reduce a veteran's prestabilization rating, a reevaluation must be conducted to assess the status of their condition.  These examinations arec scheduled between six and twelve months following separation from service.
Hospitalization
Temporary hospitalization ratings are assigned to veterans who have been hospitalized for over 21 days as a result of a service-connected condition.  This rating is also assigned to those who remain under hospital observation for more than 21 days at the expense of the Department of Veterans Affairs.  In order to qualify for a temporary hospitalization rating, you must be receiving treatment at a VA medical center or other VA-approved hospital.  The 100 percent disability rating will continue until the last day or until the last day of the month in which the veteran stopped receiving treatment for their service-connected condition.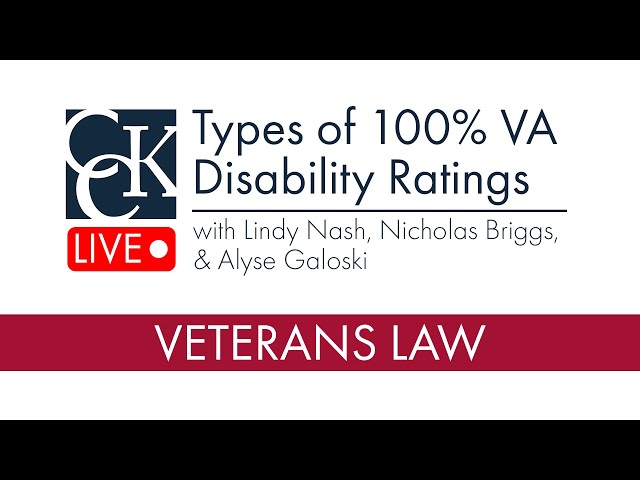 Convalescence
The United States Court of Appeals for Veterans Claims (CAVC) has defined convalescence as "the stage of recovery following an attack of disease, a surgical operation, or an injury" and recovery as "the act of regaining or returning toward a normal or healthy state."
Temporary 100 percent convalescence ratings are assigned to veterans who underwent treatment or surgery for a service-connected condition at a VA-approved facility.  In order to qualify for a temporary and total convalescence rating, the veteran must have:
Undergone treatment or surgery with a convalescence time of at least of one month; or
Experienced severe postoperative residuals that resulted from surgery (e.g. surgical wounds are not completely healed, the veteran is rendered housebound, there is a need for continuous use of crutches or wheelchair); or
Experienced the immobilization of one or more major joints "by a cast without surgery"
According to 38 CFR § 4.30, entitlement to a convalescence rating can be corroborated by a work excuse provided by a medical professional if there is a "clear connection between the claimant's inability to return to previous employment and surgery or cast immobilization," and that there is no evidence of record to the contrary.
The effective date of a convalescent rating is that of hospital admission or outpatient treatment, and can continue for one, two, or three months "from the first day of the month following such hospital discharge or outpatient release".  This time frame is contingent on the veteran's condition.  Extensions of one to three months are possible depending on the progress the veteran has made.  Further extensions of one to six more months following the initial six-month period may also be granted at the discretion of VA.
Claiming Temporary Total Disability Rating Following Surgery
As mentioned above, VA should grant a temporary total rating following surgery for a service-connected condition.  However, if VA does not grant this benefit automatically, veterans should file a claim for it right away.  Furthermore, if veterans have the surgery at a non-VA facility, they should inform VA about the procedure right away in order to ensure they will have access to benefits.