Veterans Law
Verifying PTSD Stressors for VA Disability Benefits
Post-Traumatic Stress Disorder, or PTSD, can be caused by a traumatic event, which are often referred to as a "stressors."  For veterans, stressors may include exposure to great peril such as death or injury, the threat of great peril, or sexual trauma or threats of sexual trauma.
Veterans may experience exposure to these stressors through direct exposure or by witnessing them.  Additionally, veterans may face post-traumatic stress disorder through indirect exposure, in which a person the veteran cares about may have experienced trauma.
Though exposure to trauma may be direct or indirect, it is important to know that veterans may receive disability compensation benefits for post-traumatic stress disorder caused by either direct or indirect exposure, but they must first verify a stressor.
Service Connection for PTSD
Veterans who experience PTSD as a result of their service may be eligible to receive VA disability compensation benefits.  To obtain direct service connection for PTSD, veterans will need to submit the following to VA:
A current diagnosis of PTSD;
A statement from the veteran about the stressor that occurred during service;
The occurrence of the stressor is consistent with the circumstances of the veteran's service;
No strong evidence that the stressor did not occur; and
A medical opinion that the stressor was sufficient to cause PTSD, either from a VA psychologist/psychiatrist or a psychologist/psychiatrist under contract with VA
Once service connection for PTSD has been established, VA will assign the condition a rating under 38 CFR § 4.130, Diagnostic Code 9411.  The rating can range between 0 and 100 percent, with 100 being the highest, and is based on the level of social and occupational impairment the veteran experiences.  VA will also consider the frequency, duration, and severity of symptoms when determining a veteran's PTSD rating.
Types of PTSD Stressors
Generally, VA categorizes stressors in two ways: Combat PTSD stressors and Non-Combat PTSD stressors.  The ways in which these claims are filed and adjudicated are dependent upon the type of stressor.
Combat PTSD Stressors
In instances where a veteran was in combat during their military service and the reported stressor stems from their time in combat, VA should presume that the PTSD is a result of combat service.  A lay statement will usually be enough to establish that the in-service stressor occurred.  VA will often look to the veteran's DD-214 to confirm that the veteran was in combat.  Below are some examples of Combat PTSD stressors, though this list is certainly not exhaustive.
Experiencing an IED explosion
Witnessing a fellow service member be injured or killed
Being part of a burial crew
Experiencing an injury as a result of combat
Importantly, combat PTSD stressors can result from many different events and do not require physical injury to the veteran.
Fear of Hostile Military or Terrorist Activity Stressors
This type of stressor is similar to combat PTSD stressors, however, in some instances corroborating evidence may be necessary.  In 2010, VA amended their regulations to ease the standard for stressors by introducing the concept of fear of hostile military or terrorist activity.  Through this, VA recognized that corroboration may not exist in every circumstance in which the veteran was subjected to or feared an attack from an enemy force.  This could either be because their MOS, or military occupational specialty, was not specifically for combat or because there is no documentation in their own personal records that their base came under attack.
In these situations, VA will generally concede "fear of hostile military or terrorist activity" on the recommendation of a VA psychologist or psychiatrist.  The veteran will, however, typically need some additional corroborative evidence to indicate that the fear of hostile military activity is consistent with the time, place, and circumstances of the service.  Records that could assist in this instance may include:
Unit records or Unit Awards—Records relating to the unit in which the veteran served.  This can include unit commendations where an award could have been awarded to an entire unit, but not necessarily the individual.
Operative Reports or Lessons Learned Reports—For Vietnam Veterans specifically, operative reports can detail the individual campaigns and actions that an entire unit took that would not necessarily be reflected on the veteran's own personnel records.
Newspaper Articles—In some instances, newspaper articles can be helpful for indicating that the veteran was in an area where hostile military or terrorist activity occurred.
Additionally, VA provides some examples of what "fear of hostile military or terrorist activity" could include, such as being subjected to mortar fire, small arms fire, or sniper fire.
Incidents like these are specific and small enough that they may not necessarily be documented in the records, but can serve as stressors for a veteran's PTSD and are likely to have occurred if a veteran was stationed in areas where hostile military or terrorist activity could have occurred.
Ultimately, if the veteran can provide a credible statement that is consistent with the location they served and the events going on in and around that location at that time, VA is likely to concede that stressor.  The more information and evidence the veteran can use to support their account, the more likely VA will be to concede the veteran's stressor.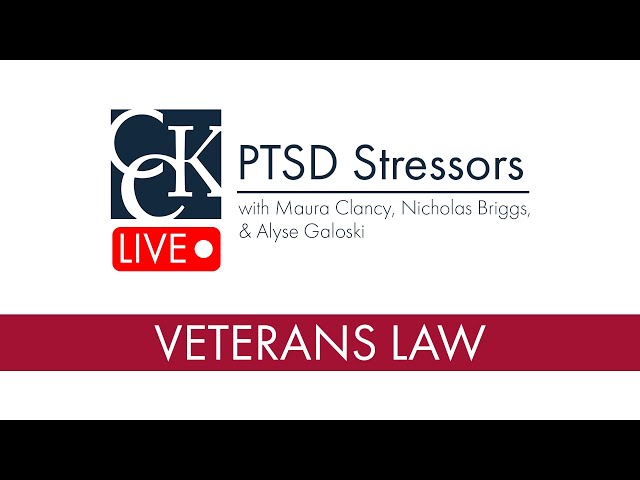 Non-Combat PTSD Stressors
Unlike combat PTSD stressors, non-combat PTSD stressors generally must be corroborated to establish service connection.  To corroborate a stressor, VA will look for credible supporting evidence of the veteran's account of the in-service stressor.
VA will require VA Form 21-0781, Statement in Support of Claim for Service Connection for PTSD, which serves to outline the in-service source of a non-combat PTSD stressor.  The form asks for the approximate date, location, and a brief description of the incident.
If a veteran does not have documentation or is unsure of how to go about proving a stressor to VA, sometimes doing research can unearth newspaper articles, Navy deck logs, obituaries, or pictures to verify the stressor.  Veterans can also look online to see what public records are available to corroborate a non-combat PTSD stressor.  Lay statements from fellow veterans who witnessed the non-combat stressor event or knew the veteran during service can also support the veteran's claim.
In-Service Personal Assault or Trauma
VA generally handles claims in which the veteran's PTSD was caused by an assault or trauma relating to personal assault in the same manner as claims involving non-combat related stressors.  In many cases, military records may not document the assault and there could be a lack of evidence.  To corroborate this type of stressor, VA may use alternative evidence such as law enforcement records, mental health counseling records, or crisis centers.  Additionally, buddy statements or lay statements can help corroborate the veteran's stressor.  This may be helpful in claims where the stressors relate to the following:
Assault
Threats of assault
Threats of military sexual trauma
Evidence for PTSD Stressor Verification
As mentioned above, some PTSD claims may need additional evidence to corroborate the stressor which caused the PTSD.  This usually means that more evidence is needed than just the veteran's own testimony.
In some instances, VA will be required to help corroborate a non- PTSD stressor as part of its duty to assist.  In order for VA to conduct a search of potential corroborative records, the veteran will need to provide accurate information, or "information sufficient for the records custodian to conduct a search of the corroborative records."  While VA regulations do not explain what specifically constitutes sufficient information, veterans should, at minimum, provide VA with the following information:
Full name
Social security number
Description of the claimed stressor
Month and year when the stressor occurred
Units of assignment at the time the stressor occurred
Geographic location of where the stressor occurred
Although VA may have a duty to assist, the veteran will want to supply as much evidence as possible.  Importantly, if VA finds official records that contradict the veteran's statements regarding the stressor, VA may deny the claim or reject the stressor.  If the veteran is able to provide substantial evidence supporting their account of the stressor, then VA should give them the benefit of doubt.  This is referred to as the benefit of doubt doctrine.
Examples of Corroborative Evidence
Below are some examples of evidence that might be submitted to support the stressor in a veteran's PTSD claim.
Law enforcement records
Medical records, such as hospital records, treatment records, or psychiatrist records
Crisis center records
Newspaper records
Military records, such as unit records or action reports
Lay statements, or statements submitted by the veteran which detail their account of how their PTSD stems from the stressor
Buddy statements, which can verify the stressor and how it impacted or currently impacts the veteran
It is important to note, however, that this list is not exhaustive; other types of evidence may also be useful for verifying a PTSD stressor.
Special Operations PTSD Claims and Stressors
The process for corroborating stressors for PTSD claims in cases where the veteran served in Special Operations may be different than other cases, due to the nature of the veteran's service.  Special Operations are usually categorized as "small-scale covert or overt military operations of an unorthodox and frequently high-risk nature, undertaken to achieve significant political or military objectives in support of foreign policy."
Special Operations may involve small groups of highly trained, armed individuals who may be transported by helicopter, small boats or submarines, or parachute from aircraft for stealthy infiltration.  Examples of units who may be considered Special Operations are the U.S. Army's Special Forces, or Green Berets, and the U.S. Navy SEALS.
The way in which special operations are often deeply intertwined with the need for secrecy and security clearance may make it difficult to compile evidence to corroborate the veteran's stressor, since many records may not have been released publicly.  However, VA is required to make reasonable efforts to verify the veteran's account of the stressor.
While VA may commonly establish combat exposure through the veteran's medals or decorations, this may not be an option for veterans who served in Special Operations.  In these cases, there is a procedure established by VA for Special Operations veterans to follow.  This procedure is outlined in Fast Letter 09-52.  Typically, VA will send a VCAA notice that requests more information about the veteran's service in Special Operations.
The VCAA notice may ask about the dates of service, location, branch of service, and information specifically regarding the stressor.  The veteran is requested to reply within thirty days.  Otherwise, VA may not consider the evidence or information relating to the veteran's Special Operations service.  It is important to be as detailed as possible when responding to the VCAA notice so that VA may find and access any records pertaining to the veteran's stressor.
After receiving the information from the veteran, VA will send that information to a Military Records Specialist, or MRS.  The MRS will then:
Complete a "Special Operations Forces Incident" report
Send the report to VAVBASPT/RO/SOCOM via encrypted email
It will take a minimum of 60 days for the U.S. Special Operations Command (USSOCOM) to follow up with the request.  If information about the veteran's service or stressor can be found, the veteran will receive a "sanitized summary of its research."  If nothing is found, then the veteran will receive a negative reply.
Classified records from USSOCOM may:
Be from a casualty report
May be limited to:

The date of the injury;
The location where the injury occurred; and/or
A brief description of the injury or illness

May only confirm that the Veteran participated in Special Operations, because the operation is still considered classified.
Getting Assistance with a PTSD Claim
The road to VA disability benefits for PTSD can often be challenging and draining.  If you filed a claim with VA for PTSD and were denied, Chisholm Chisholm & Kilpatrick LTD may be able to help.  The veterans advocates at Chisholm Chisholm & Kilpatrick LTD will fight to win you the benefits you deserve.  Call today for a free consultation at 800-544-9144.

About the Author