Veterans Law
VA Proposes Presumption for Rare Respiratory Cancers Related to Burn Pits
The Department of Veterans Affairs (VA) recently announced its intention to add nine rare respiratory cancers related to toxic chemical exposure to its presumptive list of service-connected conditions.  Once confirmed, these respiratory cancer presumptions will apply to veterans who served any amount of time in the Southwest Asia theater of operations (e.g., Gulf War era veterans).
This was announced on March 1, 2022 as part of the Comprehensive and Overdue Support for Troops (COST) of War Act of 2021, which intends to expand access to health care and disability compensation for veterans exposed to toxic chemicals in the air, water, and soil during military service.
What Is VA Presumptive Service Connection?
VA presumes service connection for certain conditions based on the time and location of the veteran's service.  The intention is to make it easier for veterans to secure disability compensation.
Presumptions eliminate the need for veterans to provide a nexus opinion.  They simply need to show they were at a certain place at a certain time and have a specific condition, and the link between the two is presumed.
For reference, other VA presumptions include conditions related to Agent Orange exposure, MUCMIs, and presumptive respiratory conditions related to particulate matter.
What Are the Proposed Presumptive Respiratory Cancers?
The newly-formed Veterans Health Administration (VHA) Health Outcomes Military Exposures team led a focused review of scientific and medical evidence earlier this year in relation to particulate matter exposure and toxic chemicals in the air, water, and soil and the subsequent development of rare respiratory cancers.
Based on its findings, the following nine respiratory cancers are now being considered by VA for presumptive service connection:
Squamous cell carcinoma (SCC) of the larynx – A type of throat cancer, and the most common cancer in the larynx.  SCC usually results from prolonged exposure to carcinogens.
Squamous cell carcinoma of the trachea – A fast-growing cancer that arises in the lower portion of the trachea, penetrating the mucosal lining of the airway as it grows.
Adenocarcinoma of the trachea – A rare type of tracheal cancer that is usually present in the lower third of the trachea.
Salivary gland-type tumors of the trachea – These types of tracheal tumors are very rare, comprising of less than 0.1 percent of respiratory tract cancers.
Adenosquamous carcinoma of the lung – Relatively rare subtype of non-small-cell lung cancer, defined by malignancy containing components of lung adenocarcinoma and squamous cell carcinoma.  It is extremely difficult to diagnose preoperatively.
Large cell carcinoma of the lung – A form of non-small cell lung cancer that tends to grow more quickly and spread more aggressively than other forms.  It is also a catch-all diagnosis for other types of large lung cancers that cannot be categorized into specific subgroups.
Salivary gland-type tumors of the lung – Uncommon neoplasms of the lung, representing less than one percent of all lung tumors.
Sarcomatoid carcinoma of the lung – A rare subtype of lung cancer.
Typical and atypical carcinoid of the lung – Typical carcinoids account for around nine out of 10 carcinoids of the lung.  These carcinoid tumors often grow more slowly than other cancers and rarely spread beyond the lungs.  Atypical carcinoids are much less common and tend to grow more quickly.
Veterans who have served in the Southwest Asia theater of operations and have been diagnosed with one of the above cancers are encouraged to file a claim for disability benefits (using VA Form 21-526EZ) once the rule-making process is complete.  Those who had their claims previously denied should also file a new or supplemental claim.
Who Will Be Eligible?
According to VA, any veteran who has manifested one of these respiratory cancers to any degree at any time during or after separation from service in the Southwest Asia theater of operations (i.e., Gulf War service) will be eligible for presumptive service-connection.
For VA benefit purposes, the Southwest Asia theater of military operations refers to the following areas at any time between August 2, 1990 and the present:
Iraq
Kuwait
Saudi Arabia
Neutral zone between Iraq and Saudi Arabia
Bahrain
Qatar
The United Arab Emirates
Oman
Gulf of Aden
Gulf of Oman
Waters of the Persian Gulf, the Arabian Sea, and the Red Sea
Airspace above these locations
This includes veterans who served in Operation Iraqi Freedom (2003-2010) and Operation New Dawn (2010-2011).
How Does this Relate to Burn Pits?
A portion of the toxic chemical pollution in the air, water, and soil leading to these rare respiratory cancers may have been caused by U.S. Military burn pits.
Open-air burn pits are large areas of land used as a method of waste disposal on American bases in Iraq, Afghanistan, and Djibouti (i.e., the Southwest Asia theater of operations) in the post-9/11 era.  Huge amounts of toxic and other waste were incinerated in these burn pits, emitting plumes of toxic smoke containing particulate matter and other dangerous toxins.  In 2015, VA estimated that approximately 3.5 million veterans have been exposed to burn pits.
Common items incinerated in burn pits included:
Human waste
Medical waste
Plastics
Paint
Rubber
Wood
Aluminum cans
Rotten food
Petroleum
Lubricants
Toxic chemicals
Styrofoam
Ammunition
Unexploded ordnances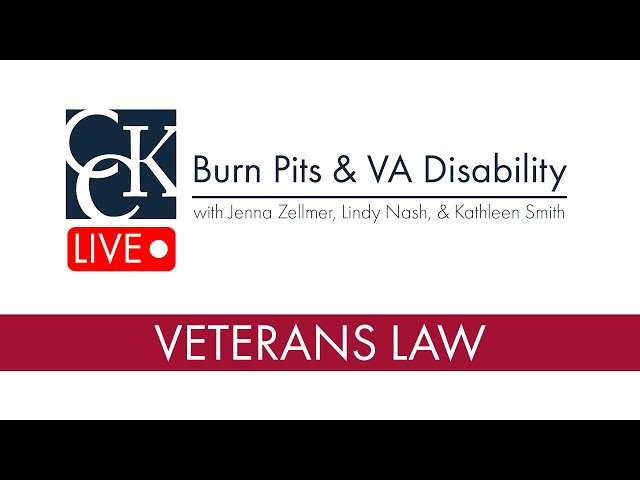 In August 2021, three new respiratory conditions – chronic asthma, rhinitis, and sinusitis – related to particulate matter exposure and burn pits were added to VA's presumptive list of conditions.
According to VA guidelines, to qualify for presumptive service connection based on particulate matter exposure, veterans must have a current diagnosis of chronic asthma, rhinitis, or sinusitis that manifested within 10 years of a qualifying period of military service in Southwest Asia and certain other areas.
What Will Happen Next?
As of now, VA has not specified an exact timeline for when these nine respiratory cancers will be added to its presumptive list.  VA has, however, stated that once rulemaking is complete, it will conduct outreach to impacted veterans and survivors to inform them about potential eligibility.
Efforts to provide medical care and disability benefits to military victims of burn pits have long been plagued by delays, both on the part of Congress and VA.  While the proposed respiratory cancer presumptions and the COST of War Act are a step in the right direction, there is still a long way to go.  Many veterans exposed to burn pits and toxic chemicals are still left without the benefits they need.
Was Your Claim for a Presumptive Condition Denied?
If you filed a claim for disability benefits based on toxic chemical and/or burn pit exposure, Chisholm Chisholm & Kilpatrick may be able to assist you.  The accredited attorneys and claims agents at CCK have decades of experience helping veterans win disability compensation on appeal.  Reach out to CCK today at 800-544-9144 to schedule your complimentary case review.
Also, read about the precedential Court win in which CCK helped a Gulf War veteran prove presumptive service connection.