Veterans Law
Burn Pits: The Agent Orange for Post-9/11 Veterans
What are Burn Pits?
Open air burn pits were large pits used for waste disposal on United States military bases in Iraq and Afghanistan throughout the post-9/11 era.  Materials burned in the pits include metals, medical waste, human waste, ammunition, and plastics.  The sizes of the burn pits varied depending on the size of the base they were serving.  The largest burn pit, located at Joint Base Balad, spanned over 25 acres of land when it was at its largest.  Here, the U.S. military burned nearly 147 tons of waste per day.
Many veterans returning from Iraq and Afghanistan are now getting sick with illnesses similar to those experienced by Vietnam veterans.  Studies conducted on air samples tested by the Department of Defense (DoD) indicate that post-9/11 veterans who were exposed to burn pits were exposed to some of the same harmful chemicals in Agent Orange, a powerful defoliant used during the Vietnam War.
VA and the Institute of Medicine Study Long-Term Effects of Burn Pit Exposure
In November of 2009, VA and the Institute of Medicine (IOM) began an 18-month study to determine the long-term health effects of exposure to burn pits in Iraq and Afghanistan.  Subsequently, in 2011, the IOM reviewed the scientific literature related to the possibility of adverse long-term health effects of open burn pits.  From there, the IOM developed the following report: "Long-Term Health Consequences of Exposure to Burn Pits in Afghanistan".  This report revealed that 2,3,7,8-TCDD (TCDD), the most potent of all dioxins, was found in the air surrounding the burn pits in Iraq and Afghanistan.  Additionally, the report noted that DoD air quality monitoring data measured levels of particulate matter higher than considered safe by U.S. regulatory agencies.  Despite high levels of particulate matter being linked to cardiopulmonary effects, the IOM concluded there is only limited evidence suggestive of an association between exposure to burn pits and reduced pulmonary function.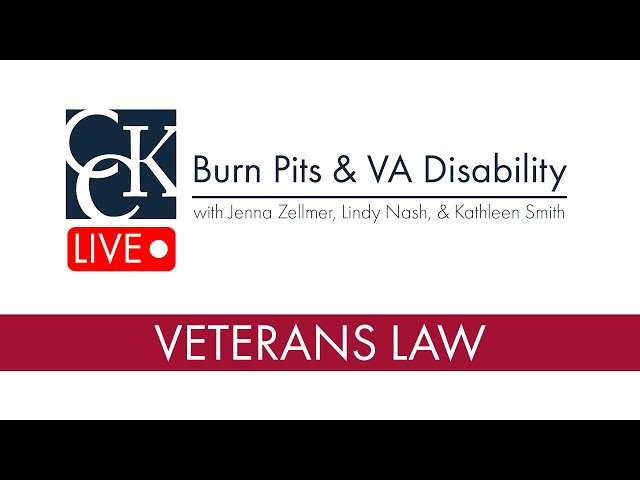 Agent Orange and Burn Pits
Unlike exposure to Agent Orange, VA does not consider any disabilities presumptively associated with exposure to burn pit smoke.  Therefore, post-9/11 veterans filing claims for service connection must obtain a medical opinion stating that their condition is at least as likely as not a result of their exposure to burn pit smoke.  VA adjudicates burn pit claims on a case-by-case basis in which the decision is based on the facts unique to each claim.  However, post-9/11 veterans exposed to burn pits do in fact suffer from disabilities entitled to presumptive service connection because they were exposed to an herbicide agent as defined by VA under 38 CFR § 3.307(a)(6).  Here, VA defines herbicide agent specifically as "2,4-D; 2,4,5-T and its contaminant TCDD; cacodylic acid, and picloram".  TCDD is the unfortunate byproduct in the production of 2,4,5-T, one of the two herbicides in Agent Orange.  Nevertheless, it is also a byproduct of incomplete combustion of certain harmful substances such as those disposed of in the burn pits, as indicated above.
VA has determined that the presumption of service connection based on exposure to an herbicide agent, which includes TCDD, is warranted for any conditions for which VA acknowledges a positive association between the condition and such exposure.  Furthermore, VA has already established this positive association as it relates to many conditions, including but not limited to, diabetes mellitus type 2, ischemic heart disease, and respiratory cancers.  As a result, post-9/11 veterans who were exposed to burn pits should be afforded the same presumptions as Vietnam veterans.
Conditions Related to Burn Pit Exposure
Despite the current lack of a presumption, some medical conditions can be linked to exposure to burn pits.  Current science Is unable to provide a definitive list of potential health effects stemming from burn pit exposure, however, some commonly reported conditions include:
Asthma
Autoimmune disorders (e.g. Lupus)
Bladder Cancer
Chronic B-Cell Leukemias
Constrictive Bronchitis
COPD
Diabetes Mellitus Type 2
Hodgkin's Disease
Hypertension
Ischemic Heart Disease
Lung Cancer and other respiratory cancers
Multiple Myeloma
Non-Hodgkin's Lymphoma
Parkinson's Disease
Prostate Cancer
VA's Efforts to Research Burn Pit Exposure 
The VA's Airborne Hazards and Open Burn Pit Registry is an online database for veterans and service members to document their exposures and report health concerns.  The registry was put in place through an act of Congress and officially began in 2014.  Between April 25, 2014 and March 5, 2018, 134,620 veterans and service members completed the burn pit registry questionnaire.  VA aims to collect data on those exposed and conduct studies with veterans who participate in the registry to better understand the health impacts potentially caused by their exposure.
Most recently, the House of Representatives voted to pass the Energy and Water, Legislative Branch, and Military Construction and Veterans Affairs Appropriation Act, 2019.  Included in this large funding bill is the Helping Veterans Exposed to Burn Pits Act.  The Act directs VA to establish a center of excellence in the prevention, diagnosis, and treatment of health conditions relating to exposure to burn pits and other environmental exposures in Afghanistan and Iraq.  Furthermore, this Act allocates an additional $5 million in funding specifically for burn pit research.
In developing and pushing for both the implementation of the Helping Veterans Exposed to Burn Pits Act and further research related to burn pit exposure, members of Congress have noted an effort to prevent burn pits from becoming "the Agent Orange of this generation of soldiers."  Specifically, U.S. Senator Amy Klobuchar (D-MN) stated, "After the Vietnam War, it took the U.S. government years to recognize that there was a link between Agent Orange and its devastating health effects on our soldiers.  With an increasing number of service members returning home from Iraq and Afghanistan citing illnesses, we can't make that same tragic mistake again by failing to identify the devastating health effects associated with burn pits".