Veterans Law
VA Disability and Drug Use
Often, a veteran's service can cause serious trauma, which can be difficult to recover from once their service has concluded.  As a result, veterans may often turn to drugs or alcohol to cope with the trauma they faced during their service.
The effects of trauma can take years to manifest.  Specifically, conditions like post-traumatic stress disorder (PTSD), depression, and traumatic brain injury (TBI) can all be caused by trauma and may lead to feelings of isolation or heightened emotions.  As such, veterans with these conditions may seek out alcohol or drugs to numb these intense feelings.
What is Drug Abuse, or Drug Addiction?
According to the National Institute on Drug Abuse, drug addiction can be categorized as a chronic, relapsing disorder where a person engages in compulsive drug seeking and use, despite harmful consequences.  Persistent drug use can lead to long-lasting changes in the brain.
Drug Addiction Symptoms
Veterans with a drug addiction may find themselves struggling with the following side effects:
Repetitive Use—Feeling the need to use a specific drug, or drugs, daily. Veterans with a drug addiction may use drugs more than once a day.
Urges—Intense urges usually accompany drug addiction. These urges may be extremely intense and block out any other thoughts.  Veterans with a drug addiction may be unable to concentrate on anything else when experiencing an urge.
Increased Amounts of Drug Taken—Drug addictions can worsen over time. Usually, this means that a person will need increased amounts of the drug to have the same effect and satisfy their urge.
Longevity of Use—Veterans with drug addiction to prescription medications may find that they are taking larger amounts of a drug than they intended and over a longer period of time.
Increased Supply of Drugs—People with drug addiction may find that they need to maintain a certain supply of the drug. The amount needed for this supply may increase over time.
Financial Difficulties Caused by the Drug—In order to maintain their drug supply, addicts may spend money on a drug even when they cannot afford it b z.
Increased Participation in Risky Behavior— Drug addictions can cause people to act in risky, or reckless, ways. Examples of this may be driving under the influence of the drug or engaging in criminal behavior, such as stealing, to afford more drugs.
Experiencing Withdrawal Symptoms— People who attempt to stop using the drug may experience withdrawal symptoms such as nausea, irritability, and tremors.
Physical Signs of Drug Abuse or Addiction
Difficulties participating in regular activities, such as work, school, or social events
Changes in physical appearance
Diminished personal hygiene
Altered behavior, such as isolation or increased need for privacy
Fatigue or lack of energy
Radical changes in relationships, or volatility in relationships
Decreased appetite or weight loss
Bloodshot eyes or change in skin tone
What is "Substance Abuse Disorder?"
Substance abuse disorder is a medical condition for which veterans can receive disability benefits from VA.  VA has separate definitions for alcohol abuse and drug abuse, although both can be considered as part of substance abuse disorder.  Veterans commonly experience both alcohol and drug abuse at the same time.
VA's Definition of Alcohol Abuse
VA defines alcohol abuse as "the use of alcoholic beverages over time, or such excessive use at any one time, sufficient to cause disability or death of the user."  To be clear, having one alcoholic beverage or the occasional alcoholic beverage does not constitute alcohol abuse.  In order for a veteran's drinking habits to be considered alcohol abuse, the veteran likely will engage in continued excessive drinking.
VA's Definition of Drug Abuse
In regards to drug abuse, VA defines it as "the use of illegal drugs, including prescription drugs that are illegally or illicitly obtained, the intentional use of prescription or non-prescription drugs for a purpose other than the medically intended use, or the use of substances other than alcohol to enjoy their intoxicating effects."
Why do Veterans Abuse Substances?
As discussed above, veterans often face trauma, physical ailments, and severe stress as a result of their service.  This can be related to the demanding environment of military life and the nature of combat.
Drug abuse, or substance abuse disorder in general, can arise due to many factors.  Prolonged treatment of physical pain with prescription narcotics can result in dependence on said substance.  Some veterans may also turn to drugs as a coping mechanism to deal with psychological trauma or brain injury.
According to the Substance Abuse and Mental Health Services Administration, approximately 18.5 percent of veterans returning from Iraq and Afghanistan have or have had PTSD or depression. 19.5 percent of this same population of veterans have experienced a traumatic brain injury (TBI) while deployed.  This information may explain why so many veterans turn to drugs as a coping mechanism.
SAMHSA also estimates that only about 50 percent of returning service members suffering from mental health issues actually seek treatment.  Servicemembers may not pursue treatment out of fear of retaliation, stigma, or lack of resources.
Military Sexual Trauma (MST) is another form of trauma servicemembers can experience, resulting in psychological trauma or PTSD.  According to VA statistics, 1 in 3 women and 1 in 50 men have confided to their VA healthcare provider that they experienced MST.
Can Veterans Be Service Connected for Drug Abuse?
As of right now, veterans cannot be directly service-connected for substance abuse disorder.  However, they can be service-connected on a secondary basis for disabilities that arise from drug use due to a service-connected condition.
Veterans can receive ratings for substance-related disabilities as long as the substance use was not the veteran's own "willful misconduct."  VA defines willful misconduct as "an act involving conscious wrongdoing or known prohibited action."
For example, if a veteran has a service-connected back injury that causes great pain on a daily basis, they may be prescribed opiates for the pain.  If the veteran goes on to develop renal disease because of their prolonged use of opiates, the veteran may then be able to receive disability compensation for the renal disease as secondary to their initial back injury.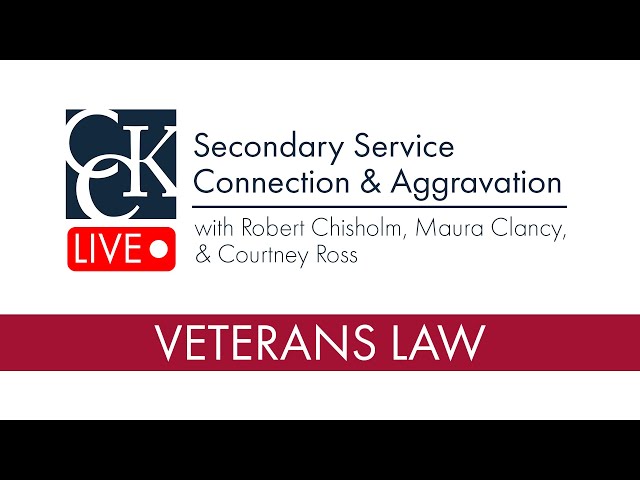 Conditions Linked to Substance Abuse Disorder
As discussed above, trauma can cause a variety of mental and physical health conditions which, in turn, may lead a veteran to seek out drugs to cope.  Below are just some conditions that VA acknowledges can lead to drug or alcohol misuse:
Bipolar disorder
Obsessive-compulsive disorder
Schizophrenia
Anxiety
Importantly, the use of drugs can exacerbate a mental health problem.  Usually, using drugs can cause a veteran to "have more mental health symptoms, relationship problems, think about suicide, or need to stay in a hospital or other facility for treatment."
In addition to the conditions listed above, some orthopedic conditions for which a veteran is prescribed opiates to ease their pain may result in addiction.  Opiates are often misused, meaning they are taken in a manner or dose other than what has been prescribed.  As such, prescription drug use disorders can lead to a very severe form of addiction.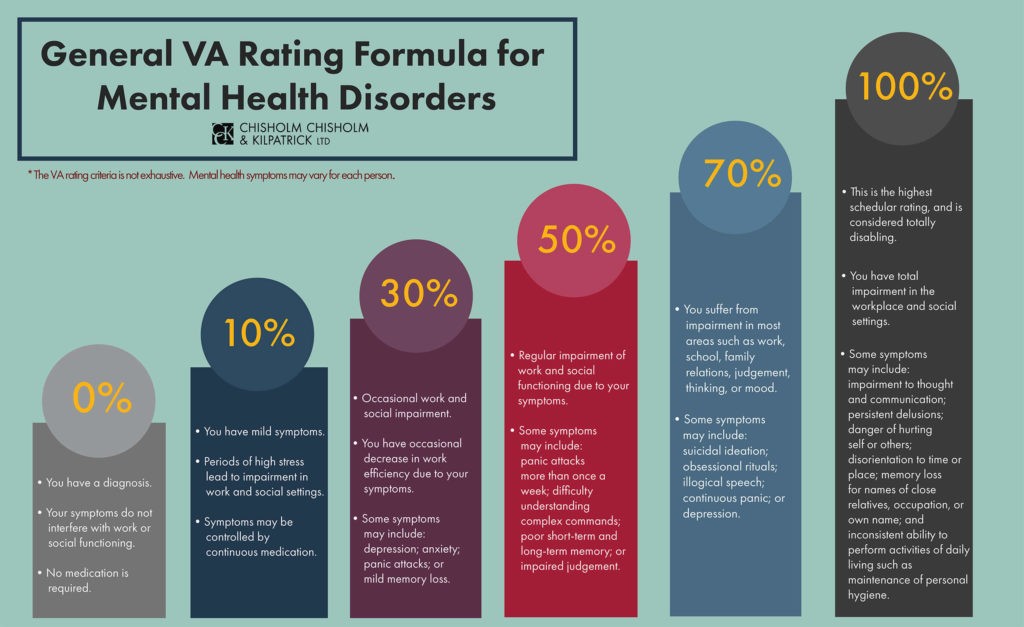 Getting Treatment for Drug Abuse or Substance Abuse Disorder
Fortunately, VA offers a variety of treatment services to veterans who may be struggling with drug abuse.  Treatment can range from medication to therapy.  Below are just some of the options that VA lists on their website.
Medically managed detoxification
Drug substitution therapies
Nicotine replacement medicine
Short-term outpatient counseling
Intensive outpatient treatment
Marriage and family counseling
Self-help groups
Residential (live-in) care
Relapse prevention
Group-specific programs, for women veterans, veterans returning from combat, homeless veterans, etc.
Veterans who wish to use these services should first apply for VA health care.  With VA health care, a veteran may have a VA primary care provider they can speak to about their drug addiction.  Their provider can also screen them for drug abuse and offer treatment.  If the veteran does not have VA healthcare, they may still be able to get treatment at a VA medical center or find a Substance Abuse Disorder (SUD) program for treatment.
Resources for Veterans in Distress Due to a Drug Problem
Often, veterans struggling with drug addiction find themselves in dire situations where they may need assistance.  However, VA offers a number of resources for these veterans.
Specifically, veterans with a drug addiction may be experiencing mental health difficulties simultaneously.  Veterans trying to cope with trauma, who may have turned to drugs, might experience suicidal thoughts and need crisis support.
The Veteran's Crisis Hotline offers 24/7 assistance.  It is also confidential and anonymous, so veterans do not need to fear any stigma or retaliation for reaching out.  This resource is available to all veterans, even if they do not have VA health care or have not been service-connected for any VA benefits.  Veterans may call the hotline at 1-800-273-8255 and press 1, or text 838255.
Veterans struggling with drug abuse may also face homelessness or the risk of homelessness.  Veterans who are at risk of homelessness can call VA's National Call Center for Homeless Veterans.  This hotline also offers 24/7 assistance.  Importantly, family members or friends can also call this number if they are seeking help on a veteran's behalf.  The hotline can be reached by calling 877-424-3838.
Do You Have Questions About VA Benefits Relating to Drug Use?
If your claim for a condition related to substance abuse disorder has been denied, or if you are unsure about how drug abuse may factor into your VA claim, the team at Chisholm, Chisholm & Kilpatrick LTD is happy to help.  To schedule a free case evaluation, contact our office online or at 800-544-9144.