Long-Term Disability (LTD) Attorney Serving Springfield, MA
If you become disabled because of a medical condition and find yourself unable to work, you may need to file a claim for long-term disability.  This process can be confusing and stressful and can be exacerbated by difficult insurance companies who place their own interests above yours.  However, if you need to file an initial long-term disability claim or appeal a denial of benefits, you do not have to handle this process on your own.
The professionals from Chisholm Chisholm & Kilpatrick LTD serving Springfield, MA who are ready to help you fight for your claim.  If you need to file for long-term disability benefits and do not know where to start, you can call a member of our team today for a free consultation at 800-544-9144.
Ways an Attorney can Help with Your Long-Term Disability Claim
When you are filing for long-term disability insurance, you want the strongest evidence possible for your claim.  While claimants can gather evidence and build their claims on their own, it can be beneficial to have the assistance of an attorney to ensure everything meets your policy's requirements.  Your impairment must satisfy the requirements of your insurance company's definition of disability in order to be considered a disability that warrants benefits.
If you are filing for an appeal after an initial claim denial, it can be even more crucial that you gather the correct kind of evidence.  Under ERISA law, the appeal stage may be the last chance you have to get new evidence on the record.  This means that if your appeal is denied and you take your claim to court, you likely cannot submit any additional evidence and must use what you submitted during the appeal stage.  Chisholm Chisholm & Kilpatrick attorneys can navigate your case with their knowledge of ERISA law and 33 years of collective experience fighting for LTD claims.
Both initial long-term disability claims and appeals have strict deadlines.  If those deadlines are missed, you risk a denial or loss of rights to long-term disability benefits.  CCK attorneys will help you stay on track with these deadlines so that all documentation is submitted on time.  Insurance companies do not always act in good faith and may often confuse claimants with such strict requirements, but our legal team is ready to navigate this process with you.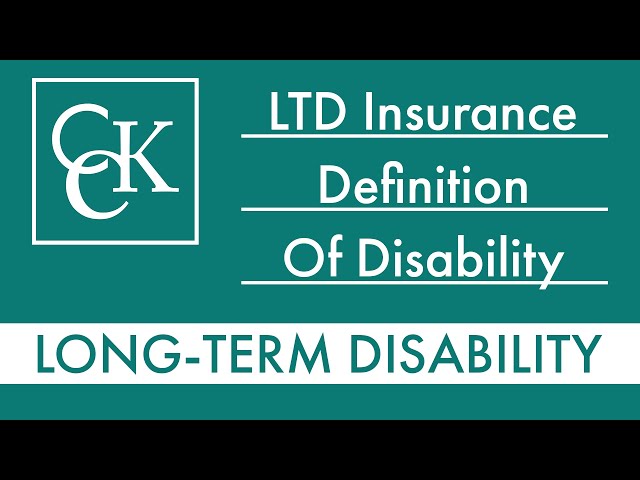 CCK Attorneys Will Prove that You Are Entitled to Long-Term Disability Benefits
Insurance companies can be difficult to work with and often prioritize their own business over the needs of claimants.  This can result in confusing policy requirements, poor communication, and complicated demands that are designed to put claimants at a disadvantage.  Trying to successfully navigate the long-term disability process can be stressful when you are dealing with a disabling health condition at the same time.
Chisholm Chisholm & Kilpatrick attorneys know how insurance companies operate and have experience combatting their tactics.  Often, medical records are the primary source of evidence for long-term disability claims.  Our attorneys go beyond medical records to gather evidence that will bolster your claim, such as treating physician reports, testimonies by personal references, and evaluations from outside experts.
Treating physician reports can supplement your medical records by highlighting aspects of your condition that your records might have missed.  This may include an emphasis on certain symptoms that you have discussed with your physician, or the ways that your condition negatively impacts your daily life.  These reports can be crucial to backing up your medical documents, but unfortunately physicians and doctors do not always want to take the time to write up such reports.  Our attorneys can help you explain to your physician why a personal report is necessary, and ensure you receive it in a timely manner.
Testimonies by personal references such as friends, family, and coworkers can be helpful to your claim because they provide an eye-witness account of your disability.  Family and friends may be able to attest to how your health condition disables you in your personal life or at home, while coworkers may be able to explain the ways it negatively impacts you at work.  This can be important evidence to back up your medical documents and reports.
Evaluations from outside experts can be a great way to supplement your claim.  CCK works with a variety of experts in various fields who may be able to perform additional neuropsychological, functional capacity, or vocational evaluations that can further prove your disability.  Such objective examinations can be used as evidence as to why you are unable to perform the duties of your job and can disprove the reasons the insurance company may provide to try to deny your claim.
We Want to Take the Stress of Filing for Long-Term Disability Off Your Shoulders
Chisholm Chisholm & Kilpatrick attorneys know that a debilitating condition can be stressful and upsetting for both you and your family.  Therefore, we want to take the burden of filing for long-term disability off of you.  Whether you are filing an initial claim or appealing a wrongful denial of benefits, we can help you wherever you are in the LTD process.
CCK attorneys are equipped with the experience and expertise needed to fight for your claim.  Our legal team knows how to communicate with insurance companies, doctors, and experts to get your claim approved.  We will keep you up to date with requests for information from your insurance company and stay on top of gathering the evidence for you.  We can shoulder the burden of the long-term disability process so that you do not have to, and so you are able to focus on taking care of your medical condition.
Contact Chisholm Chisholm & Kilpatrick for a Free Consultation Today
If you find yourself disabled and unable to work, you need to focus on taking care of your health instead of going through the difficult process of filing for long-term disability benefits.  The attorneys at CCK are ready to help you with your claim wherever you are in the process, whether you are preparing your initial claim or filing for an appeal.
Our team serving Springfield, MA has the expertise you need to fight for your claim.  Whether it is privately purchased or ERISA-governed, we may be able to help.  You can contact Chisholm Chisholm & Kilpatrick today for a free consultation with a member of our team at 800-544-9144.