ERISA Law
How to Get Long-Term Disability Benefits
Nobody wants to think about becoming disabled.  However, it is important to consider what to do if such an event were to occur.  How would you pay your day-to-day expenses when you are unable to work?  Getting long-term disability (LTD) benefits is key to managing your health while not worrying about your income.  Many may first think about health insurance, but long-term disability insurance is just as important.  Before you can get such benefits to cover a percentage of your pre-disability income, you must first obtain a long-term disability policy.
It is often best to get a long-term disability policy as soon as you can.  The younger and healthier you are, the more likely an insurance company is to approve your application.  Additionally, younger adults often pay less per month on their premiums than when they are older.
A survey by the Social Security Administration found that one out of four people who are 20 years old will become disabled before they retire.  This means that around 25 percent of the workforce may need LTD benefits at some point in their career.  Therefore, it is vital to begin looking for a policy sooner rather than later.
Types of LTD Benefits
Long-term disability insurance replaces all or a percentage of a person's income if they become unable to work due to sickness or injury.  This income replacement is crucial for many to focus on their well-being.  The insurance company will have its own policy and its own terms.  What one insurance company offers may not be the same as another.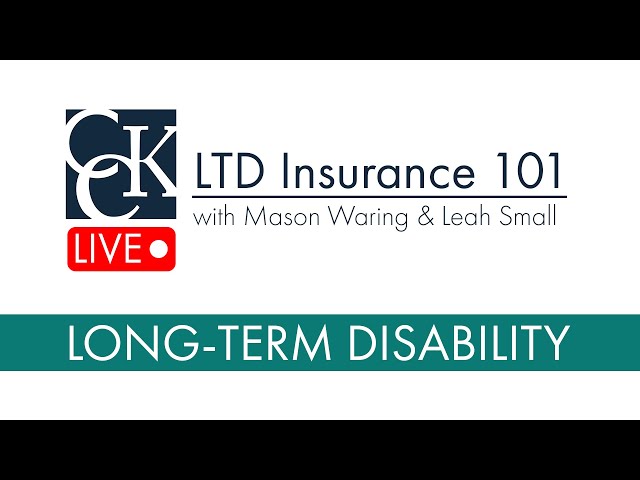 Nonetheless, there are two ways that a person may obtain long-term disability insurance: a group policy or an individual policy.  While insurance companies provide both, there are inherent differences between the two that are important to understand.
Group Long-Term Disability Policies
If you are employed and have employee benefits, then you most likely already have a long-term disability policy.  If you are unsure, you can ask your employer directly.
A group policy is a part of an employer's benefits package, meaning they are tied to your employment.  If a person loses their job, whether voluntarily or involuntarily, they lose their long-term disability coverage.
Since these policies are contingent upon employment, there is no "underwriting" necessary to qualify for the policy.  Underwriting is the process in which an insurance company reviews a person's application, health assessments, and other personal factors to weigh the risk of offering a policy to an individual.
An employer pays most (or all) of the premium, which often makes a group policy more affordable than an individual plan.  While it may be a more affordable price per month, the coverage can end at any time.  Likewise, if a person wanted to add extra LTD insurance to an existing group policy, they would have to do so out of their own pocket; employers may or may not allow such additions to the benefits they offer.
Group policies are governed by ERISA law.  ERISA—the Employee Retirement Income Security Act—is a federal law that provides oversight for retirement plans and covers group benefit plans.  While ERISA regulates these plans and safeguards benefits, it is extremely strict.  For example, ERISA has strict deadlines.  Moreover, when filing a disability claim, ERISA does not allow the submission of evidence after the appeal stage.
Individual Long-Term Disability Policies
The other way a person can obtain a long-term disability policy is by purchasing one directly from an insurance company.  These LTD policies are known as individual plans.  These plans are not contingent on employment, so if a person loses their job, they will still retain their benefits.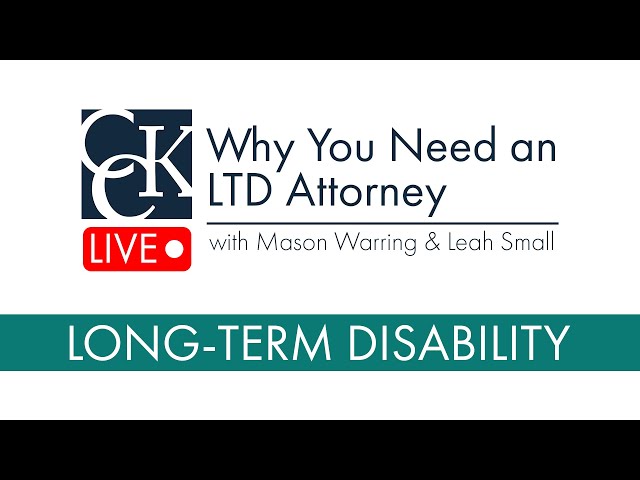 While an individual plan is not tied to employment, it is tied to the health and age of the individual.  Insurance companies want to analyze the risk of taking someone under their policy, so they do perform the underwriting process for individual plans.  This process, however, can lead to eligibility denials or restrictions placed on the coverage.
Nevertheless, when you purchase a long-term disability policy directly from an insurance company, you have more flexibility.  For example, you can make your plan non-cancellable and guaranteed renewable, which means the insurance company cannot cancel or alter your plan once it is active.
Unlike a group policy, which your employer gives you, you can "shop around" for individual policies.  There is a multitude of insurance companies that offer LTD benefits.  You can inquire at each one until you find a plan that best fits what you need.
It is important to note that a person who already has a group policy can supplement it with an individual plan.  Therefore, it is possible to have both simultaneously.  An individual plan helps fill in the gaps left by a group policy.
How to Obtain an Individual LTD Policy
While a group policy is only obtained through employment, an individual policy is not.  Obtaining an individual policy is not difficult, per se, but it does require paperwork and assessments to ensure eligibility.  This can be stressful when you need coverage.
Generally, there are three main parts of the application process: the application form, a health assessment, and underwriting.  Before a person can obtain their individual policy, the insurance company must approve their eligibility through this process.
Fill Out a Long-Term Disability Insurance Application
The first step is selecting the right insurance company based on your needs.  As mentioned, there is a multitude of insurance companies that offer long-term disability insurance.  While each plan is different, the requirements are generally similar in certain aspects.
Once a person has found an insurance company, they must fill out an application.  Some people use an insurance agent to help with this process, but it is not necessary.
The application includes various questions, such as:
Your name and home address;
Your age;
Your income; and
Your occupation.
Sometimes, insurance companies also ask about your hobbies because some hobbies, e.g., bungy jumping, pose more of a risk than others.  Moreover, your occupation may pose greater risks than others depending on what it is.  For example, an office worker is less of a risk than a construction worker who operates large, dangerous machinery.  An insurance company can deny someone's application if they believe the person is too much of a liability.
Insurance Companies Require Health Assessments and Underwriting
Following the application, a person must undergo a health assessment from the insurance company.  This can range from an online questionnaire to an in-depth physical conducted by a doctor.  Usually, the greater the policy or the older the applicant, the more involved the health assessment becomes.
Individual policies are tied to the well-being of a person, and this can have an impact on their eligibility.  Insurance companies usually require three to five years of medical records, too.  If a person had a recent health condition or injury, the insurance company may deny them.  Moreover, the insurer may accept their application but require a rider (i.e., a provision that adds benefits to or amends the terms of a basic insurance policy) on the coverage that excludes pre-existing conditions.
The insurance company collects all this information and performs the underwriting process via computer or an underwriter.  If the underwriter approves the application, the person will receive an insurance offer, which they can accept (or deny in certain situations).  Once the person accepts the coverage, they can begin paying the premium.  Paying the premium makes the coverage "active."
Applying for Long-Term Disability Benefits When You Need Them
Whether you got your policy through your workplace or bought it directly from an insurance company, you want to make sure that you may begin receiving benefits when you need them.  Regardless of the type of policy you have, it is vital to read it thoroughly before you need it.
Your long-term disability policy includes a lot of invaluable information, such as the waiting period, also known as the elimination period; the maximum benefit period; the number of monthly benefits allowed; exclusions, such as a rider against certain conditions; information about how to appeal a denial; and, most importantly, a definition of "disability."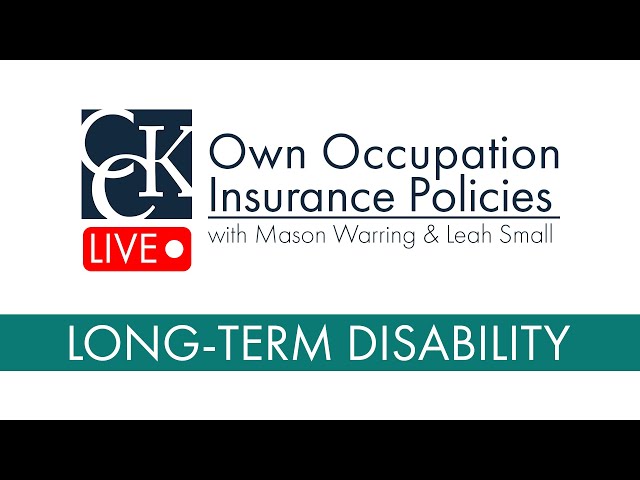 The definition of disability is the most critical element of your policy.  In order to receive benefits, you must prove that you meet the definition as set forth in your policy.  Typically, there are two types of this definition: "own occupation" and "any occupation."
If you are buying your long-term disability policy directly from an insurance company, you should pay close attention to this definition.  In short, you want to find a policy that has an "own occupation" definition as these are generally easier to prove than an "any" definition.  This is because an "own occupation" definition asks if you can perform the duties of your specific job, whereas an "any occupation" definition asks if you can perform the duties of any job whatsoever.  Some policies may transition from an "own occupation" to an "any occupation" definition after a set period of time.
Nevertheless, the first step is to submit a notice of claim to the insurance company.  The method preferred by your insurance company to submit this notice should be listed within the policy.
Next, you need to supply evidence that proves your disability.  This evidence can include medical records; vocational evaluations; specialized reports from your treating physician; and witness statements from family members, friends, and coworkers.
However, insurance companies do not want to approve claims if they can help it.  This is important to remember—both when you are choosing your policy and when you are applying for benefits.
Insurance companies often prioritize their own business needs ahead of their clients' health needs.  Therefore, it is possible that something as simple as a missed deadline will be enough for them to deny you your benefits.  Moreover, insurance companies routinely hire private investigators to perform surveillance on claimants to find anything that could give them grounds to deny the claim.
Call Chisholm Chisholm & Kilpatrick Today Regarding Your Long-Term Disability Benefits
When you get your long-term disability policy, you hope you never have to use it.  However, if you develop a medical condition, or are injured, and cannot work, these benefits may be your only means of supporting yourself or your family.
You do not want an insurance company to deny you your benefits when you need them.  The long-term disability lawyers at Chisholm Chisholm & Kilpatrick understand this and want to help.  Whether you are looking for a policy or already have one, it is best to plan ahead.  From applying for LTD benefits to appealing a denial from the insurance company, CCK can assist no matter where you are in the process.  Call us today at (800) 544-9144 for a free initial consultation regarding your claim.
About the Author