Veterans Law
VA Disability Benefits for Hysterectomy
What is a Hysterectomy?
According to the American College of Obstetricians and Gynecologists, a hysterectomy is defined as surgery to remove the uterus (i.e., a reproductive organ located in the female pelvis between the bladder and rectum).  Hysterectomies are a very common type of surgery for women in the United States.  However, it should be noted that removing the uterus means that individuals will no longer be able to become pregnant.
Hysterectomies are used to treat many women's health conditions, including the following:
Uterine fibroids (i.e., most common reason for a hysterectomy)
Endometriosis (i.e., the lining of the uterus grows outside of the uterus)
Pelvic support problems (e.g., uterine prolapse)
Abnormal uterine bleeding
Chronic pelvic pain
Gynecologic cancer
However, there are other conditions that may lead to the decision to have a hysterectomy as well.  Depending on the specific condition, women may want to try other options first that do not involve surgery.  Furthermore, some women may wait to have a hysterectomy until after they have had children.  Nonetheless, there are certain situations in which a hysterectomy is absolutely necessary.
Importantly, there are different types of hysterectomy, including:
Total hysterectomy – the entire uterus, including the cervix (i.e., tissue connecting the vagina and uterus), is removed
Partial hysterectomy – the upper part of the uterus is removed, but the cervix is left in place; can only be performed laparoscopically or abdominally
Radical hysterectomy – a total hysterectomy that also includes removal of structures around the uterus; may be recommended if cancer is diagnosed or suspected
In some cases, the ovaries and/or fallopian tubes will be removed as well.  Typically, removal of the ovaries and/or fallopian tubes only occurs if they are abnormal.
Hysterectomy and Health Safety
Many women are concerned about undergoing a hysterectomy due to side effects and complications that may arise.  However, it is important to recognize that a hysterectomy is regarded as one of the safest surgical procedures.  Most women need to stay in the hospital for only a few days after surgery.
The length of an individual's hospital stay will depend on the type of hysterectomy and how it was done (e.g., laparoscopically).  Doctors will likely tell women to walk around as soon as possible after surgery to prevent blood clots in the legs.  Usually, there is medication to manage any residual pain as well.
Women in the Military
Women comprise approximately 14.5 percent of the active-duty military force and almost 18 percent of National Guard and Reserves.  As the number of women in the military increases, so does the number of women veterans.
Specifically, women make up the fastest-growing population of veterans in the United States, totaling approximately two million as of 2017.  As a result, more women veterans are now seeking supportive services from VA.  This growth is highlighted in VA's 2015 Women Veterans Report:
In 2015, 840,000 women veterans used at least one VA benefit or service (an increase from 31.2 percent of women veterans in 2005 to 41.1percent in 2015)
From 2005 to 2015, the number of women veterans enrolled in VA healthcare increased 83.9 percent from 397,024 to 729.989
From 2005 to 2015, the number of women veterans using VA healthcare increased 46.4 percent from 237,952 to 455,875
1 percent of all women veterans in 2005 used VA health care compared with 22.4 percent of all women veterans in 2015
In 2015, 405,418 women veterans received compensation from VA for a service-connected condition, representing about 20.1 percent of the total population of women veterans
54 percent of women veterans receiving compensation had a combined disability rating of 50 percent or higher
Accordingly, VA is committed to ensuring that benefits and services for women veterans are made as accessible as possible.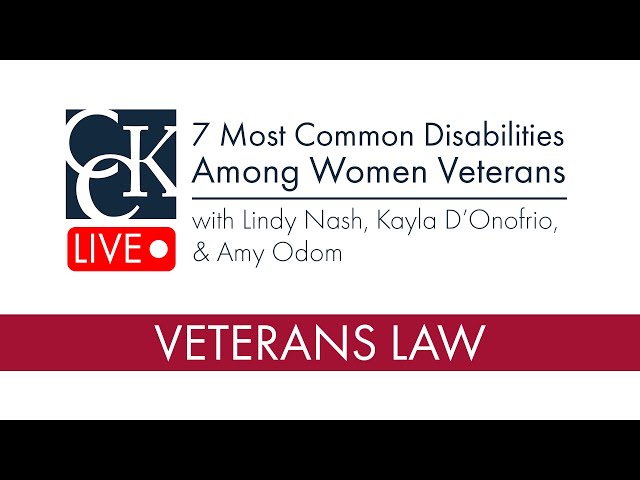 VA Service Connection for Hysterectomy
 In line with its mission to serve women veterans, VA provides disability compensation for hysterectomy if service connection is established.  To establish service connection on a direct basis, women veterans must demonstrate the following: (1) completion of a hysterectomy due to a condition related to service; (2) an in-service event, injury, or illness; and (3) a medical nexus linking the veteran's in-service event, injury, or illness to the condition resulting in a hysterectomy.
Importantly, hysterectomy is among the top five most common service-connected conditions claimed by women veterans.  Specifically, about 12,700 women veterans had the complete removal of their ovaries and uterus in 2015 alone.
How VA Rates Hysterectomy
In September 2017, VA began updating its Schedule for Rating Disabilities, to include a new rating schedule for gynecological conditions and disorders of the breast.  No conditions were removed from the new rating schedules for gynecological conditions and disorders of the breast; however, several new diagnostic codes were added, and others were retitled, restructured, or updated.  According to VA, the new rating schedule guarantees both men and women veterans are evaluated equally.
VA currently rates hysterectomy under the schedule mentioned above (i.e., 38 CFR § 4.116).  For women veterans who had both their ovaries and uterus removed, VA assigns diagnostic code 7617 and uses the following rating criteria:
100% – for three months after removal
50% – thereafter
For women veterans who only have their uterus removed during the hysterectomy, VA uses diagnostic code 7618 and assigns ratings as follows:
100% – for three months after removal
30% – thereafter
Again, all other gynecological conditions and disorders of the breast are evaluated under this rating schedule.
Was Your VA Claim Denied?
If your VA disability claim for hysterectomy has been denied, the experienced team of attorneys and advocates at Chisholm Chisholm & Kilpatrick LTD may be able to help. Contact our office today for a free consultation at 800-544-9144.
About the Author