Veterans Law
Common Mistakes Veterans Make on TDIU VA Claims
Claims for total disability based on individual unemployability, or TDIU, are among the most common in the VA claims and appeals system and it is common for veterans and VA to make a mistake. There are many reasons for which a TDIU claim may be denied by VA.  Continue reading to learn how to avoid making these mistakes.
What is TDIU?
TDIU is a disability benefit that allows for veterans to be compensated at VA's 100 percent disability rate, even if their combined schedular rating does not equal 100 percent.  In this way, it is an alternative path to receiving maximum benefits.  TDIU is awarded in circumstances in which veterans are unable to secure and follow substantially gainful employment as a result of their service-connected conditions.
Eligibility Requirements for TDIU
VA outlines TDIU regulations under 38 CFR § 4.16, which encompasses subsections (a) and (b).  Each subsection describes the ways in which veterans can meet the eligibility requirements for TDIU.  In order to qualify for TDIU under 38 CFR § 4.16(a), or schedular TDIU, a veteran must have:
One service-connected condition rated at 60 percent or higher; or,
Two or more service-connected conditions, one of which is rated at 40 percent or higher, with a combined rating of 70 percent or higher.
Veterans who do not meet the schedular requirements under 38 CFR § 4.16(a) may still be considered for extraschedular TDIU under § 4.16(b).  Extraschedular TDIU does not have any rating requirement.  If veterans do not meet the criteria for schedular TDIU, VA will determine if their case should be referred to the Director of Compensation Service for extraschedular consideration.
If their TDIU claim is referred, the Director will look at their case and write an opinion on whether their service-connected conditions prevent them from securing and following substantially gainful employment.  VA will then agree or disagree with the Director's opinion to either grant or deny TDIU on an extraschedular basis.
Whether you qualify for TDIU on a schedular or an extraschedular basis, the amount of monthly compensation you receive will be the same.
How to Apply for TDIU
To apply for TDIU, you must complete VA Form 21-8940, Veteran's Application Based on Unemployability.  The form is an application for an increase in compensation based on unemployability.  The issue of TDIU may be raised based on existing evidence in the veteran's record, meaning that you do not necessarily have to submit any new evidence with the claim.  In most cases, the forms should provide VA will the information they need to fully adjudicate the claim.
When filing out the form, it is important to complete each section and make certain that there are no errors.  This form can assist in making it clear to VA that you are trying to apply for unemployability during the processing of your claim.
The form requires you to provide the following information:
Your Social Security Number;
Your VA file number;
Your employment history going back five years from your last date of employment(e.g., if your last date of employment was January 1, 2013, your employment history must go back five years before that);
Your education, training, certifications, and job skills obtained before you became disabled;
Any training you received after you became disabled;
Your date of disability;
Any treatment you have received;
Any hospitalizations during the previous 12 months; and
How your disability prevents you from securing and maintaining substantially gainful employment.
Veterans can apply for TDIU in any of the following ways:
Online;
Via fax or mail; or
In person at your local VA office; or
With help from an accredited representative.
Before applying, you may want to discuss your case with your VA disability attorney or accredited representative.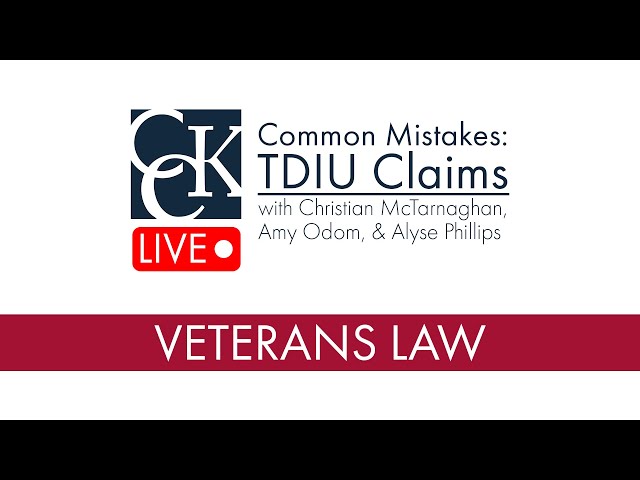 Common Mistakes with TDIU Claims
TDIU Mistake #1: Not Using or Returning VA Form 21-8940
VA Form 21-8940 is technically not required for unemployability claims.  VA is, in theory, able to award the highest benefit available including TDIU without this form.  However, VA typically does not award TDIU without the use of the form.  The form then is crucial because it contains much of the information that VA needs to determine whether the veteran qualifies for TDIU.  This includes information regarding work history, educational history, skills the veteran has, and when the veteran last worked.
The form then is not a requirement because TDIU itself is not always a separate claim.  An example of this might be if a veteran is seeking a higher rating for a back disability and the evidence submitted to support the increased rating actually indicates that the veteran cannot work because of the back pain.  This automatically triggers VA's obligation to consider whether the veteran is entitled to TDIU, regardless of whether the 8940 form was submitted.
VA may send the veteran a copy of the 8940 form and ask the veteran to fill it out and return it.  If, for whatever reason, the veteran does not send it back, they will likely be denied TDIU.
If the veteran recently had to stop working, for example because of repeated back surgeries, then the veteran can submit a new claim for TDIU as well.  In this instance, the veteran can simply raise a claim for TDIU, as opposed to raising a claim for an increased rating for the back which then triggers TDIU.  Additionally, the entitlement to TDIU does not have to be based solely on one condition.  If the veteran has multiple conditions, such as a mental health condition and a back condition, which, when combined, make it so the veteran is unable to work, then the veteran is still eligible for TDIU and VA should consider all of these disabilities when adjudicating.
TDIU Mistake #2: Not Using All Evidence Available
While medical evidence is often the most important for supporting a TDIU claim, lay evidence can also be particularly useful for.  Lay evidence refers to statements or evidence submitted by a veteran's spouse, friend, family member, employer, or anyone else that is knowledgeable about the veteran's condition(s).  The veteran themselves may also submit lay evidence.
Lay evidence can be crucial in demonstrating entitlement to TDIU.  Speaking on the veteran's limitations can show VA how the veteran's conditions impact their ability to work.  Specifically, lay evidence can describe how the veteran's disability limits their ability to stand, walk, lift objects, or perform other physical tasks.
Private medical records can also serve as lay evidence.  If the veteran received any treatment outside of the VA system, they should  be sure those records have been released and submitted to VA.  VA should consider these records, as well as any records within the VA healthcare system.
Employment records can also be crucial to a TDIU claim.  These are not records that VA would necessarily have, but they can indicate how a veteran's conditions limit their ability to work.  The veteran may have to send these records to VA in order for them to be considered as part of the claim.
Social Security determinations can also be helpful.  This is because of all the documents that come with the determination.  These records may reference how the veteran can lift, walk, what prior work history they may have, including their experience and skills.  These documents can be very helpful because they can serve as vocational evidence to support the TDIU entitlement.
Expert vocational reports are another type of evidence that can indicate the veteran's limitations.  Examinations are conducted by vocational experts who are experienced and knowledgeable in the subject.  The expert can examine the veteran's work history, and their conditions, and make a determination as to whether they can actually work.  VA often relies on Compensation and Pension (C&P) exams to determine whether a veteran is entitled to TDIU.  However, many of the examiners are not actually qualified to make vocational determinations.  Therefore, vocational experts who are qualified in the subject can provide an additional opinion as evidence in the veteran's claim.
TDIU Mistake #3: Relying Only on Your Compensation and Pension (C&P) Exam
Often, a negative Compensation and Pension (C&P) exam can be the reason a claim for TDIU gets denied.  Once a claim for TDIU has been filed, generally VA will schedule an exam or exams to evaluate the veteran's condition(s).  If the veteran has more than one service-connected condition, this usually means there will be more than one exam.
One issue that often comes up with this process is that the exams are not viewed in conjunction with one another.  For example, a veteran may be service connected at 30 percent for headaches, 10 percent for instability of the right knee, and 40 percent for PTSD.  VA will then usually request three separate exams with three separate examiners: a neurological exam for headaches, an orthopedic exam for the knee, and a psychological exam for PTSD.
These three separate examiners may have separate findings relating to the veteran's vocational abilities.  The neurological expert might opine that the veteran can work, so long as they have the ability to take breaks when headaches develop.  The orthopedic examiner might issue an opinion indicating that the veteran can work in a sedentary position, meaning they can obtain substantially gainful employment if the job allows them to sit.  Lastly, the psych examiner might find that the veteran has a difficulty getting along with others, so they can work as long as they are in a position that does not involve a lot of communication or cooperation with others.
The issue arises when all of these specifications are added together, as it becomes virtually impossible to find a position that would employ the veteran with all the necessary modifications.  The veteran in this example would need to find employment that allows them to sit most of the time, remain largely independent, and take long breaks.  However, since the three exams were conducted separately, there is no opinion from a VA examiner that explains the implications of these three opinions when combined.  This often times results in veterans being denied for TDIU, as the three VA examiners have all opined that the veteran can work and no opinion has indicated that, when combined, it would be nearly impossible to find employment under these specifications.
Additionally, as mentioned before, VA examiners are not employment experts or vocational experts.  Many times, they do not have the information the Board needs to determine whether the veteran can or cannot work.  This can commonly lead VA to determine that the veteran is not rendered unemployable.  Technically, this exam is not sufficient evidence of the veteran's ability to work.
Vocational experts can also be an asset in overcoming negative C&P exams because they specialize in how disabilities relate to a particular field of employment.  Often VA examiners, who are qualified in medicine, are given the task of issuing opinions in vocational analysis, an area where they may not be specifically trained.  This means that they may not have insight into the job market and the qualifications for obtaining employment.  A vocational expert who specializes in vocational analysis can be used to provide that insight and opine on how the veteran's conditions, when combined, could hinder their ability to work.
TDIU Mistake #4: Not Understanding the TDIU Requirements
Understanding the rules and requirements for TDIU can help to ensure that veterans are meeting the qualifications and providing the necessary documents.  In order to be eligible for TDIU, the veteran must demonstrate that they are unable to obtain or maintain substantially gainful employment due to their conditions.
There are two parts to substantially gainful employment: an economic and a non-economic component.  Substantially gainful employment means that the person earns above the federal poverty threshold for one person.  If a person is working in a protected work environment, or an environment where there are certain alterations or accommodations to the job which allow the veteran to work there, then they may still be eligible for TDIU.  An example of this might be if a veteran is employed to work in their brother's coffee shop.  This position may allow them special accommodations and they may not face repercussions for behavioral issues since they are working for a family member.
While some may think they are automatically ineligible for TDIU if they are working, that is not the case.  If the veteran makes less than the poverty threshold for one person, they can still be entitled to TDIU.  This is usually referred to as marginal employment.  Working in a protected work environment is another example of a veteran who has a job  and may still be eligible for TDIU
In essence then, in order to be eligible for TDIU, the veteran must not be working due to their service-connected disabilities, working in a protected work environment, or making only marginal income.
When determining if a veteran can obtain or maintain substantially gainful employment, VA will usually look at the physical and mental limits that the veteran might have as a result of their conditions.  In terms of physical abilities, this could include different aspects of physical labor such as standing, walking, or lifting.  This could also include the ability to sit for long periods of time.  In some instances, a veteran may be able to sit, but they may not be able to sit for the long periods of time a job requires.
The mental requirements for a condition could include the ability to concentrate for long periods of time or the ability to socially interact with others, whether that may be customers or co-workers, throughout the day.  If a veteran has a very short temper which impacts their ability to interact with others, they may not be able to achieve substantially gainful employment.
Highlighting the physical or mental limitations a veteran experiences due to their service-connected disabilities can help make it clearer to VA that the veteran is unable to obtain or maintain substantially gainful employment.  Pointing these symptoms, or limitations, out to VA can contribute greatly to whether TDIU is granted or denied.
TDIU Mistake #5: Assuming You Automatically Qualify for TDIU if You Are Receiving SSDI
Many people assume that if they are receiving Social Security Disability Income, then they will automatically qualify for and receive TDIU.  This, however, is not the case.  It is possible to receive both Social Security Disability Income and TDIU, but receiving SSDI does not mean that the veteran is guaranteed TDIU.
VA is not bound by the Social Security Administration's findings as to the severity of a veteran's service-connected disabilities or the impact on employability.  Commonly, VA will deny TDIU even though the Social Security Administration has found that those very same disabilities prevent the veteran from working.
VA will consider the findings of the Social Security Administration, particularly the records used to make their determination, but they are not bound by these findings.  Using additional evidence that describes the impact of the service-connected disabilities on the veteran's ability to work can help bolster the veteran's case in these instances.
Further, the Social Security Administration does not have to focus solely on the veteran's service-connected disabilities when making a determination.  For example, a veteran may have service-connected conditions relating to their back, neck, and mental health, but the Social Security Administration may also consider a particular shoulder injury which is not service-connected.  VA will automatically negate the findings of the Social Security Administration, because they take into account that shoulder injury which is not service connected.
TDIU Mistake #6: Thinking TDIU is a Permanent VA Benefit
One common mistake that occurs after a veteran has been granted TDIU is that they mistakenly believe the rating is permanent.  TDIU is not a guaranteed benefit.  VA can take TDIU away for a few reasons.  For example, if the veteran is earning substantially gainful employment, in a position that is not considered a protected work environment, for more than one year, then VA can take TDIU away.
Another instance where VA may take TDIU away is if the veteran fails to send in the employment questionnaire.  The employment questionnaire is a form called VA Form 21-4140.  It is usually sent out every year and asks questions regarding any form of employment the veteran may have.  It is important to fill out the form and send it back to VA, as failure to do so could result in VA revoking the veteran's TDIU benefits.
TDIU Mistake #7: Not Seeking VA-Accredited Representation
Lawyers or Agents must be accredited in order to represent claimants before the Department of Veterans Affairs.  The accreditation process exists to ensure that veterans and their family members receive skilled and informed representation.
Veterans are legally entitled to representation, whether that be in the form of an attorney, a VSO, or a claims agent.  As TDIU is one of the more complex areas of veteran's law, representatives can help veterans with the intricacies involved in applying for TDIU.
Was Your TDIU VA Claim Denied?
If your VA claim for individual unemployability benefits has been denied, the experienced and accredited attorneys and agents at Chisholm Chisholm & Kilpatrick LTD may be able to help. Contact us today at 800-544-9144.