Veterans Law
How to Challenge an Unfavorable VA C&P Exam
What Is a VA Compensation and Pension (C&P) Exam?
A VA Compensation and Pension examination, or C&P exam, is a medical evaluation that is ordered by VA and completed by a healthcare professional at a VA medical center or other contracted provider.  C&P exams can happen at any point in the VA disability claims and appeals process, including both before and after service connection is established.  Generally speaking, after a veteran files a claim for disability benefits, VA has the duty to assist.  As part of its duty to assist, VA is obligated in many cases to schedule a C&P exam for veterans.  VA can also schedule multiple C&P exams if a veteran is claiming multiple conditions.
What Happens During a VA C&P Exam?
The nature of a VA Compensation and Pension exam depends on what the purpose of the examination is and why VA ordered it.  For example, if VA is evaluating whether a veteran's condition should be service-connected, then the C&P exam will center around establishing a nexus (i.e. a link between the veteran's condition and time in service).  On the other hand, if the C&P exam is in relation to an increased rating claim, the examiner will look at the severity of the veteran's symptoms and any resulting limitations.  Importantly, VA C&P exams can also serve both functions by assessing for service connection and determining the severity of a condition within the same evaluation.
There is also a distinction between VA C&P exams for physical conditions and mental health conditions.  During VA C&P exams for physical conditions, examiners typically test a veteran's range of motion.  Specifically, examiners use a goniometer to determine how far a veteran can move the body part that is affected (e.g. how many degrees the right knee bends).  Examiners will also look at the functional loss caused by the veteran's condition, including problems with standing, walking, lifting, etc.  When it comes to mental health conditions, VA C&P exams usually have more to do with how a veteran's psychiatric condition affects their everyday life as evidenced by their relationships with others, ability to work, cognitive functioning, and more.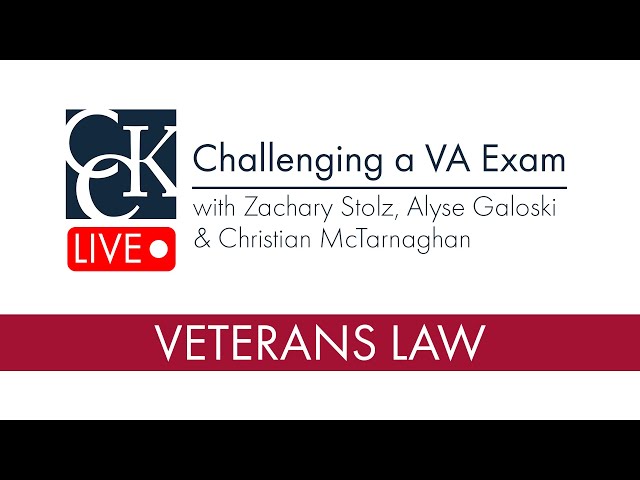 How Much Weight Do VA Adjudicators Give C&P Examinations When Deciding Claims?
VA adjudicators tend to give a lot of weight to Compensation and Pension examinations when deciding veterans' claims for service connection and increased ratings.  However, private treatment notes and medical records should also be given consideration during the adjudication process.  Veterans are entitled to go to outside doctors and obtain opinions to be weighed with or against VA examinations.  It is therefore important for veterans to request copies of their C&P examinations in order to respond appropriately if necessary.  As a result of Nohr v. McDonald (2014), veterans can also request an examiner's credentials in order to make sure the examiner is qualified in the appropriate medical field.  VA examiners are initially presumed competent; however, once you challenge their competency, VA must explain why they found that examiner competent.
Favorable vs. Unfavorable C&P Exams?
A VA Compensation and Pension exam can be favorable or unfavorable depending on the examiner's findings.  A favorable C&P exam would indicate that the examiner agrees with a veteran's claim, either that their condition is due to service, or that it warrants a particular rating based on the severity of symptomatology.  An unfavorable VA C&P exam would state that the veteran's condition is not related to service, or not as severe as they asserted it to be.  Importantly, veterans can challenge unfavorable exams.  For example, they can get an outside medical opinion from a private physician or healthcare provider as mentioned above.  Additionally, veterans can submit lay statements outlining the onset, progression, and severity of their condition.  Finally, veterans can write a letter to VA explaining why the examination provided was inadequate.
About the Author