Veterans Law
VA Claims and Appeals Backlog Update 2021
As of September 2021, hundreds of thousands of veterans are still waiting for their claims and appeals to be processed by VA.
Since the onset of the COVID-19 pandemic, the pre-existing VA claims and appeals backlog has grown exponentially at every level of the process.  This includes delays in VA disability claims, appeals to the Board of Veterans' Appeals, Compensation and Pension (C&P) exams, National Personnel Records Center (NPRC) records requests, and VA mail.
VA Disability Claims Backlog
The U.S. Department of Veterans Affairs (VA) defines a backlog as the number of claims or appeals that have been pending in VA's system for over 125 days.
VA reported a backlog of 210,854 disability claims as of September 18, 2021.  This is a significant jump from the 178,584 claims backlog reported in late August.
Board of Veterans' Appeals (BVA) Backlog
The Board of Veterans' Appeals, also referred to as the Board or BVA, has around 200,000 appeals pending adjudication.  This includes appeals filed under both the Appeals Modernization Act (AMA) system and the Legacy system.
AMA vs. Legacy Appeals Backlog
As of September 12, 2021, there are 102,886 AMA appeals pending at the Board.  This includes appeals submitted through each of the three Board dockets, (i.e., direct docket, evidence docket, and hearing docket).  The number of AMA appeals has exceeded the 94,536 legacy appeals currently pending in the Legacy system.
The current Legacy decision docket date is September 2019.
Delays in the Hearing Docket
Nearly 60 percent of veterans are choosing Board hearings rather than requesting a Higher-Level Review or filing a Supplemental Claim.  Many veterans feel hearings are the only way to truly be heard by VA.
In July 2021, the Board claimed to have the capacity to hold about 1,000 hearings a week.  In reality, it is conducting 500 hearings a week or even less.  Hearings require more time and resources than the other appeal lanes, and the Board lacks the staff to manage the increased demand.
Approximately 22,000 hearings have been held by the Board as of September 12 in fiscal year 2021; however, the Board still has a backlog of around 90,000 pending hearings.  Visit CCK's backlog tracker for more information.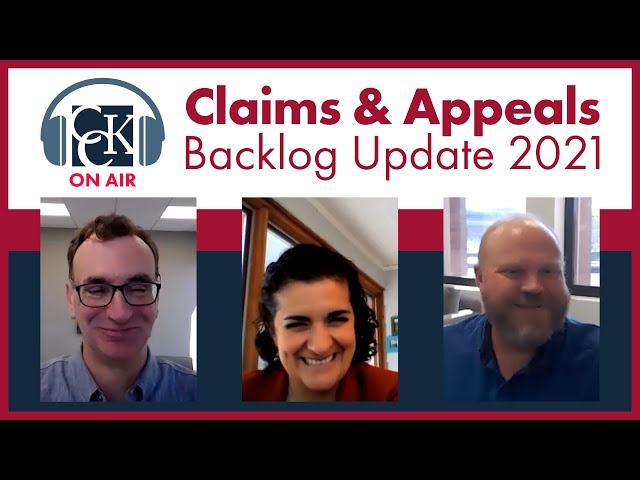 Compensation and Pension (C&P) Exam Backlog
In April 2020, VA suspended Compensation and Pension (C&P) exams and most in-person services due to the outbreak of COVID-19, resulting in a backlog of requests for exams.  Although in-person exams resumed in October 2020, more than 200,000 requests for C&P exams have accumulated.  In March 2021, around 352,000 exams were pending, which is 212,000 more than the pre-pandemic average.
In a March 2021 statement, VA promised to reduce the backlog to pre-pandemic levels by the end of the fiscal year, which is September 30, 2021; however, this goal has not been met.
C&P Exam Delays Due to Private Contractors
Prior to the COVID-19 pandemic, VA had been in the process of eliminating its in-house C&P program and shifting to private contractors to conduct the exams.  VA now relies on contractors for 90 percent of all C&P exams.  This has been a major contributing factor in the C&P exam backlog.
Often, contractors are not located near the veterans, unlike when VA facilities conducted the exams.  Some veterans are now required to travel hundreds of miles to attend a contracted C&P exam.
Many veterans have also expressed concern over the capabilities and qualifications of these contracted examiners.  When veterans are examined by contractors who are poorly trained or ill-equipped, it can lead to unfavorable decisions and, therefore, even more appeals.
National Personnel Records Center (NPRC) Backlog
The National Personnel Records Center (NPRC) houses personnel-related records for both the United States Military and Civil Services.  Veterans must access their service and medical records from NPRC to develop their claims for disability compensation.
Since March 2020, the backlog of requests for personnel records has grown to around 500,000. Although the NPRC has made efforts to clear up this backlog (e.g., hiring additional staff and digitizing records), there are still hundreds of thousands of requests in need of processing.  This pileup of requests at the NPRC has led to even further delays in the claims and appeals processes.
NPRC Delays Due to COVID-19
The COVID-19 pandemic continues to impact the backlog.  In August 2021, the NPRC reduced its on-site staffing to 10 percent of its normal workforce due to a resurgence of COVID-19 in the St. Louis, Missouri area.
Currently, the NPRC is only serving emergency requests associated with medical treatments, burials, and homeless veterans.  Their non-emergency services are on pause until the full staff returns.  Non-emergency services include requests for replacement medals, administrative corrections, and records research.
VA Mail Delays
There have also been delays with both VA mail and the United States Postal Service (USPS) as a whole.  In recent cases, outgoing VA letters have been arriving nearly one month after the date on the notice.  Due to delays, VA is currently working through a backlog of hundreds of thousands of pieces of mail.
In addition, there continues to be delays in the processing of incoming mail at the Board.  Although the situation is improving, there have still been issues for veterans when the Board does not process their appeals in a timely manner.
The issue also extends to electronic filing, which has been backlogged due to personnel shortages.
What VA Has Said About the Backlogs
VA has noted several reasons for the current backlog through public press releases and lawmakers.  On August 27, 2021, VA stated that the unprecedented COVID-19 pandemic has contributed to the significant increase in pending claims and appeals.
VA also mentioned that the Blue Water Navy Act of 2019 – which allowed for more veterans to receive compensation benefits for Agent Orange-related conditions – will lead to an influx of claims.  VA expected 40,000 claims to be added to the backlog as of August 29, 2021.
In addition, VA noted that the expansion of Agent Orange presumptive conditions to include bladder cancer, hypothyroidism, and Parkinsonism will lead to an additional 70,000 claims in the backlog come October.
What Does This Mean for Veterans?
Despite VA's efforts to decrease the backlogs at all stages of the claims and appeals process, there is still a long way to go.  Also, delays may continue as the COVID-19 situation evolves in the coming months.
As a result of these delays, hundreds and thousands of veterans have been left without access to the benefits they rightfully deserve and often depend upon to support themselves and their families.  VA's backlog is making an already challenging process for veterans even more frustrating.
How CCK Can Help Veterans Seeking VA Benefits
If you are a veteran seeking VA disability benefits for your service-connected injury or illness and VA denied your claim, Chisholm Chisholm & Kilpatrick LTD may be able to help.  The current backlog at VA makes the appeals process even more difficult to navigate, but CCK's knowledgeable team can offer assistance and support.
Reach out to CCK today for a complimentary case evaluation.