Veterans Law
8 Tips for your VA Disability Claim or Appeal
The process of securing disability benefits from the Department of Veterans Affairs can often be long, complicated, and frustrating for veterans. Although veterans cannot control the way VA adjudicates claims or how long it takes, there are some steps that can be taken to alleviate some of the stress that can arise during the process.
Eight Tips for Your VA Claim or Appeal
Tip #1.      Understand the basics of the claims and appeals process
The more you understand about how the VA's claims and appeals process works, the more power you have over your claim. Knowing when to take certain actions or what your next step will be can help to ease the frustration often experienced by veterans seeking benefits. Additionally, learning VA rules on topics such as effective dates, which apply to any veteran seeking disability compensation, can help to identify errors that may have occurred during adjudication.
Effective Dates – an effective date is the date that a benefit became active and it is used by VA as a start date for the payment of disability benefits. The effective date of a claim impacts the amount of retroactive benefits a veteran will receive.  Generally speaking, the earlier the effective date, the more retroactive benefits VA must pay.  Importantly, retroactive benefits are the monies owed to the veteran by VA for the time that has elapsed between their effective date and the time they are granted the benefits.
VA Forms – VA seemingly has a form for any action veterans want to take with their VA disability claims. The seven most common forms include:

VA Form 21-526EZ, Application for VA Disability Compensation and Related Compensation Benefits;
VA Form 21-8940, Veterans' Application for Increased Compensation Based on Unemployability (TDIU);
VA Form 20-0995, Supplemental Claim Application;
VA Form 20-0996, Application for Higher-Level Review;
VA Form 10182, Notice of Disagreement/Decision Review Request at the Board of Veterans' Appeals;
VA Form 21-4138, Statement in Support of Claim (Lay Evidence, Buddy Statements); and
VA Form 21-686c, Declaration of Status of Dependents.  Submitting the correct forms in a timely manner will prevent unnecessary delays in the claims process.
AMA Appeals Process – the Appeals Modernization Act (AMA) became effective in February 2019. Under AMA, veterans have three options to choose from when it comes to filing an appeal.  Specifically, veterans can choose (1) the higher-level review lane, (2) the supplemental claim lane, or (3) the Notice of Disagreement Lane (i.e., appeal to the Board), depending on the circumstances of their case.
Tip #2.      Keep VA Updated
It is important to keep VA up to date about different things that might be changing in your life, such as moving to a new address. VA will send correspondence related to your VA claim to the address on file. If this address is incorrect, you risk your claim being delayed or even potentially closed due to missed deadlines. Further, each piece of mail from VA contains personal information (e.g. social security number), it would be problematic if this information was sent to the wrong individual.
You should update VA with any change in dependency status as well, such as a recent marriage or divorce, or birth of a baby. Failure to update VA about a divorce, for example, could result in an overpayment of dependency benefits which you will likely have to pay back. If you have recently gotten married, updating this information could result in more monthly compensation. Keeping your information up-to-date with VA can help prevent unnecessary delays, denials, and compensation troubles.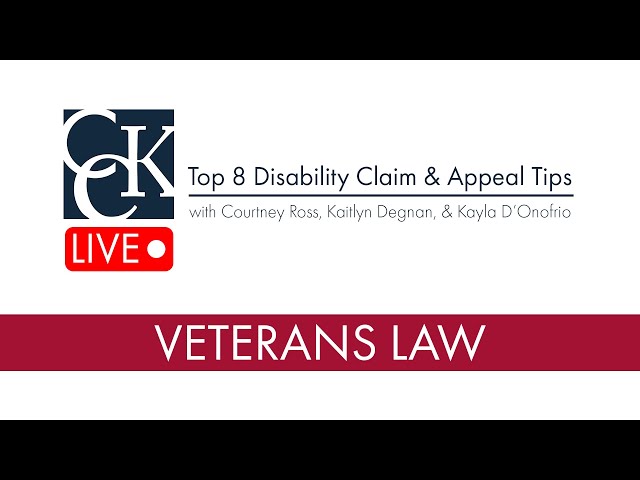 Tip #3.      Be aware of VA disability deadlines
Generally speaking, veterans will have one year to appeal unfavorable VA decisions.  However, there are exceptions to this timeframe.  As such, all deadlines within VA's new appeals system based on the decision veterans receive are outlined below:
Initial Rating Decision: Veterans have one year to appeal by opting in to one of three appeal lanes: the supplemental claim lane, higher-level review lane, or Notice of Disagreement (NOD) lane.
Supplemental Claim Rating Decision: Veterans have one year to appeal by opting in to one of the three above-mentioned lanes.
Higher-Level Review Rating Decision: Veterans have one year to appeal by filing either a supplemental claim or a Notice of Disagreement.
Board Decision: Veterans can either file a supplemental claim within one year or appeal to the Court of Appeals for Veterans Claims (CAVC) within 120 days.
CAVC Decision: Veterans can either file a supplemental claim within one year or appeal to the Court of Appeals for the Federal Circuit within 60 days of judgement.
Importantly, if veterans do not appeal within the Appeals Reform deadlines, their decisions will become final.  When a decision becomes final, veterans will lose their effective dates since the claim will no longer be continuous.
There are also certain Appeals Reform deadlines regarding the submission of evidence at the Board.  Specifically, there will be an additional three options for veterans at the Board including the direct docket, hearing docket, and evidence docket.  Veterans are permitted to submit additional evidence in both the hearing and evidence dockets while adhering to the following timeframes:
Submitting evidence in the hearing docket: Veterans can submit additional evidence to the Board during their hearing or up to 90 days.

Submitting evidence in the evidence docket: Veterans can submit additional evidence to the Board with their NOD or within 90 days following submission of their NOD.    
Tip #4.      Be honest with your healthcare provider
When attending visits with a treating physician, it is essential that you are honest and accurately reporting your symptoms and limitations.  Veterans' medical records should accurately reflect what is being reported.  Do not exaggerate or downplay symptoms. Providing an accurate picture of your symptoms can help to ensure that your condition(s) is documented correctly in medical records, which VA will likely consider when deciding your claim.
When having these discussions with your health care provider, it is important to tell them about the symptoms you are currently experiencing and provide details about those various symptoms.  Even if health care providers do not ask directly about these symptoms, it is still helpful to offer that information and discuss whether the condition is worsening, improving, or remaining the same.
Furthermore, veterans should indicate how the condition impacts their functioning on a daily basis.  VA should consider both the physical and mental limitations that are caused by a disability.
Tip #5.      Attend your Compensation and Pension (C&P) Exam
Compensation and Pension examinations are medical exams ordered by VA to assess the etiology and/or severity of a veteran's disabilities when they are pursuing a disability compensation claim. VA weighs the results of C&P exams quite heavily. It is crucial that you attend your C&P exam if VA schedules one for you. Here's why:
If you do not attend your initial exam for service connection, your claim will likely be denied.
If you fail to attend your C&P exam for an increased rating claim, VA may have to rely on outdated medical evidence of record, which may not adequately show the progression of your symptoms.
Veterans who are unable to attend their upcoming C&P exam should reach out to VA as soon as possible to reschedule.
Importantly, if you disagree with your C&P exam results, you may submit private treatment notes and medical records to provide more favorable evidence or attempt to challenge the exam.  Such medical records should also be given consideration during the adjudication process.  Veterans are entitled to go to outside doctors and obtain opinions to be weighed against VA examinations.  Therefore, if you have additional evidence in support of your claim, it may be beneficial to submit it to VA following your C&P exam.
Furthermore, VA cannot just blankly accept the VA examination as being more probative than the private medical opinion.  Instead, it comes down to not only what the opinion contains in terms of positive or negative results, but also the evidence that the examiners considered in rendering their opinions.  Each examiner must provide a detailed explanation for their conclusions.
If the VA examiner only checks a few boxes and does not provide an explanation, the exam is not adequate for rating purposes.  Likewise, VA must provide adequate rationale for deciding one of these medical opinions has more probative value.  If VA does not do so, the veteran can rebut VA's determinations.
Tip #6.      Submit evidence relevant to your VA disability claim
Veterans and survivors may need to submit evidence in support of the type of benefit they are seeking. All VA disability claims require some form of medical evidence, service records, and so on; however, some types of claims require more specific documents to prove entitlement to a benefit. Here are some examples:
Post-Traumatic Stress Disorder (PTSD) claims: Veterans seeking disability benefits for PTSD are required to indicate their stressor. A stressor is an event or incident in-service that caused PTSD. Lay statements from fellow service members who may have witnessed this event can be particularly effective in establishing service connection for PTSD.
Total Disability based on Individual Unemployability (TDIU): TDIU is a VA benefit reserved for veterans whose disabilities do not combine to a schedular 100% rating, but are unable to work due to their service-connected condition(s). VA requires veterans to submit VA Form 21-8940 which asks for information regarding employment history and educational background. This form of evidence is specific to TDIU claims.
Dependency and Indemnity Compensation (DIC): Survivors applying for DIC benefits must submit records such as: their marriage certificate to prove they were married to the veteran, and the veteran's death certificate to prove that a service-connected disability contributed to the veteran's death.
Tip #7.      Obtain your Claims File
A VA claims file, often called a C-file, is a collection of records kept by VA in connection to a veteran's VA disability claim(s).  When a veteran first files a claim for benefits, VA will request the veteran's service records and any medical records relevant to the claim.  This is the beginning of a VA claims file.  As your claim progresses and if you file more claims, your claims file will grow. It is recommended that veterans seeking disability benefits obtain their c-file to ensure that it contains all of the evidence necessary to prove their claim. While VA has a duty to assist veterans in gathering evidence for their claim, the responsibility for ensuring VA receives those records is ultimately that of the veteran.
Tip #8.      Ask for help if you need it and don't give up.
If you feel as though you need assistance at any point, do not hesitate to reach out for help. VSOs, accredited representatives, and accredited attorneys can assist you. This process can become complex—do not be afraid to reach out for help. Do not give up on your VA claim if you have been denied or if the process seems endless. You have earned these benefits.
Did VA Deny Your Disability Compensation Claim?
The experienced, accredited advocates at Chisholm Chisholm & Kilpatrick LTD have successfully represented Veterans for decades before the Department of Veterans Affairs, the Court of Appeals for Veterans Claims, and the Federal Circuit. We may be able to help you. Contact our office for a free consultation today at 800-544-9144.
About the Author