ERISA Law
What To Do if Your Long-Term Disability Claim Is Denied
It is frustrating when you develop a debilitating condition that prevents you from working.  As a result, you must file for long-term disability benefits.  But what do you do when you receive a denial of your initial claim from your insurance company?
While many claimants file their LTD claims and appeals by themselves, it is not something you have to do alone.  Hiring a long-term disability attorney to help you with your appeal can give you the best chance of winning an approval.  The legal team at Chisholm Chisholm & Kilpatrick is ready to assist you with your LTD appeal.  Call us today at (800) 544-9144 for a free consultation to see if we can help.
Why Do Long-Term Disability Claims Get Denied?
While insurance companies should treat every claim fairly, this does not always happen.  Something as minor as missing a deadline could lead to serious issues, which is why it is important to follow the regulations set forth in your policy when filing for long-term disability benefits.  However, insurance companies will go to great lengths to find a reason to deny your claim.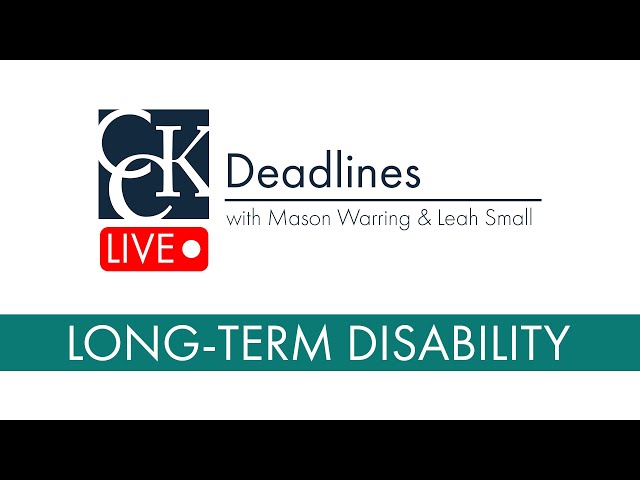 Some of the most common reasons why LTD claims get denied include:
Missed deadlines: Your policy has a lot of important information, including certain deadlines you must meet.  Moreover, if you have a group policy, then you must be cognizant of ERISA deadlines as well.  A missed deadline is sometimes all an insurance company needs to deny your claim.
Insufficient evidence: While medical records are typically a primary source of evidence, submitting supplemental evidence could further strengthen your claim.  For example, specialized reports from your treating physician could be submitted as supplemental evidence.
Surveillance tactics: Insurance companies use certain tactics to negate claimants' assertions or provide contradictory evidence.  Surveillance is one such tactic they use to show why a claimant is not disabled.  Often, they will hire private investigators who can stake out at the claimant's house; follow the claimant during the day; take photographs and videos of the claimant; and monitor the claimant's social media accounts.  This "evidence" is then used by the insurance company to deny claims.
Independent medical exams (IMEs): Insurance companies sometimes require claimants to adhere to independent medical exams (IMEs).  These exams are supposed to fairly evaluate the health condition of the claimant but are usually biased because the doctors who administer them are paid by the insurance company.
Unfortunately, long-term disability claims get denied quite often.  However, when the insurance company denies you your benefits, you have the right to appeal.
Review Your LTD Policy and Your Denial Letter
When your insurance company denies your long-term disability claim, the first thing to do is to review your policy.  Your policy includes a lot of valuable information, including how to appeal.  If you do not have a copy of your policy, you can request one.  If you receive your coverage through your employer, you should contact human resources; if you have an individual policy, you should contact your insurance company directly.
Once you review your policy and understand the requirements therein, you should thoroughly review your denial letter.  This letter should include the reasons why the insurance company denied your LTD claim, as well as explain when and how you can file an appeal.
Gather Updated Evidence When Appealing an LTD Denial
Once you have evaluated your insurance company's reasons for denying your benefits, it is time to consider the evidence you will submit as part of your appeal.  The appeal is an opportunity to strengthen any weak spots in your claim.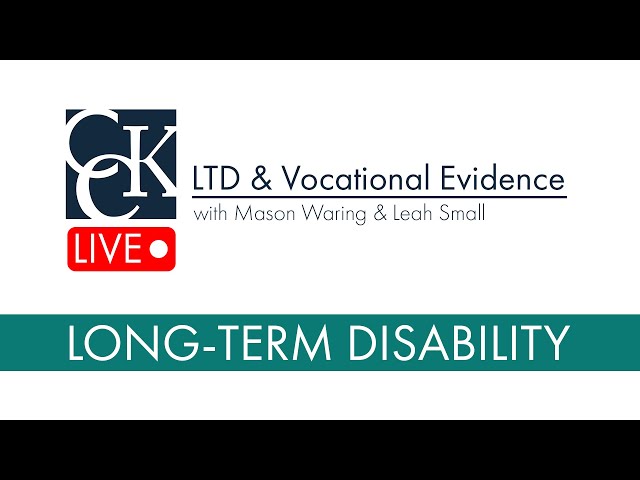 If you have a group policy, then ERISA law governs it.  ERISA law does not allow new or updated evidence to be submitted beyond the appeal stage.  Therefore, it is important to submit the best and most up-to-date evidence as part of your appeal.
Supplemental evidence you may want to submit with your appeal includes:
Additional medical evidence: Your medical records provide the insurance company with a lot of information on your condition, but sometimes you need more.  You can provide additional medical evidence as part of your appeal, such as functional capacity and neurological evaluations.
Obtain a vocational expert's opinion: A vocational expert can assess your ability to adequately perform the duties of your job.  Their assessment can show how far-reaching your condition is and why it necessitates an approval of your LTD benefits.
Specialized reports from your treating physician: Specialized reports from your treating physicians are great pieces of supplemental evidence that reinforce your claim.  These reports highlight certain aspects of your condition that normal medical records do not.
Witness statements: The people who see you each day have insights into how your condition impacts you in both your public and private life.  For example, witness statements obtained from coworkers will show how your condition prevents you from working, and statements from your family or friends will show how your condition affects you at home.
Additionally, if there is any wholly new evidence, you should also include it with your appeal.  Remember, the more supplemental evidence you can provide, the better.
How CCK Can Help You with Your Long-Term Disability Appeal
Many claimants may decide to handle their LTD appeal on their own, but it is beneficial to have a long-term disability lawyer to help with the process.  Appealing a denial of benefits is not something you must do alone.  You should be focused on managing your health not worrying about dealing with the insurance company.  CCK understands this frustration and wants to help you navigate your appeal.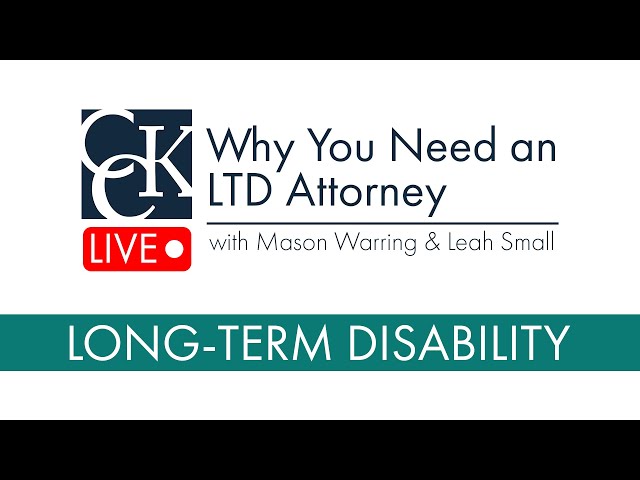 The long-term disability insurance attorneys at Chisholm Chisholm & Kilpatrick know that the appeal stage is critical, and we understand the necessity of being thorough.  As such, we will thoroughly evaluate your denial letter and review your LTD policy.  We will then gather the best evidence to support your appeal, handle all communication with your insurance company, and ensure all deadlines are met.
Our legal team has over three decades of collective experience dealing with insurance companies, and we know how they operate.  We understand the tactics they use and how frustrating it can be when trying to communicate with them.  We do not believe you should have to worry about this, so we will act as a point of contact between you and your insurance company so that you never have to deal with them directly.
Additionally, CCK works with a variety of outside experts who can perform supplemental evaluations of your condition.
Contact Chisholm Chisholm & Kilpatrick Today for a Free Consultation Concerning Your LTD Appeal
The long-term disability lawyers at Chisholm Chisholm & Kilpatrick are ready to help you with your appeal.  We understand the stress that comes with receiving a denial, and we have the experience needed to fight for your rightful disability benefits.
If you would like to speak with a member of our team concerning your LTD appeal, you can call us today at (800) 544-9144.