Veterans Law
VA Unemployability (TDIU) During COVID-19
Overview of Total Disability based on Individual Unemployability (TDIU)
Generally speaking, total disability based on individual unemployability (TDIU) is a VA benefit that allows veterans to receive benefits at the 100 percent rate if their service-connected conditions prevent them from obtaining and maintaining substantially gainful employment.  There are two ways to qualify for TDIU under 38 CFR § 4.16: schedular and extraschedular.
Schedular TDIU
To qualify for schedular TDIU (38 CFR § 4.16(a)), veterans must have the following:
One service-connected condition rated at 60 percent or more; or
Two or more service-connected conditions, one of which is rated at least 40 percent disabling, with a combined rating of at least 70 percent
If a veteran has multiple service-connected conditions, there are five ways they can be combined to reach the qualifying 60 percent or 40 percent for TDIU.  Under 38 CFR § 4.16(a), the following circumstances can be combined and considered as one condition for the purposes of TDIU:
If you have a disability affecting one or both of your upper extremities, or one or both of your lower extremities, those conditions can be combined into one rating in order to reach the aforementioned 60 percent or 40 percent rating to qualify for TDIU.
If your conditions stem from "common etiology or a single accident," such as multiple conditions incurred from a single explosion during service, they can be combined into one rating.
Conditions that affect a single body system, such as multiple service-connected conditions impacting the respiratory system, can be combined into one rating.
If you incurred a number of serious injuries in action, those injuries can be combined into a single rating.
Former prisoners of war who incurred multiple disabilities during their time in captivity may combine those conditions into one rating.
Extraschedular TDIU
Extraschedular TDIU is established under 38 CFR § 4.16(b) and exists for veterans who are unable to secure and follow substantially gainful employment due to service-connected conditions, but who fail to meet the rating percentages set forth in § 4.16(a).  Under subsection § 4.16(b), VA should refer the veteran's claim for TDIU to the Director of Compensation Service for extraschedular consideration.  The Director will then review how factors such as the veteran's service-connected conditions, employment history, educational, and vocational attainment have bearing on the issue at hand.
Marginal Employment, Protected Work Environment, Substantially Gainful: What These Terms Mean
Substantially Gainful Employment
Per VA's M21-1 MR manual, substantially gainful employment allows a person to "earn their livelihood with earnings common to the particular occupation in the community where the veteran resides."  In other words, substantially gainful employment refers to an annual income that is above the federal poverty threshold for one person.
In March 2019, the Court of Appeals for Veterans Claims (CAVC) issued a precedential decision that clarified the meaning of the phrase.  As a result of Ray v. Wilkie, the Court finally established parameters for VA so that adjudication would be more consistent and veterans applying for TDIU would know what to expect.  The Court found that the phrase "unable to secure and follow a substantially gainful employment" in § 4.16(b) has both an "economic" and "noneconomic" component.  Economic refers to the veteran's ability to earn more than a marginal income as determined by the federal poverty threshold for a single person.  The noneconomic component involves assessing if a veteran is capable of work.  The Court concluded that attention must be given to the following:
Veteran's history and education, skills, and training;
Whether the veteran has the physical ability (both exertional and non-exertional) to perform the type of activities (e.g., sedentary, light, medium, heavy, or very heavy) required by the occupation at issue – including limitations on lifting, bending, sitting, standing, walking, etc., and auditory/visual limits; and
Whether the veteran has the mental ability to perform the activities required by the occupation at issue – including limitations on memory and concentration, and the ability to adapt to change, handle workplace stress, get along with coworkers, and demonstrate reliability and productivity.
With regard to the above-mentioned factors, the Court emphasized that they do not constitute a checklist.  Instead, a factor only needs to be considered if raised by the evidence of record.
Marginal Employment
Again, TDIU is generally reserved for veterans who are unable to work; however, if a veteran is only able to maintain "marginal employment" they can still qualify for individual unemployability.  This is because VA does not consider marginal employment to be substantially gainful.  There are two ways for a veteran's employment to be considered marginal for the purposes of TDIU:
If a veteran is working, but their income does not exceed the federal poverty threshold for one person, they can still be considered for TDIU.
Veterans who are working and earning an income above the set federal poverty threshold level may still be entitled to TDIU if they are working in a protected work environment.
VA Hasn't Defined What a Protected Work Environment is, But Has Agreed with CCK's Arguments
VA has not specifically defined what it means to work in a protected work environment, but the current law and past cases can offer some insight into what VA may look for in these cases.  Generally, a protected work environment is one in which the employer makes significant accommodations for the veteran without reducing their earnings or benefits.  It is also important to remember the following:
A work environment can still be considered "protected" if the veteran earns a salary that is above the poverty threshold or even if they work full-time. Therefore, having a low income is not a requirement for establishing marginal employment if the veteran works in a protected environment.  This kind of environment exists when the employer excuses the veteran from performing some or all of the basic, or essential, duties of the job.
Whether or not a work environment is considered "protected" is established on a facts-found basis. Being established on a "facts-found basis" means that VA will make a judgment on the facts in each individual case.  There is no blanket policy that recognizes certain types of work or certain accommodations as creating a protected environment.  As such, all of the facts about the veteran's disability (and how it affects their ability to work) as well as all of the facts about the veteran's job – especially the accommodations made for the veteran – will be considered in making a decision.
Examples of protected work environments can include family businesses and sheltered workshops. However, employment at a family business or sheltered workshop only qualifies as a "protected work environment" if the veteran is excused from the standard work requirements.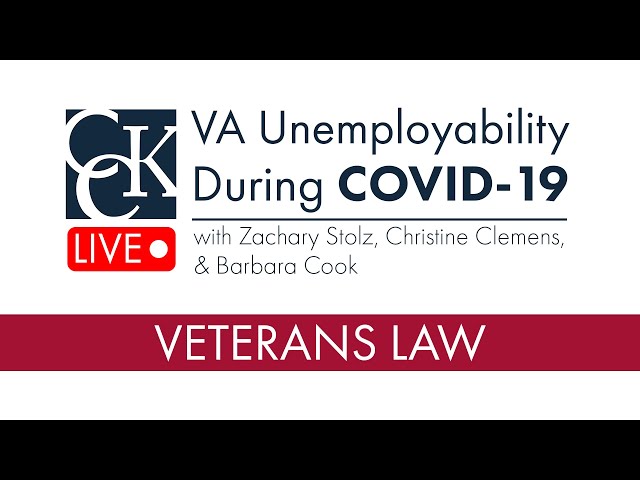 What Kind of Evidence Should Veterans be Gathering Now?
Overall, the basic test for unemployability aside from the veteran's level of income involves their physical and/or mental ability to complete the tasks that are required for work.  Therefore, the more documentation that one has about one's physical and mental conditions, the better.  It is also important to be specific in such documentation or in personal accounts of your conditions and their impact.  For example, it may be beneficial to consider how long you are able to walk and stand throughout the day.  If you have problems with standing or walking for more than a third of the eight-hour workday as a result of your service-connected condition(s), then you are likely going to have trouble performing the duties of substantially gainful employment.  Some other questions to reflect on include the following:
How often do you need to go to treatment or to medical appointments?
What is the impact of any medication you are taking for a service-connected condition? Does it make you drowsy? What are the consequences?
How many pounds of weight can you lift?
How do you get along with others?
Is VA Processing Claims During the COVID-19 Pandemic?
VA is currently working remotely due to the COVID-19 pandemic; however, the department remains fully operational.  It appears as though VA is issuing decisions at a quicker rate than previously during this time.  This work rate is important as VA is seeing an influx of claims.
Veterans at High Risk for COVID-19 Due to Service-Connected Disabilities or Treatments
Unfortunately, a number of veterans are service-connected for medical conditions that make them more susceptible to the risks of COVID-19, perhaps even more so than the general population.  Many veterans are immunocompromised either from treatments or from the conditions themselves.  In addition, many veterans are service-connected for mental health conditions that have been exacerbated by this crisis (e.g., not being able to see loved ones or medical providers in person, losing a helpful routine, etc.).
Furthermore, many people, including veterans, are losing jobs at alarming rates.  Although some of this job loss may be temporary, it is difficult to say what will happen going forward.  Nonetheless, there are several actions veterans can take to be prepared.
Should Veterans File a Claim Now?
Veterans who lost their jobs can file a claim for unemployment now, but it will be hard to determine if they will be able to return to work in any capacity.  It is also important to note that veterans will not qualify for TDIU benefits simply because they are out of a job.  Instead, they will have to show that they are unable to work due to their service-connected condition(s).  If veterans are certain that they will not be able to return to work because of a service-connected condition or an exacerbation of a service-connected condition during this time, then they need not wait to file their claim for TDIU benefits.
Intent to File Submissions: Lock in Your Effective Date
If veterans are unsure about filing for TDIU at this time, they can always file what is called an "intent to file." By submitting this form online through VA's benefit system or faxing it to one of VA's evidence intake centers, veterans can preserve their effective date for one year while they prepare to file an official claim.
About the Author