Veterans Law
VA Disability Ratings for Cancer and its Residuals
What is Cancer?
Cancer is a disease categorized as the uncontrolled growth of abnormal cells in the body that spread to other parts of the body.  These cells may then begin to form tumors (i.e., lumps of tissue) that can be either cancerous or benign.
Cancerous tumors, sometimes referred to as malignant tumors, can spread and invade nearby or distant places in the body to form new tumors.  This process is call metastasis.
Types of Cancer
There are more than 100 types of cancers that can affect people.  These cancers are usually named for the tissues or organs in which they form, or by the type of cell that formed them, such as the squamous cell.  Some categories of cancers include:
Carcinoma – the most common types of cancers; formed by epithelial cells (i.e., cells covering the surfaces of the body)
Sarcoma – cancers that begin in the bone and soft tissues
Leukemia – cancers that form in the blood-forming tissues of the bone marrow
Lymphoma – cancers that form in the lymphocytes (i.e., white blood cells in the immune system)
Multiple myeloma – cancer that begins in plasma cells
Melanoma – cancer that forms in cells that make melanin (i.e., skin pigment)
Brain and spinal cord tumors
Other tumors
Cancer Treatments and Side Effects
Treatments for cancer may include radiation therapy, chemotherapy, targeted therapy, immunotherapy, hormone therapy, hyperthermia, photodynamic therapy, stem cell transplant, surgery, or a combination of these treatments.  A patient's treatment depends on the location and stage of the cancer, as well as their age and general health.
These cancer treatments may also lead to certain side effects and residual symptoms in patients.  Some possible side effects include anemia, loss of appetite, fatigue, fertility issues, hair loss, nausea and vomiting, memory issues, pain, sleep problems, and more.
Cancer survivors may also develop residual effects that continue into remission.  For example, a person may develop hearing loss or damage to nerves (e.g., peripheral neuropathy) due to high doses of chemotherapy.
Cancer Among Veterans
According to data obtained from the VA Central Cancer Registry, more than 50,000 cancer cases are reported among veterans each year.  Veterans with cancer account for approximately 3 percent of all cases of cancer in the United States.
According to a 2017 VA study, the three most commonly diagnosed cancers among veterans in 2010 include prostate cancer (29 percent), lung or bronchus cancer (18 percent), and colon/rectum cancer (8 percent).
If you have been diagnosed with cancer after serving in the military, you may be eligible to receive VA disability benefits.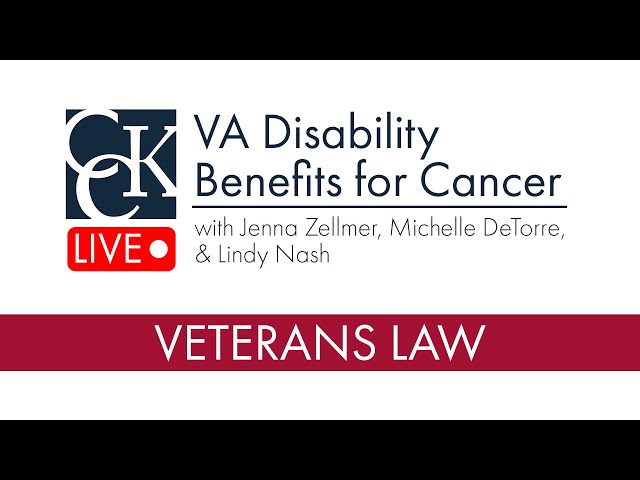 Service Connection for Cancer
In order to receive VA disability benefits for cancer, you must establish service connection.  For direct service connection, you must prove to VA that you are currently diagnosed with cancer and that it is "at least as likely as not" the result of your military service.
In general, VA requires evidence of these three elements of service connection:
An in-service event, injury, or illness;
A current diagnosis by a medical professional;
A medical nexus, or link, between the in-service event and current diagnosis.
Presumptive Service Connection for Cancer
There are some situations where cancer is a presumptive condition.  For veterans that meet certain eligibility requirements, VA will presume that their cancer is connected to their military service.
Examples of situations in which VA affords presumptive service connection for cancer include the following:
Cancers Related to Agent Orange Exposure
VA presumes that certain cancers are associated with exposure to Agent Orange, including:
Hodgkin's Disease
Multiple Myeloma
Prostate Cancer
Soft Tissue Sarcomas (other than osteosarcoma, chondrosarcoma, Kaposi's sarcoma, or mesothelioma)
Recently, the Honoring Our Promise to Address Comprehensive Toxics Act (PACT Act) of 2021 expanded presumptions related to Agent Orange exposure to include additional locations and time periods.  Veterans diagnosed with one of the above cancers can be eligible to receive disability benefits on a presumptive basis if they had active military, naval, air, or space service in the following locations and time periods:
The Republic of Vietnam from January 9, 1962 to May 7, 1975;
Thailand, at any US or Thai base, from January 9, 1962 to June 30 1976, without regard to the Veteran's MOS or where on base they were located;
Laos from December 1, 1965 to September 30, 1969;
Cambodia, specifically at Mimot or Krek, Kampong Cham Province from April 16, 1969 to April 30, 1969;
Guam or American Samoa or in the territorial waters thereof from January 9, 1962 to July 30, 1980;
Johnson Atoll or a ship that called at Johnston Atoll from January 1, 1972 to September 30, 1977;
On or near the Korean demilitarized zone (DMZ) between September 1, 1967 and August 31, 1971;
Active duty and reservist personnel who had regular contact with C-123 aircraft between 1969 and 1986.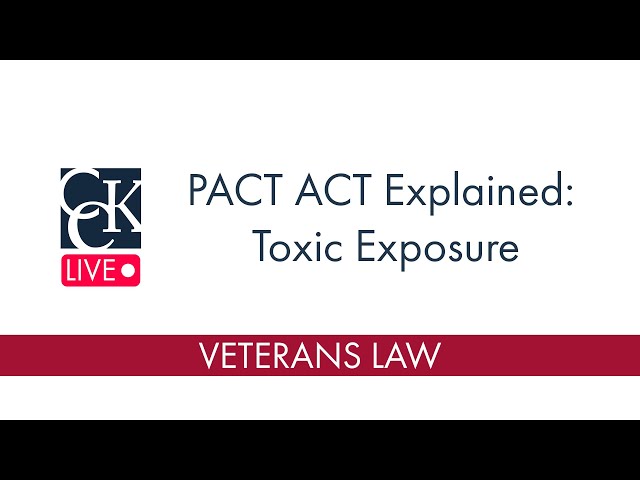 Cancers Related to Ionizing Radiation
For veterans who participated in a radiation-risk activity during service, VA presumes that certain cancers are related to their exposure, including cancers of the:
Bile ducts
Bone
Brain
Breast
Colon
Esophagus
Gall bladder
Liver (primary site, but not if cirrhosis or hepatitis B is indicated)
Pancreas
Pharynx
Ovary
Salivary gland
Small intestine
Stomach
Thyroid
Urinary tract (kidney/renal, pelvis, urinary bladder, and urethra)
Leukemia (except chronic lymphocytic leukemia), lymphomas (except Hodgkin's disease), and multiple myeloma are also included in VA's list of presumptive conditions associated with ionizing radiation exposure.  These veterans do not have to prove a connection between these cancers and their service to be eligible for VA disability compensation.
Cancers Related to Burn Pit and Toxic Exposures
In 2022, the PACT Act added 23 burn pit and toxic exposure-related conditions to VA's presumptive list for "covered veterans."  This includes the following cancers:
Head cancer (of any type)
Neck cancer (of any type)
Respiratory cancer (of any type)
Gastrointestinal cancer (of any type)
Reproductive cancer (of any type)
Lymphoma cancer (of any type)
Lymphomatic cancer (of any type)
Kidney cancer
Melanoma
For reference, a covered veteran is defined as the following:
A veteran who, on or after August 2, 1990, performed active military, naval, air, or space service while assigned to a duty station in, including air space above:
Bahrain
Iraq
Kuwait
Oman
Qatar
Saudi Arabia
Somalia
United Arab Emirates
A veteran who, on or after September 11, 2001, performed active military, naval, air, or space service, while assigned to a duty station, including the airspace above:
Afghanistan
Djibouti
Egypt
Jordan
Lebanon
Syria
Essentially, veterans diagnosed with one of these cancers, who served during a qualifying time period, will be able to qualify for disability compensation on a presumptive basis.
When President Biden officially signed the PACT Act into law, he and VA Secretary McDonough announced that the rollout period for certain presumptive conditions for covered veterans would be waived.  Initially, these presumptions were effective upon the date of enactment of the PACT Act only for certain conditions, while presumptions for other conditions would become effective on a rolling basis over the next few years.  Now, with this new rollout plan, the presumption for all conditions are effective from the date the PACT Act was signed (August 10, 2022) and VA will begin adjudicating these claims as soon as January 2023.  Veterans should know, however, that newly eligibly claimants will not get retroactive benefits back to the date of their original claim unless they are filing a claim for DIC benefits.
VA Disability Ratings for Cancer and Residual Effects
If you are service connected for an active cancer, VA should automatically assign a 100 percent disability rating.  This rating continues for as long as your cancer is active, and then for another six months following the successful completion of a treatment program, such as chemotherapy, radiation, or surgery.
Six months after your cancer treatment ends, VA will schedule you for a Compensation and Pension (C&P) examination to evaluate the current status of your condition.  If the examination shows that your cancer is no longer active and is in remission, VA will evaluate the cancer based on its residuals.
For example, erectile dysfunction and urinary incontinence are common residual symptoms of prostate cancer.  If prostate cancer is no longer active, VA will likely reduce the disability rating for that condition and assign new ratings based on the severity of the veteran's erectile dysfunction and urinary incontinence if present.
Was Your Claim for Service-Related Cancer Denied?
If you have a service-related condition or cancer but VA denied your disability claim, Chisholm Chisholm & Kilpatrick may be able to help. The accredited attorneys and claims agents at CCK have decades of experience assisting veterans in obtaining their rightfully earned benefits.
Call CCK today at 800-544-9144 to schedule a free consultation with a member of our team.
About the Author