Veterans Law
VA Disability for Mefloquine Toxicity
What is Mefloquine?
Malaria is a serious infectious disease transmitted by mosquitoes and typically found in Iraq, Afghanistan, and many areas in Africa, South America, and Asia.  Mefloquine is a round, white tablet taken once a week that can help prevent malaria for travelers.  For decades, this drug was administered to both civilians and military personnel, including those serving in Iraq and Afghanistan.
When Did the Military Use Mefloquine?
Mefloquine became licensed by the Food and Drug Administration (FDA) in 1989; however, the U.S. military only began using it on a large-scale during operations in Somalia between 1992 and 1993.  There are some isolated reports of mefloquine use throughout the 1980s and even as early as the late 1970s.  Therefore, it is possible that some veterans were exposed to this drug even before it was licensed.  Following operations in Somalia, the next large-scale use of mefloquine occurred during the wars in Afghanistan and Iraq.
In 2009, Pentagon officials issued a policy listing mefloquine as a last-choice preventive in areas where malaria strains are resistant to other available medications.  This policy came in response to increasing concern over reported health effects associated with mefloquine use.  The FDA took action in 2013 when it placed a black box warning on mefloquine, indicating the drug can cause ongoing or permanent neurological and psychiatric conditions.
What Health Effects are Associated with Mefloquine Toxicity?
Mefloquine's product label has always warned of serious adverse effects.  As such, health professionals have known all along that it could cause a wide array of psychiatric and neurological symptoms.  While some people take mefloquine and do not experience negative health outcomes, a sizeable minority (between 10 and 33 percent) experience prodromal symptoms (i.e. initial symptoms that predict more serious symptoms).  Such prodromal symptoms typically manifest within one to four doses, or within the first month of use.
Neurological effects of mefloquine toxicity
The most common neurological effects of mefloquine toxicity include seizures, peripheral neuropathy, tremors, ataxia (i.e. loss of control of movement), vertigo (i.e. dizziness), and tinnitus.
Psychiatric effects of mefloquine toxicity
The psychiatric effects of mefloquine toxicity include, but are not limited to, anxiety, panic attacks, paranoia/persecutory delusions, dissociative psychosis, amnesia and other memory problems, and violent and suicidal behavior.
The drug's use should be discontinued immediately if you are experiencing these prodromal symptoms; however, in the military, servicemembers were often ordered to continue taking the drug despite experiencing these symptoms.
VA maintains that the most commonly reported side effects from mefloquine are nausea, vomiting, diarrhea, dizziness, difficulty sleeping, and bad dreams.  However, VA indicates that these effects are usually mild and may not necessarily cause people to stop taking the medicine.  VA does recognize that other side effects exist, including those mentioned above, but it is not fully understood how these side effects occur or persist over time.  As a result, VA instructs individuals with the following conditions to not take mefloquine:
Psychiatric conditions including active depression, a recent history of depression, generalized anxiety disorder, psychosis, schizophrenia, or other major psychiatric disorders
Seizure disorders (epilepsy)
Certain heart conditions (irregular heartbeat and conduction problems)
Those taking certain medications, as advised by a health care provider
How Long Do Mefloquine Symptoms Last?
If an individual begins to experience negative health effects related to mefloquine and discontinues the use of it immediately, these prodromal symptoms may subside.  However, there is suggestive evidence that these prodromal symptoms often lead to a more serious event, including permanent, chronic effects.  Recent studies in Scandinavia examined individuals that reported acute, short-term effects of mefloquine use.  Findings show that 20 percent of these individuals still reported the same symptoms three years or more after use.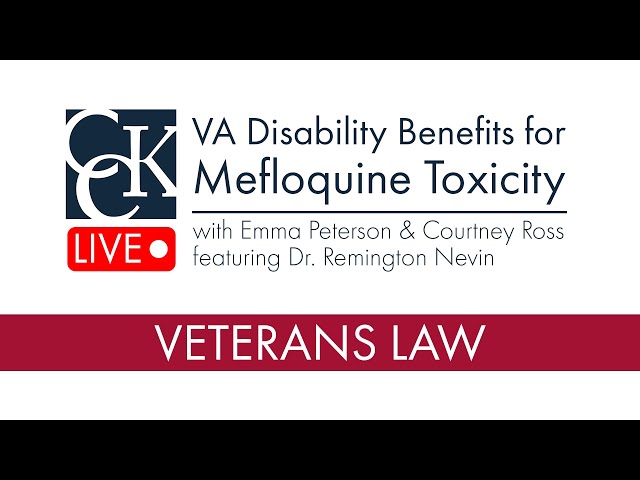 Interview with Dr. Remington Nevin
In this episode of Facebook Live, CCK attorneys interviewed Dr. Remington Nevin – a prominent leader in the field of research related to mefloquine toxicity.  Dr. Remington is a former U.S. military public health preventative medicine physician.  He trained in U.S. military medical school and later deployed to Afghanistan with the 82nd Airborne division as a Public Health Officer in 2007.  During his deployment, he became aware of systematic problems with the military's use of mefloquine, which later sparked his decades-long interest in this subject matter.  Dr. Remington discussed various aspects of mefloquine toxicity and how it applies to veterans seeking VA disability compensation (see below).
VA Disability Benefits for Health Problems Related to Mefloquine Toxicity
Veterans may file a claim for disability compensation for health problems they believe are related to mefloquine use during military service.  However, VA does not currently offer presumptive service connection for any conditions claimed to be associated with mefloquine toxicity.  Instead, veterans will have to prove service connection on a direct basis by showing their conditions are caused by their in-service mefloquine use.  To do so, veterans will likely need to obtain a medical nexus opinion from a healthcare professional indicating that it is at least as likely as not that these lasting symptoms are not due to any previous psychiatric illness or trauma, but this anti-malarial drug.  It is also beneficial for the healthcare professional to demonstrate evidence of the veteran's short-term adverse reaction to the drug that then persisted over time and ultimately contributed to permanent disability.
Historically, VA has rejected these claims on the basis that there was no evidence of mefloquine prescribing in veterans' medical records.  However, there are a few cases in which VA has awarded service-connected compensation for mefloquine-related conditions where exposure was established by lay evidence and further supported by expert reports.  Examples of other types of evidence veterans can use to show use of mefloquine include lay statements describing the administering and taking of mefloquine, independent research on areas of deployment, and post-deployment health assessments.  Ultimately, VA decides these claims on a case-by-case basis.
Importantly, a recent Walter Reed Army Institute research study concluded that symptoms related to mefloquine toxicity mimic those of post-traumatic stress disorder (PTSD).  As such, it can be difficult to distinguish possible mefloquine-induced toxicity and PTSD, and thereby raises some questions regarding possible linkages between the two diagnoses.
VA Diagnostic Code for Mefloquine Toxicity
VA does not currently have a diagnostic code or set of criteria for mefloquine toxicity because it is still not considered a disease itself.  Nonetheless, in some cases it is being conceded by VA as causing certain psychiatric and neurological disorders.  Veterans should not claim mefloquine poisoning, but rather claim the medical condition that it is causing.  In other words, veterans should identify actual diagnoses that exist today and link those to mefloquine use.  For example, veterans may be eligible for service connection for an anxiety disorder if they meet the diagnostic criteria for that anxiety disorder and demonstrate that it is a residual effect of their mefloquine exposure.
About the Author