Veterans Law
TERA VA Medical Opinions for PACT Act Claims
Since its passage in August 2022, more than 560,000 claims have been filed under the PACT Act.  As of May 12, VA has issued decisions on about 252,000 of these claims.
In addition to increasing its workforce by 15 percent and expanding its automated processing system in an effort to adjudicate claims more quickly, the Veterans Benefits Administration (VBA) recently updated guidelines for claims processors reviewing PACT Act claims and appeals.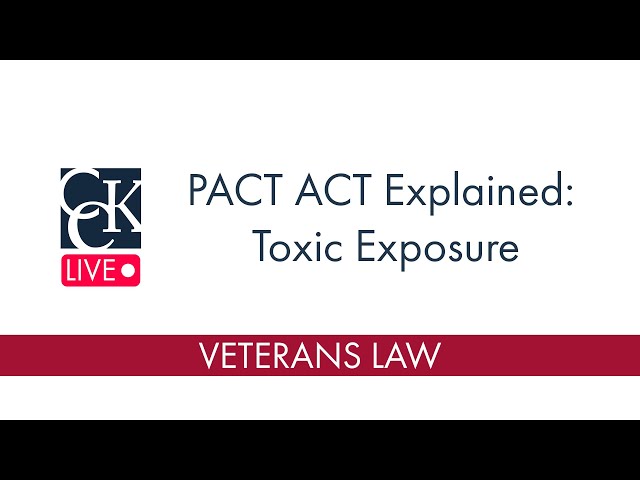 Overview of Updated Procedure
According to the VBA, this updated guidance is effective as of January 1, 2023.  Updates will be incorporated into the M21-1 Adjudication Procedures Manual, and 38 CFR Parts 3 and 4.
Definitions of Toxic Exposure
Included in the VBA updates for clarity are three definitions relating to toxic exposure: toxic exposure, toxic exposed veteran, and toxic exposure risk activity (TERA).
Toxic exposure pertains to Vietnam-era herbicide-exposed veterans, radiation-exposed veterans, TERA, and an ongoing list that "identifies substances, chemicals, and airborne hazards that are appropriate for presumptions of specific toxic exposure for members who served in certain locations."
Toxic exposed veteran includes Persian Gulf veterans, Camp Lejeune veterans, veterans who participated in a toxic exposure risk activity, and chemical and biological warfare testing.
Toxic exposure risk activity, or TERA, is defined as "any activity that requires a corresponding entry in an exposure tracking record system, or that VA determines qualifies for purposes of this subsection when taking into account what is reasonably prudent to protect the health of veterans." This exposure tracking record system refers to government programs that will track how service members or veterans have been exposed to various occupational or environmental hazards.
Revisions to Claims Processing
The PACT Act claims processing guidelines include the following revisions:
August 10, 2022 is the earliest effective date for establishing entitlement to PACT Act benefits. *Note: There are some exceptions for survivors' benefits.
VA Form 21-526EZ, Application for Disability Compensation and Related Compensation Benefits, now includes a toxic exposure section. This is intended to help VA identify claims related to toxic exposure.
Supplemental Claims and VA Outreach for Previously Denied Claimants
When VA receives a supplemental claim for a new or modified presumption, VA has a duty to review the claim based on the new law and the claimant is not required to submit new and relevant evidence.  However, veterans must submit a Decision Review Request: Supplemental Claim form to initiate the process.
In addition, VA must "identify all previously denied disability compensation claims that might be evaluated differently when there is an establishment of or modification to a presumption of service connection" (38 USC § 1167).  It must then conduct outreach and inform identified claimants that a supplemental claim may be submitted.  This will apply to veterans affected by the PACT Act.
VA is also required to conduct similar outreach to previously denied survivors under 38 USC § 1305.  For previously denied DIC claims, VA must award effective dates "as if the establishment or modification of the presumption of service connection had been in effect on the date of the submission of the original claim."
VA C&P Examinations and Medical Opinions: When are They Needed?
In the past, VA was required to provide a disability (compensation and pension) examination or medical opinion for certain claims involving TERA in which the record did not contain sufficient evidence to decide the claim (38 USC § 5103A(d)).
Now, under USC § 1168, a C&P examination and medical opinion must be provided in TERA cases when evidence is not sufficient to establish service connection for the condition, rather than when a decision cannot be made.  In other words, VA must conduct C&P exams related to a veteran's possible participation in a TERA for PACT Act related claims.
As a result of this modified disability examination threshold for TERA-related conditions, VA claims processors will likely need to order disability examinations in cases where they would not have done so previously.  This means VA claims processors must now obtain a disability examination with a medical nexus opinion, unless an exception applies, before denying service connection for a TERA-related claim.
When determining whether to concede a TERA, claims processors must consider all available evidence, such as:
Full ILER record
Service treatment and personnel records
VA and private treatment records
Lay statements
Expert reports or testimony
Military occupational specialty
Locations of known non-presumptive and presumptive exposures
Below is a flowchart detailing the process VA claims processors must follow to determine if TERA is applicable to the condition in disability compensation claim.
What Do These Changes Mean for Veterans and Their Families?
In issuing this memo, VBA aims to provide clarification and guidance for claims processors handling PACT Act-related claims for service connection and service-connected death.  The step-by-step process outlined in the TERA memo should enable VA claims processors to review these claims in an efficient and accurate manner the first time around.
CCK Can Help with Your PACT Act Claim
To find out if you qualify for benefits under the PACT Act, check out our blog post detailing PACT eligibility requirements.
If you need assistance filing a PACT Act-related claim or appealing a decision, the team at CCK may be able to assist you.  Please contact us for a complimentary case review to see if we can help.