ERISA Law
Long-Term Disability (LTD) Claims for Nurses
Developing a medical condition or suffering an injury that necessitates long-term disability (LTD) benefits can be overwhelming.  Filing a claim for disability benefits may seem impossible to overcome for many nurses, but these benefits can protect your income when you are unable to work due to your condition.
Nurses can face high-stress situations and often work long hours.  When you have a condition that prevents you from carrying out the duties of your job, you must consider filing for LTD benefits.  However, it is important to understand how a disability can affect your job as a nurse and what to expect from the claim process.
Types of Nurses
There are many types of nurses working across the country.  According to the U.S. Census, in 2019 there were over 4 million nurses working in the United States.  Of course, this number includes all the distinct types of nurses and their specialties.  As such, it is likely that some will experience a disabling condition that prevents them from working.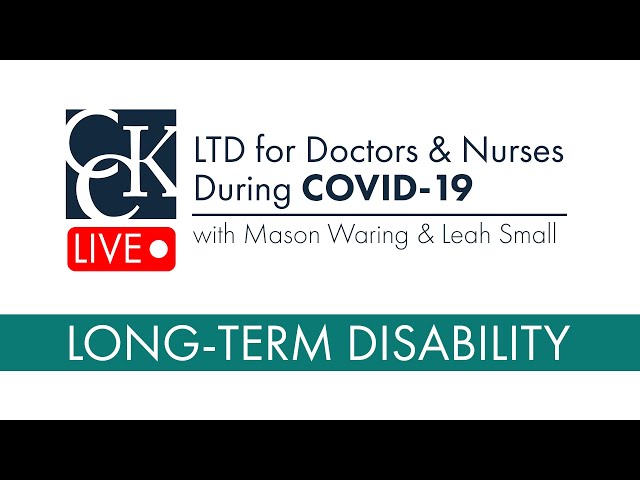 Some types of nurses include:
Registered Nurses (RN);
Surgical Assistant Registered Nurses;
Advanced Practice Registered Nurses (APRN);
Nurse Practitioners; and
Emergency Room Registered Nurses.
This is only a small selection of nurses.  Nurses can work in a variety of places, including hospitals; ambulances; senior care facilities; doctor's offices; patients' homes; and more.  Therefore, their duties can vary.  However, many conditions can affect a nurse's profession and cause them to need long-term disability benefits.
Occupational Hazards for Nurses
As mentioned, nurses can work in a variety of places.  Thus, the hazards they face each day may differ.  For example, what a nurse working in an ambulance may face will be different from what a nurse in a nursing home will face.  Nevertheless, there are many occupational hazards nurses face daily.  These can include:
Long hours spent standing: Nurses may spend most of their shift standing, which can sometimes total more than 12 hours.  These extended periods of standing can lead to back issues and other joint problems, which are leading causes of nurses' disability claims.
Increased risk of illness: Working in a caregiving facility raises the risk of catching an illness from a patient; some of these illnesses can lead to complications that can lead to long-term disabilities.
Violence from patients: Many nurses experience violence from patients.  According to one study, 21 percent of nurses report that patients have physically assaulted them.
Lifting heavy objects: Many nurses must lift heavy objects throughout the day. Over time, this can lead to certain muscular disorders, especially when using an improper technique to lift.
High-stress situations: Nurses must deal with high-stress situations. Of course, these situations can occur more frequently in certain locales, i.e., in an ambulance or emergency room.  Over time, these stressful situations can cause certain mental health conditions that can prevent them from working.
Hazards like these can cause debilitating medical conditions that prevent you from working as a nurse.  It is important to remain mindful of what you can and cannot do at work and how these occupational hazards play a role.
However, this does not mean that your condition will arise from a workplace hazard; many conditions can develop over time outside of your employment but still inhibit your ability to work.
How Can a Nurse Discover More About Their LTD Policy?
Nurses may have multiple long-term disability policies at the same time.  Therefore, it is important to understand which policies you may have before you file a claim.  There are two primary types of LTD policies: group policies and individual policies.  However, it is possible to have both a group policy and an individual policy.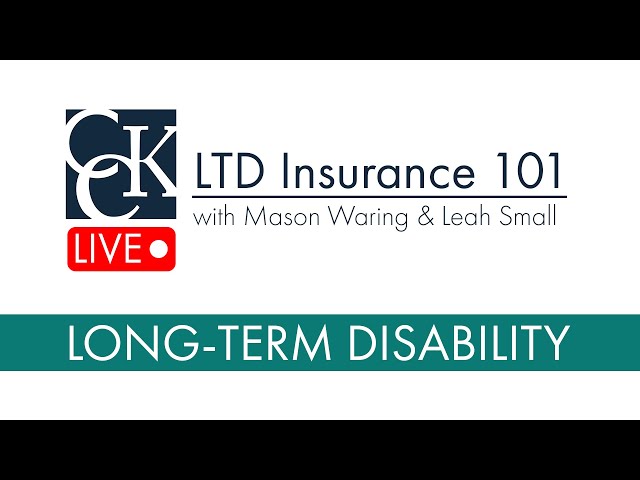 Group policies are given to employees as part of an employer-provided benefits package.  Therefore, if you believe you have a long-term disability policy through your employer, you may ask them directly.  It is often best to contact someone in human resources.  If you do have an LTD policy, someone from HR will send you your policy and any associated documents.
However, if you believe you have an individual policy that you bought yourself, it is best to first check your bank statements.  If you notice you are making premium payments to an insurance company, you probably have an individual policy.  If so, you can contact your insurer directly and they will provide you with your policy's details.
Why Is It Important for Nurses to Read and Understand Their Long-Term Disability Policy?
Your long-term disability policy has a lot of vital information within it.  However, these policies can sometimes be difficult to understand, so it is important to thoroughly review their contents.  When you are a nurse, your policy may have exclusions for certain mental health conditions; an exclusion means that your policy will not cover you if you suffer from a specific mental health condition.
Individual policies generally have more flexibility for policyholders.  For example, a nurse who buys an individual policy can, usually for an increased premium, remove any mental health exclusions.
Nonetheless, it is important for nurses to read and understand their long-term disability policy so that they may not make any mistakes when it comes to filing their claims.  Such policies will inform claimants what to expect, inform them of deadlines, and more.
The Definition of Disability
When filing for LTD benefits, you must be aware of the definition of disability within your policy.  Every policy contains this definition, and it usually takes one of two forms: own occupation and any occupation definitions.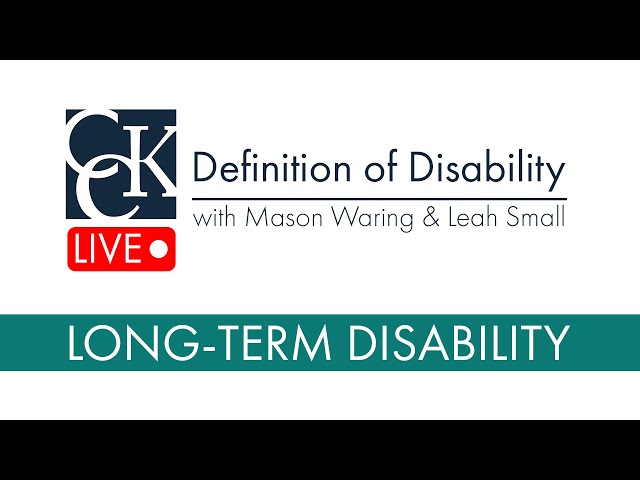 The own occupation definition asks whether you can perform the duties of your specific job.  This definition will not consider duties of other positions, such as sedentary administrative jobs.  However, an any occupation definition of disability will take these other jobs under consideration.  For example, if you are an emergency room registered nurse and your condition prevents you from dealing with the often fast-paced nature of an emergency room, could you still do administrative work somewhere else?  Any occupation definitions are generally harder to prove for long-term disability benefits.
In some policies, the own occupation policy transitions to an any occupation definition after a set period—usually 24 – 48 months.  After this period, your insurer would reevaluate your condition under the new definition.
This definition is vital because to receive LTD benefits you must prove your disability by proving you meet this definition.  Otherwise, the insurance company will deny your claim.
How Does ERISA Law Affect Nurses' LTD Claims?
ERISA is a federal law that governs group LTD policies.  These policies often complicate matters for claimants.  ERISA law brings its own strict deadlines and regulations to which claimants must adhere.  When you are a nurse filing for long-term disability benefits, you must remain cognizant of all ERISA filing deadlines.  Moreover, under ERISA, claimants may not submit new evidence after the appeal stage.
ERISA can make the claim and appeal process more complicated, especially during litigation.  When a claim and an appeal are denied by the insurance company, your last option is to file a lawsuit in court.  However, ERISA-governed policies must adhere to certain procedural obstacles that can hinder success.
During litigation, there is no jury for ERISA claims.  Moreover, the court will only consider evidence from earlier stages in the process.  Therefore, to ensure a fair review of your claim from the beginning, it is vital to follow the rules and regulations of ERISA law.
What Happens When an Insurer Denies a Nurse's Long-Term Disability Claim?
Insurance companies issue many denials for both group and individual policies.  While insurers should handle every claim neutrally, this is not always the reality.  For example, insurance companies often hire a private investigator to surveil claimants.  This surveillance can include staking out at a claimant's house and taking photographs.  Insurance companies use these surveillance tactics to find anything they can that seems to counter the person's claim.  In short, if an insurance company can find a way to avoid paying a claim, they will.
Since insurance companies often prioritize their financial needs over the health needs of their clients, it is possible that a nurse will receive a denial of their initial claim.  However, if you receive a denial of your claim, you have the right to appeal.
Your long-term disability policy has information about how to file an appeal with your insurance company.  You may need to update your evidence, which includes all diagnostic tests, specialized medical reports, and so on; review your insurer's denial letter and directly address their reasons for issuing a denial; and send a comprehensive appeal to the insurance company.
Moreover, there are appeal deadlines of which to be aware.  To ensure a fair review of your administrative appeal, it is important to meet these deadlines.
What Other Benefits May Be Available?
In addition to long-term disability benefits, a nurse may be eligible for Social Security Disability Insurance (SSDI) benefits.  Many LTD policies require claimants to file for such benefits, which usually leads to offsets.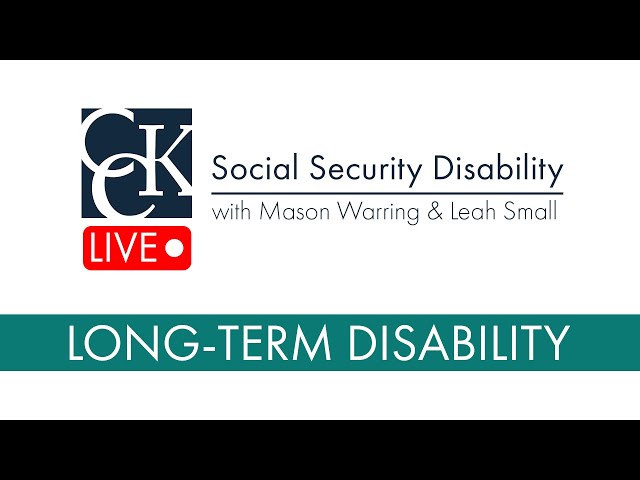 Nevertheless, there are many rules that apply to SSDI benefits, and the definition of disability may differ from your LTD policy.  Thus, you may be disabled under your long-term disability policy but not your SSDI policy, and vice versa.
Call Chisholm Chisholm & Kilpatrick Today for a Free Consultation
Whether you are a nurse filing an initial claim or appealing a denial of your benefits, a long-term disability lawyer from Chisholm Chisholm & Kilpatrick may be able to help you.  At CCK, we believe you should not have to worry about dealing with your insurance company.  We want you to focus on your health.  CCK can assist at any stage of the LTD claim and appeal process and alleviate the stress that comes with filing for benefits.
Call Chisholm Chisholm & Kilpatrick today at (800) 544-9144 for a free consultation.  We will evaluate your case and see if we can help.

About the Author