ERISA Law
Long-Term Disability (LTD) Benefits for Carpal Tunnel Syndrome
What Is Carpal Tunnel Syndrome?
Carpal tunnel syndrome is a condition that causes pain, numbness, and tingling in the hand or arm. The condition occurs when the carpal tunnel in the wrist becomes narrowed or when tissues swell, causing the median nerve to be squeezed as it travels through the wrist.
Carpal tunnel syndrome can be the result of a multitude of factors, including repetitive hand use, activities that involve extreme wrist flexion or extension for prolonged periods, heredity, pregnancy, and other health conditions such as diabetes or rheumatoid arthritis.
Diagnosing and Treating Carpal Tunnel Syndrome
Carpal tunnel syndrome tends to get worse over time, so early diagnosis and treatment is important.  Further, if not treated, carpal tunnel syndrome can result in permanent nerve damage.
A doctor may perform a physical exam or utilize EMGs, nerve conduction studies, or ultrasounds to diagnose your carpal tunnel syndrome.
Carpal tunnel syndrome can be treated both operatively and non-operatively.  Nonoperative treatment can include wearing wrist splints or braces, taking medications such as ibuprofen, or modifying your activities to avoid those that aggravate your symptoms.  Operative treatment involves cutting the ligament that forms the roof of your carpal tunnel in order to relieve the pressure on the median nerve.
Disability Claims Resulting From Carpal Tunnel Syndrome
Carpal tunnel syndrome can significantly impact your ability to use your hands and arms due to chronic pain, numbness, and tingling.  Carpal tunnel syndrome can make it difficult to work, especially for those who need to frequently use their hands to perform their job duties.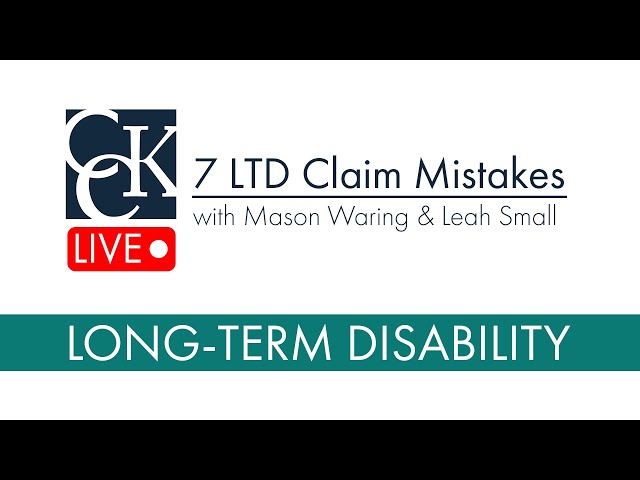 In order to successfully file a disability claim for carpal tunnel, you will need to demonstrate that you suffer from the condition and that it results in functional limitations that impair your ability to work.  This includes gathering and submitting medical records and physical exams or test results.  You will need to demonstrate that you meet your LTD policy's applicable definition of disability and that you are in appropriate care and treatment for your disabling condition.
If your long-term disability claim for carpal tunnel syndrome has been denied, consider consulting an experienced ERISA or LTD attorney as soon as possible.  Chisholm Chisholm & Kilpatrick handles initial LTD claims, administrative appeals when claims are denied, and court litigation when appeals are denied. We know how the insurance companies operate and we can help strengthen your claim for disability benefits. Contact us for a free consultation.
How Can CCK Help You With Your Long-Term Disability Appeal?
If your LTD claim is denied, you have the right to appeal that decision.  But you do not need to go through that process alone.  An experienced ERISA or LTD attorney like those on the team at Chisholm Chisholm & Kilpatrick can navigate the appeal process for you, so you can focus on your health.  We take a comprehensive approach to preparing and filing your appeal, which includes:
Finding Insurance Company Errors
We collect all of the insurance documents pertaining to your LTD claim, including the insurance company's claim file, as well as policy documents and any other plan-governing documents.  Reviewing these documents and applying our knowledge of ERISA law and U.S. Department of Labor laws, allows us to identify errors the insurance company may have made.
Communicating with Doctors During the Appeal Process
Claimants' physicians are often extremely busy treating patients and managing their medical practices, and they do not always have time to respond to insurance company information requests.  But obtaining medical records and reports from your treating doctors in support of your disability claim is an important part of preparing the administrative appeal.  We help claimants communicate with their doctors to explain what definition of disability they need to meet and why supportive evidence from their treatment providers is so important.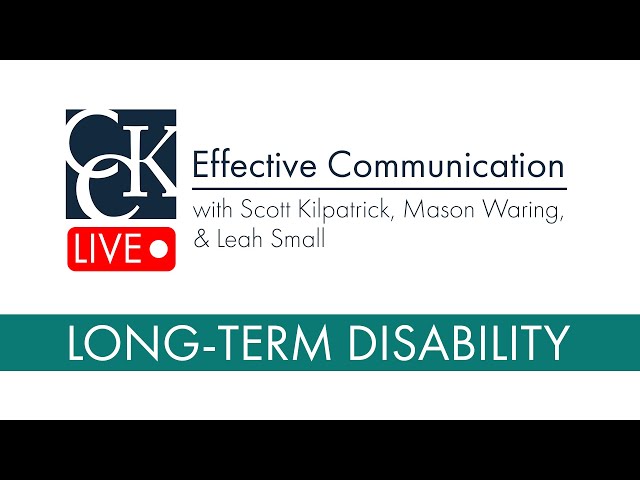 Gathering Evidence and Writing the Appeal
CCK's experienced attorneys know what evidence to collect in order to build the best record possible and demonstrate that you meet your policy's definition of disability. Common types of evidence we gather include:
Medical records
Test results
Reports from treating physicians
Expert opinions
Witness statements from you, your family, friends, co-workers, etc.
Gathering strong evidence to submit with your appeal is critical for winning your case. Gathering all necessary documentation is especially important with ERISA-governed policies because the administrative appeal is often the last opportunity to get substantive evidence into the record. We make sure that the evidence we gather is thorough and submitted on time for our clients.
Call Chisholm Chisholm & Kilpatrick LTD Today
Let us put our years of knowledge and experience to work for you. Call 401-331-6300 for a free consultation.