Veterans Law
Immune Disorders and Camp Lejeune Water Contamination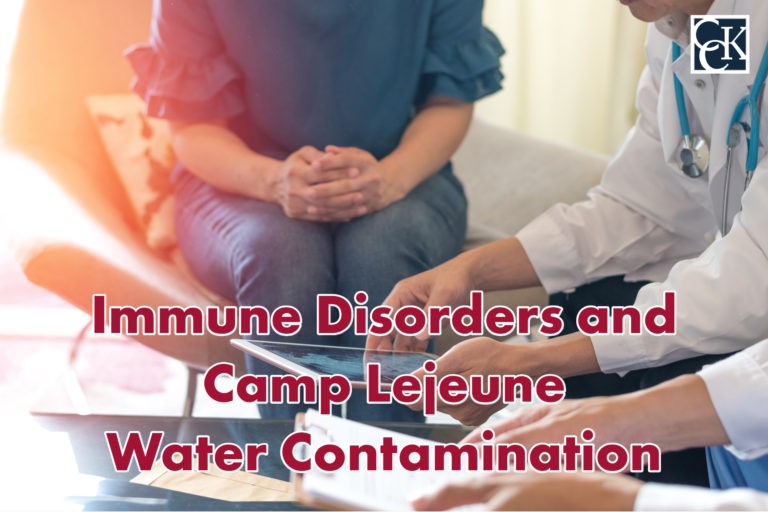 Veterans with immune system disorders who were exposed to contaminated water at Camp Lejeune may be able to receive compensation due to the 2022 PACT Act.  Read on to learn more about benefits for veterans who served at Camp Lejeune.
Immune System Disorders Explained
The immune system is a complex network of tissues, cells, and organs that help the body fight infections and diseases.  The immune system includes the lymphatic system, which is made up of lymph nodes and vessels.  Lymph nodes contain white bloods cells, which trap bacteria and other invaders, such as cancer cells.
When a person's immune system does not work properly, this is known as an immune disorder.
There are several ways in which a person's immune system can be affected, such as:
Primary immune deficiency – Primary immune deficiency occurs when a person is born with a weak immune system. An example of primary immune deficiency is severe combined immunodeficiency (SCID), a disorder in which a person is missing crucial white blood cells at birth.
Acquired immune deficiency – Acquired immune deficiency occurs when a person gets a disease that weakens their immune system. Acquired immune deficiency can be temporary, such as when a person uses certain drugs or undergoes chemotherapy.  In addition, HIV/AIDS, infections, smoking, alcohol, and poor nutrition can cause acquired immune deficiency.
An overactive immune system – This occurs when the immune system is too active, which may happen following an allergic reaction. Conditions caused by an overactive immune system include asthma, eczema, and allergic rhinitis.
Autoimmune disease – An autoimmune disease is when the immune system turns against the body. Examples of autoimmune disease include type 1 diabetes, rheumatoid arthritis, lupus, and multiple sclerosis, among others.
Overview of Camp Lejeune Water Contamination
Between 1953 and 1987, veterans and their families living at United States Marine Corps Base Camp Lejeune in North Carolina were exposed to toxic chemicals in their drinking water.  For more than three decades, individuals stationed at Camp Lejeune drank, bathed, and cooked with water contaminated by dry-cleaning solvents, degreasers, and chemicals.
Starting in 1980, testing conducted at Camp Lejeune found that drinking water sources on the base contained contaminants known as Volatile Organic Compounds (VOCs).  According to the Agency for Toxic Substances and Disease Registry, VOCs in the Camp Lejeune water wells surpassed the Environmental Protection Agency's set limits.
Among the VOCs were additional classes of chemicals, including benzene, trichloroethylene (TCE), tetrachloroethylene or perchloroethylene (PCE), and vinyl chloride (VC).  These are known carcinogens that have been linked to many serious health conditions.  Specifically, PCEs and TCEs can increase the risk of several cancers (e.g., kidney, liver, prostate, colon, multiple myeloma, and more) and Hodgkin's disease.  Benzene has also been connected to forms of leukemia.
Although officials were aware of the water contamination at Camp Lejeune, they never addressed the problem.  Only in 1985, following decades of contaminated water, were most of the wells finally shut down.
Immune Disorders Linked to Camp Lejeune Water Contamination
There are several immune disorders that the Department of Veterans Affairs (VA) acknowledges as related to the toxic water exposure at Camp Lejeune:
Aplastic anemia – a rare hematologic disorder marked by bone marrow failure secondary to immune-related damage of the bone-marrow.
Myelodysplastic Syndromes (MDS) – often associated with immune dysregulation and autoimmune disorders.
Scleroderma – an autoimmune and rheumatic disease that affects the connective disease and causes inflammation in the skin and other parts of the body.
There are also studies that suggest that trichloroethylene, a contaminant found in Camp Lejeune drinking water, as well as other environmental toxins, can cause autoimmunity in individuals.
If you have an immune disorder and believe it may be connected to toxic water exposure at Camp Lejeune, you can apply for disability benefits from VA.
VA Disability Benefits for Camp Lejeune Veterans
VA grants presumptive service connection to veterans who served at Camp Lejeune for at least 30 cumulative days from August 1, 1953 through December 31, 1987 and developed one of the following conditions:
Adult leukemia
Aplastic anemia and other myelodysplastic syndromes
Liver cancer
Camp Lejeune veterans who developed an immune disorder not yet included in this list can still apply for VA disability compensation.  However, they will need to provide a medical nexus opinion connecting their condition to the Camp Lejeune water contamination.
Medical Benefits for Camp Lejeune Veterans and Their Families
In addition, veterans and their families exposed to Camp Lejeune contaminated water can automatically qualify for certain medical benefits.  The conditions eligible for healthcare benefits, such as reimbursement for out-of-pocket healthcare costs, include the following:
Bladder cancer
Breast cancer
Esophageal cancer
Female infertility
Hepatic steatosis
Kidney cancer
Leukemia
Lung cancer
Miscarriage
Multiple myeloma
Myelodysplastic syndromes
Neurobehavioral effects
Non-Hodgkin's lymphoma
Renal toxicity
Scleroderma
It is important to note that this list differs from VA's list of presumptive conditions for disability compensation.  To learn more about medical benefits available for Camp Lejeune veterans and family members, visit this CCK blog.
New Federal Action for Camp Lejeune: PACT Act
The Honoring Our Promise to Address Comprehensive Toxics (PACT) Act, signed into law on August 10, 2022, may enable you to receive compensation due to contaminated water exposure at Camp Lejeune.
The PACT Act creates a federal cause of action for any individual, including veterans, who resided, worked at, or was otherwise exposed to Camp Lejeune's water for at least 30 days between August 1, 1953 and December 31, 1987.  This includes veterans who were exposed to contaminated water and later developed an immune disorder.
Anyone who meets these criteria may bring in action in the United States District Court for the Eastern District of North Carolina to obtain compensation.  Compensation will also be subject to offsets for federal benefits the individual receives for the claimed condition, such as VA or Medicare benefits for a condition caused by Camp Lejeune exposure.
The statute of limitations for bringing an action before the Court is two years after the passage of the PACT Act or 180 days after the claim has been denied under 28 USC § 2675, whichever is later.  This means it is important to act fast to pursue potential compensation for symptoms related to Camp Lejeune exposure.
Chisholm Chisholm & Kilpatrick, a national leader in Veterans Law, is working with the law firm of Levin Papantonio Rafferty, nationally recognized leaders in Mass Tort law, to help those exposed to the toxic water at Camp Lejeune receive the compensation they deserve.  Reach out to CCK today to see if we may be able to help you.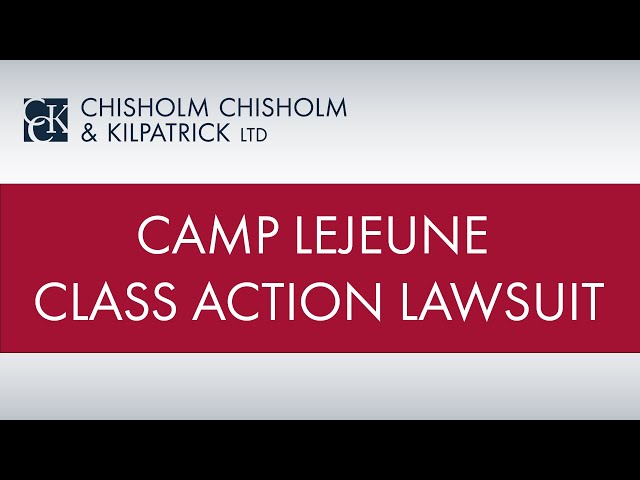 Was Your Immune Disorder Claim Denied By VA?
Did you develop an immune disorder as a result of your military service or in relation to toxic water exposure at Camp Lejeune?
If VA denied your claim for benefits, Chisholm Chisholm & Kilpatrick LTD may be able to help.  Call 800-544-9144 today to schedule a free consultation with a member of our team.