Veterans Law
How Much Weight Does a C&P Exam Have?
Compensation and Pension (C&P) exams can often cause veterans a lot of anxiety, whether it be from going to the exam itself or from an unfavorable report an examiner has written.  Continue reading to learn more about how important C&P exams really are to your VA disability benefits claim.
What is a C&P Exam?
A C&P exam is an examination that VA typically requests for any veteran who files a claim.  The purpose of the exam is to evaluate the veteran's claimed condition and determine if service connection is warranted.  During the exam, the examiner will also collect evidence to assign a rating if service connected is granted.
The examiner will usually be a VA physician or VA contracted physician.  In general, this examiner needs to be qualified to examine your particular condition, meaning that you should not have an orthopedic doctor evaluating and opining on a mental health condition.  Prior to the exam, the examiner will review the veteran's c-file so they are familiar with the veteran's case.
During the exam, the examiner may physically examine the veteran or ask questions about the veteran's service, disability, and the connection between the two.  It can be helpful for veterans to go into exams prepared to talk about their symptoms and how they affect their day-to-day life.
When is a C&P Exam Required?
VA will call for an exam when more information is needed regarding a veteran's condition or the connection between the condition and the veteran's service.
Essentially, exams are most often requested to:
Analyze any discrepancies with the diagnosis
Verify that a veteran's condition is service-connected or establish the link between the condition and the veteran's service (also known as a nexus)
Supply further medical information regarding the veteran's condition or symptoms to ensure the rater has adequate information
Can You Get a VA Disability Rating Without an Exam?
In some cases, a C&P exam may be unnecessary, and VA may not call for one.  C&P exams are, technically, not required in every case; however, they are frequently requested by VA.
However, once VA requests that a veteran undergo a C&P exam, they should be certain to attend.  If a veteran fails to attend an exam once it has been scheduled or fails to follow up on the scheduling of the exam, their claim could be denied outright.  If a veteran misses an exam unintentionally, they should contact VA as soon as possible to see if they can reschedule.  If the veteran cannot attend the exam, whether due to illness, lack of transportation, or scheduling conflict, they should also contact VA to reschedule the appointment.
How Much Power Does a C&P Examiners Report Actually Have?
It is a common misconception that C&P examiners make the final determination whether a veteran's claim is granted or not.  While the examiners findings are integral in the final ruling, and their opinions and reports are certainly taken into consideration, the C&P examiner is not the one who issues the final decision.
While you might feel compelled to argue your case to the examiner or persuade them as to why your claim should be granted, the C&P exam is not the place for that and doing so can actually be detrimental to your claim.  You should try to be as honest as possible about your symptoms and condition, providing them with detailed information about how your condition affects your day-to-day life.
After the exam, the examiner will create a report of the exam.  In this report, C&P examiners do have the power to agree with a veteran's descriptions of their condition and symptomology.  They can corroborate that a veteran's condition does indeed present in the way the evidence in the claim describes.
Conversely, C&P examiners also have the power to disagree with a veteran's descriptions.  Specifically, the examiner can conclude that a veteran's condition was not likely caused by a veteran's service, which can be devastating to a veteran's claim.
The language a C&P examiner uses is very significant.  To support a veteran's claim, the examiner can state that their condition is at least likely as not caused by their service.  Essentially, this means that there is at least a 50 percent chance that the current disability is due to an in-service event or injury.  Otherwise, the examiner may determine that the condition is less likely than not connected to service, which can be a challenging opinion to overcome.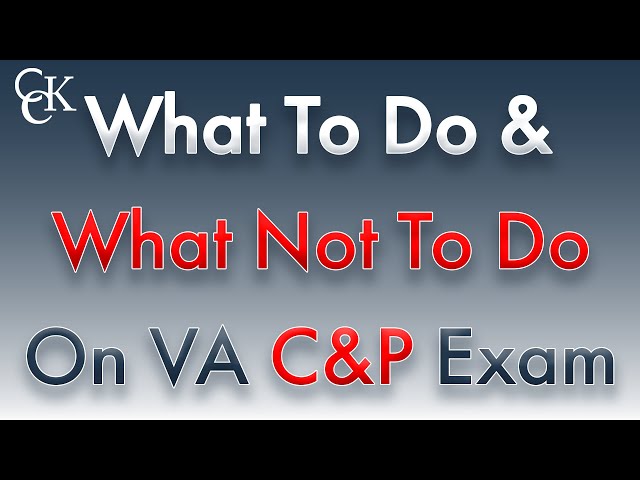 How Can a Negative C&P Exam Hurt a Claim?
VA adjudicators tend to give a lot of weight to Compensation and Pension examinations when deciding veterans' claims for service connection and increased ratings.  This means that a negative, or unfavorable exam, can severely impact a veteran's likelihood of winning a grant of benefits.  An unfavorable C&P exam would state that the veteran's condition is not related to service, or not as severe as they claimed.
It is possible, however, to overcome a negative C&P exam, although it often requires much evidence to refute the examiner's findings.
How to Overcome a Negative C&P Exam
Challenging an exam can be difficult, and often it takes the skill of an accredited representative to refute the findings of an exam.  Below are some examples of ways to refute an exam:
Private Treatment Notes
Submitting additional private treatment evidence, as well as a statement saying why you do not agree with the examiner's findings, can be helpful.  Doing this will ensure that VA knows you disagree with the examiner's report and the submission of additional private treatment records can support the veteran's claims regarding their condition.  Private treatment records would be those created by a private treating physician.  For example, if you see an orthopedic specialist for your knee condition, and are treated outside of a VA Medical Center, then you may wish to request treatment notes from the orthopedic specialist and submit them to VA.
Private Medical Opinion
Veterans may also wish to obtain a private medical opinion to refute an examiner's report.  Veterans are entitled to visit outside doctors and obtain opinions to be weighed with or against VA examinations.
These medical opinions are often completed by doctors who have specializations that relate to your condition versus a general practitioner from VA.  As a result, they might have a better understanding of your condition and thereby provide a more adequate explanation of the causes and/or severity.  Additionally, independent medical doctors are completely separate from VA.  Therefore, veterans may feel as though the opinion will be rendered with a higher degree of objectivity.
Refute Examiner's Credentials
In some cases, veterans may be able to assert that the examiner was not qualified to opine on their condition in the way that they did.  For example, this could be the case if the examiner was an orthopedic doctor opining on a mental health condition.  As a result of Nohr v. McDonald (2014), veterans can request an examiner's credentials in order to make sure they are qualified in the appropriate medical field.  VA examiners are initially presumed competent; however, once you challenge their competency, VA must explain why they found that examiner competent.
The Importance of Requesting a Copy of Your Exam
The best, and often only, way to tell how a C&P exam is going to impact your claim is to read the exam report.  However, VA does not issue the veteran a copy of the report unless they specifically request it.  To do this, veterans can send a letter requesting a copy of their exam report to their Regional Office.
Once you receive a copy of the exam report, you should review it to ensure that the exam report adequately represents the details that you reported to the examiner.  If not, you will likely want to refute the findings.
Getting Accredited Representation to Help Overcome a Negative C&P Exam
If a negative C&P exam has been harming your VA disability claim, help may be available to you.  The veterans' advocates at Chisholm Chisholm & Kilpatrick have helped have helped veterans facing an unfavorable exam in the past and we may be able to assist you.  Call our office today for a free case evaluation.
About the Author