FAQs
Do I Qualify for Total Disability Based on Individual Unemployment?
You qualify for Total Disability Based on Individual Unemployment (TDIU) if you meet the following criteria:
You are a veteran.
You have a single service-connected disability rated at the 60 percent level or higher, or two or more service-connected disabilities with a combined rating of at least 70 percent, with one rated at 40 percent or higher.
You are unable to sustain substantially gainful employment as a result of your service-connected condition. This does not necessarily mean you cannot work in any capacity, only that you are incapable of holding a full-time job that pays enough to stay above the poverty line. Odd jobs, marginal employment, and limited part-time work generally do not count as substantially gainful employment.
Is There Specific Evidence I Need to Submit to Qualify?
Aside from your VA rating, there is not specific evidence for a TDIU claim. However, the VA will not grant you benefits unless you submit your:
Discharge or separation papers
Service treatment records
Medical records
The following will also likely be helpful in establishing that you deserve TDIU:
Medical testimony
Your service record
Your work history
Testimony from your employer and a vocational expert to establish your inability to work
Our team can help determine what evidence you might need to prove your eligibility.
What Is TDIU?
TDIU is a VA disability benefit that allows qualifying veterans to receive benefits at the 100 percent-level even if their service-connected conditions do not combine to a 100 percent disability rating.
What Monthly Benefit Will I Receive on TDIU?
VA disability ratings fall anywhere between 0 and 100 percent. With a 0 percent rating, you do not receive monthly compensation but might qualify for other VA benefits, such as health care. A 100 percent rating earns you the highest schedular amount of monthly compensation.
Because TDIU pays at the 100 percent level, you would receive $3,106.04 per month as of 2020. Also, with a rating of 30 percent or higher, you are eligible for additional benefits if you have dependents in your household, such as your spouse, dependent children, or dependent parents.
Can I Receive TDIU and Still Work?
Maybe. You cannot receive TDIU if the VA considers your work to be substantially gainful employment. However, if you work odd jobs or perform limited part-time work and are making below the poverty level, you might still be eligible for benefits.
Generally, the threshold is whether you can work enough to earn above the poverty line. For example, if you are only able to work 25 hours a week at the local grocery store, you likely are not making above the poverty line.
However, if the VA finds that you could work somewhere else and make more, it might be difficult to qualify. We can help you determine your eligibility.
How Do I Apply for TDIU?
To apply for TDIU, the first step is to fill out the VA Form 21-8940. You can find it on the VA website. This form asks veterans to detail their work and educational history, as well as what service-connected disability or disabilities prevent them from working. For the best chance of approval, you should supplement this form with medical evidence, including a statement from your doctor that, in his or her opinion, your condition prevents you from sustaining substantially gainful employment.
If you want to ensure that your case is as strong as possible, contact us at Chisholm Chisholm & Kilpatrick LTD for help.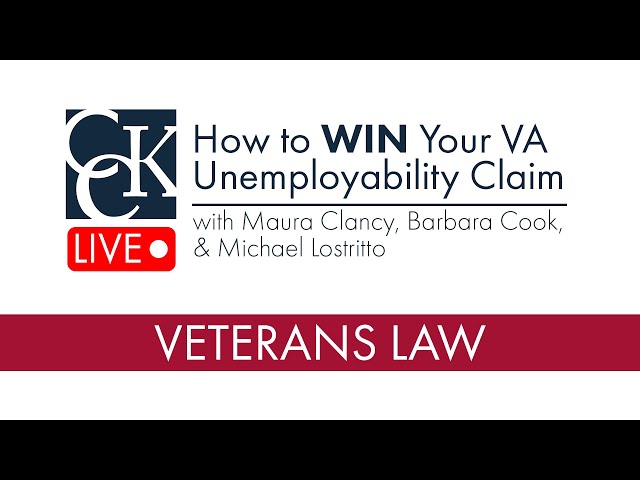 Have Additional Questions? Call 800-544-9144 to Speak with a VA Disability Attorney About Your Claim.
The VA disability legal team at Chisholm Chisholm & Kilpatrick LTD is available to answer any questions you have about VA disability benefits, including TDIU and how to increase your chances of approval.
We offer free consultations to all veterans to determine if we can help you with your case. Call us today at 800-544-9144.