Veterans Law
Dependency and Indemnity Compensation (DIC) Rates for 2024
The 2024 Dependency and Indemnity Compensation (DIC) rate is $1.612.74.  However, there are certain circumstances in which your DIC benefits may exceed this amount.  Read on to find out your DIC rate for 2024.
What Is Dependency and Indemnity Compensation (DIC)?
Dependency and Indemnity Compensation (DIC) is a tax-free, monthly benefit VA pays to surviving dependents of a veteran whose death was caused by their military service or a service-connected condition.
Surviving dependents eligible for benefits include a veteran's spouse, children, and/or sometimes parents.  It is important to note that DIC has its own exclusive rates and is separate from standard VA disability compensation.
To qualify for Department of Veterans Affairs (VA) DIC benefits, both the veteran (or servicemember) and the surviving dependent must meet certain qualifying criteria.
DIC Criteria for Veterans
One of the following must be true for the veteran or servicemember to qualify for DIC:
The servicemember died while on active duty, active-duty training, or inactive-duty training; or
The veteran passed away due to a service-connected condition; or
The veteran's death was not service-related, but was entitled to receive VA disability compensation for a 100 percent disabling condition (or TDIU):

For a period of at least 10 years prior to death; or
Since release from active duty and for a period of at least five years prior to the veteran's death; or
For at least one year before death if the veteran was a former prisoner of war who died after September 30, 1999.
DIC Criteria for Surviving Spouses
VA has specific eligibility criteria for surviving spouses, which require that they:
Were married to the veteran for at least one year prior to the veteran's death; or
Had a child with the veteran; lived with the veteran continuously until the time of their death; and were not separated from the veteran or, if separated, were not responsible for the separation.
DIC Criteria for Dependent Children
Dependent children must be unmarried and meet certain other criteria to receive Dependency and Indemnity Compensation benefits.  These qualifications are very similar to those for dependent benefits, which require that the dependent child:
Is under the age of 18; or
Is between the ages of 18 and 23 and attending a VA approved school; or
Was considered permanently incapacitated before turning 18.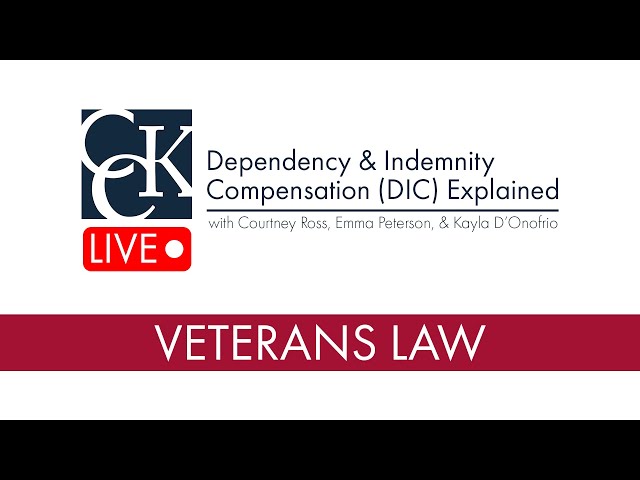 What Are the DIC Rates for 2024?
Every year, the Social Security Administration (SSA) determines an updated cost-of-living adjustment (COLA) based on the percentage increase in the Consumer Price Index for Urban Wage Earnings and Clerical Workers (CPI-W).
Following this, the Senate passes new legislation to allow a COLA increase for veterans' benefits.  VA then adjusts veterans' monthly compensation to reflect the updated cost of living.  This typically leads to an increase in VA disability benefits.
Although DIC has its own exclusive rates, DIC benefits also tend to increase annually with the COLA rates.  In 2023, DIC rates increased by 8.7 percent to a monthly $1,562.74.
Based on the 2024 COLA increase of 3.2 percent, the 2024 DIC rate is $1.612.74.  Importantly, dependents may also be eligible for added monthly compensation based on certain criteria.
Calculating Your 2024 DIC Payment Rate
As mentioned above, if you are the surviving spouse of a veteran, your monthly DIC rate would start at $1.612.74.  However, there are circumstances where DIC benefits may exceed this amount:
8-year provision: VA provides an 8-year provision for surviving spouses of totally disabled veterans (including those eligible for TDIU).  If the late veteran had a 100 percent disability rating for at least eight years leading up to their death and the surviving spouse was married to the veteran for those same eight years.
Aid and Attendance (A&A): Surviving spouses who qualify for A&A can receive additional compensation.
Housebound allowance: Surviving spouses who are confined to their homes due to a disability.
Dependent children: Surviving spouses with one or more dependent children under age 18.
Transitional benefit: Surviving spouses with one or more children under age 18 are also eligible.
For more information about 2024 VA pay rates, view our 2024 VA disability pay rates blog.
How to Apply for DIC
To file a new claim for DIC benefits, surviving dependents should use VA Form 21P-534EZ, the Application of DIC, Death Pension, and/or Accrued Benefits.
In addition to this form, claimants should also submit evidence, such as the veteran's death certificate, marriage certificate (if applicable), and any divorce decrees from prior marriages.
Evidence relating to dependent children must also be submitted, such as birth certificates and school or college transcripts. Submitting these documents with your application can help expedite the VA decision process.
Was Your DIC Claim Denied?
If your claim for Dependency and Indemnity Compensation was denied, Chisholm Chisholm & Kilpatrick LTD may be able to help.  Our team of accredited veterans' advocates have decades of demonstrated success representing surviving dependents in overturning VA benefit denials.
Call CCK today at 800-544-9144 to schedule a free case evaluation with a member of our team.
About the Author