Veterans Law
Top 5 Issues for Veterans Affairs (VA) in 2020
1. VA's Caregiver Program Expansion to Pre-9/11 Veterans
The VA Mission Act launched back in June 2019 had a provision that expands caregiver assistance to more veterans.  The Caregiver Assistance Program provides caregivers of disabled veterans with monthly compensation, medical training, healthcare benefits, and respite.  Currently, the program is limited to veterans who served from September 11, 2001 onward.  The Caregiver Expansion intends to expand caregiver benefits to veterans who served prior to September 11, 2001.  VA decided that the expansion of benefits to include eligible veterans from all eras of service would be implemented over the course of several years, mainly in two phases:
Phase 1: caregiver benefits will first become available to veterans who were injured on or before May 7, 1975
Phase 2: the further expansion of caregiver benefits to include veterans injured between 1975 and 2001 will occur two years later
In regards to Phase 1, VA's deadline was October of 2019; however, VA missed this deadline.  VA has since announced the issue with meeting the deadline was due to IT/technology-related problems.  Now, VA intends to implement the first phase of expansion in the summer of 2020. While VA has been working on this for a while as part of the Mission Act in an effort to increase and expand access to healthcare, it is not something that has been completed yet.
It is important to note that historically, VA has experienced issues with the Caregivers Program in general.  Specifically, there was an Office of Inspector General (OIG) Report that identified numerous inadequacies and inefficiencies in the implementation of the program.  The OIG noticed that some caregivers were given stipends and funds to which they were not actually entitled.  There were also other issues with the removal of some caregivers who were no longer eligible to receive funds.  As a result, there were funds expended to people that should not have been paid, which was very problematic.  It is unclear if such issues will continue going forward, but VA has since taken steps to improve the program and offer solutions.
2. Class Action Lawsuits Against VA at the CAVC
The Court of Appeals for Veterans Claims (CAVC) is a separate entity that has been reviewing VA's decisions for the past 30 years.  However, up until last summer, there was no opportunity for veterans to pursue a class-action lawsuit.  This means that veterans were only allowed to file appeals for themselves and could not file an appeal along with other similarly situated veterans.  Last summer, the CAVC issued Monk v. Wilkie (2018), which changed this longstanding rule.  In Monk, a veteran tried to bring a class action despite the fact the Court had never heard one before.  Initially, the Court stated that it did not have the authority to see a class action, but that was later reversed by the Federal Circuit.  Now, the Court is gradually setting up procedures regarding how to allow veterans who have similar issues with VA to pursue a class action rather than an individual appeal.
In June 2019, the Court certified its first class-action case: Godsey v. Wilkie.  This class included veterans who had been waiting more than 18 months for VA to advance their appeals on the Board's docket.  They argued that this step of the VA appeals process takes so long that it violates their constitutional right to due process.  Here, the Court found that unreasonable delays are in fact a constitutional issue that deprives veterans of due process.  Since that case, the CAVC has certified two other class actions: (1) Wolfe v. Wilkie – dealing with emergency medical care at non-VA medical centers; and (2) Scar v. Wilkie – dealing with ionizing radiation exposure.  When thinking about whether to pursue an individual appeal versus a class action, you should consider whether your situation is something that thousands of different veterans could have potentially experienced also.  Furthermore, you should think about how much time you want to spend demonstrating that class certification is appropriate as this adds another level of pleading and litigation to the appeals process.
Implications for the Future Where Veterans Can Sue VA as a Class
Implications for the future may include how class actions interact with the new appeals system (i.e., Appeals Modernization Act).  The Appeals Modernization Act (AMA) might actually open up more opportunities for class actions as veterans experience jurisdictional and procedural issues as VA is implementing all of these new regulations.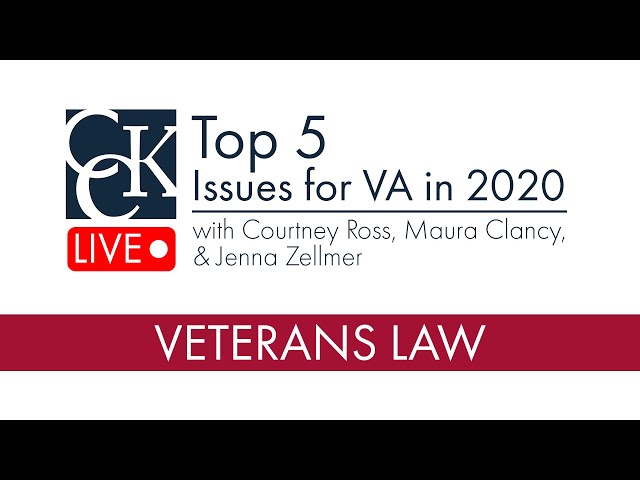 3. Blue Water Navy Claims: What Will Change
Recently, Congress passed the Blue Water Navy Vietnam Veterans Act of 2019, but VA Secretary Wilkie then issued a stay until January 1, 2020.  As of January 1, 2020, VA will have to start adjudicating all of the stayed Blue Water claims and appeals and is likely to receive an influx of new claims from Blue Water veterans.  The new law expanded the presumption of exposure to Agent Orange and other herbicides to veterans who served within 12 nautical miles seaward of the demarcation line of Vietnam.  Previously, this presumption was only provided for veterans who served boots-on-the-ground in Vietnam, or in the inland waterways (i.e., "Brown Water" veterans).  VA has stated that the number of people that may be eligible for these benefits now could be upwards of 400,000 veterans.  However, it is at least 77,000 veterans at a minimum.  In October 2019, VA sent out letters to 77,000 veterans who had claims for Agent Orange-related conditions that were previously denied and who may now be eligible for benefits.
One thing to keep in mind is that if you have previously filed for a presumptive condition and received a denial, VA has taken the position that it is not going to automatically readjudicate it.  Therefore, you must file a supplemental claim for that condition.  Importantly, it is likely that VA will assign an effective date that is consistent with the original claim that was filed.  On the other hand, if you have never filed a claim for that condition before and you now want to file under the new presumption, you must submit an initial claim form (i.e., VA Form 21-526 EZ).
How Blue Water Claims Will Be Adjudicated
VA has indicated it is developing a tool that will figure out where veterans served at different points in time and whether they were within the 12 nautical miles.  There will likely be room for interpretation as to how VA reached those determinations.  Interestingly, there was a period of time between the passage of the new law and the issued stay in which VA granted a number of Blue Water cases.  Therefore, veterans and advocates will be looking to see if there is any similarity between those pre- and post- stay decisions.
4. New Agent Orange Presumptive Conditions: Bladder Cancer, Hypothyroidism, Parkinson's-Like Symptoms
The Blue Water Navy Act relates to expanding the presumption of herbicides, but there are also several new conditions that VA is considering adding to its list of presumptive conditions associated with herbicide exposure.  This issue stems from a 2016 report from the National Academy of Sciences that stated there is limited or suggestive evidence of an association between bladder cancer, hypothyroidism, and Parkinson's-like symptoms and herbicide exposure.  The limited or suggestive evidence is powerful considering VA's benefit of the doubt standard and the "at least as likely as not" standard of proof that VA uses.  As such, that "limited or suggestive evidence" should have been enough to make VA add these conditions to the presumptive list or at least take some affirmative steps in doing so.  If added to the presumptive list, veterans who have been exposed to herbicides and later develop one of these three conditions should not have to provide a nexus linking it to service.  Instead, VA should be presuming it is due to exposure during service.
Why Has VA Not Added These Conditions?
 However, there has been no progress, but rather a multi-year delay in this process.  In March 2019, VA issued a report stating it would take action within 90 days, but veterans have not seen any changes.  Importantly, these are conditions that, if added to the list, are going to enable veterans to prove their service connection claims with less difficulty.  There are at least 83,000 veterans that are affected by at least one of those conditions, yet VA has not added them to the presumptive list.  Furthermore, VA has yet to add hypertension to its list of presumptive conditions.  In 2018, there was a report stating there is sufficient evidence that hypertension can arise from herbicide exposure.  Some of the reasons for the delay that have been cited by VA include budgetary concerns.  Adding these conditions to the list is definitely going to be very costly for VA, but that does not override the fact that these conditions are associated with herbicide exposure and therefore should be added to the list as a matter of policy.
In December 2019, a bill was released that ordered VA to explain (1) why there has been such a delay in acting on these issues; and (2) what kind of cost is going to be involved in the addition of these new conditions to the presumptive list.  It is still unclear when VA will take action; however, it is supposed to move forward within 30 days of when that bill was issued.
5. Eliminating Remaining VA Disability Legacy Appeals
In February 2019, the Appeals Modernization Act (AMA) went into effect.  There is currently still a majority of appeals pending in the old, Legacy appeals system.  VA has been trying to work its way through the Legacy system, so it can have the majority of appeals in AMA and shift its focus towards that.  In order to do that, VA stated it is aiming to eliminate all non-remand Legacy appeals (about 132,000 appeals) within the next nine months.  If you are a veteran and you filed a Notice of Disagreement or VA Form 9 in the Legacy system, VA has indicated it will be prioritizing those cases in the next nine months.  After VA gets through that backlog of Legacy appeals, it will then turn to remanded Legacy appeals.  The goal here is to get the Veterans Benefits Administration's output to be the same as the Board of Veterans' Appeals output.
VA has stated that as of November 2019, its claims backlog is the lowest that it has ever been.  Here, it is important to distinguish the claims backlog from the appeals backlog:
Claims backlog – the number of claims that are sitting and waiting for first adjudication
Appeals backlog – refers to when a decision has been made and an appeal has been filed
The average wait time to receive a decision on a claim is around 107 days.  Initially when AMA was rolled out, VA's goal was to issue decisions within 125 days.  Therefore, it is currently exceeding its goal in regard to processing speed.  However, there are still quality concerns related to the decisions.
Importantly, the Board has made 11 percent more decisions this year (2019) than the previous year (2018).  Specifically, the Board made 95,000 decisions and it held hearings in over 22,000 cases (38 percent increase from 2018).  While 95,000 decisions from the Board is significant, this was done in a year's timeframe.  It is important to keep this in mind when considering VA's mission to adjudicate 132,000 pending Legacy appeals in only nine months.
About the Author