VA News
VA Releases 2014-2018 Burn Pit Registry Data
What are Burn Pits?
Burn pits were large areas of land in which the United States military and its contractors burned waste generated by military bases in Southwest Asia and Djibouti during the post-9/11 conflicts.  Specifically, open-air burn pits were used throughout the majority of all operations in Iraq and Afghanistan, as well as in Djibouti on the Horn of Africa, between approximately 2001 and 2010.  However, some bases are still utilizing burn pits today.  Due to the burn pits' size and proximity to military bases, it is likely that many veterans stationed at these bases were exposed to the toxic smoke billowing from the fires.  The largest burn pit was located at Joint Base Balad, spanning over 25 acres of land and burning up to several hundred tons of waste per day.  Essentially all waste generated from military bases were added to burn pits.  Some of the materials burned included, but were not limited: plastics, medical and human waste, chemicals such as paints and solvents, rubber, metal and aluminum cans, weapons and munitions, Styrofoam, tires, batteries, and pesticides.  Military personnel and contractors used jet fuel to speed the burning of these materials, adding to the harmful chemicals emitted.
About the Burn Pit Registry
On January 10, 2013, Public Law 112-260 was enacted requiring VA to establish an open burn pit registry.  In response, the Veterans Health Administration (VHA) established the Airborne Hazards and Open Burn Pit Registry – an online database for veterans and servicemembers "to document their exposures and report health outcomes."  Included in the registry are exposure to burn pits, oil well fires, and general pollutions such as sand, dust, and other airborne particles.  Registry participation is open to any veteran or active-duty servicemember who served in the Southwest Asia theater of operations after August 2, 1990, or in Afghanistan or Djibouti, Africa, after September 11, 2001.  Eligible individuals can join the registry by completing an online self-assessment questionnaire, designed to give providers a broad picture of the participant's health, and current and past exposures.  Participation in the registry is free and is not required in order to receive either VA healthcare or VA disability benefits.
VA uses the data that veterans and servicemembers provide in the registry to analyze and report on health conditions that could be related to the various environmental exposures encountered during deployment.  VA also uses the information to develop methods to better provide healthcare to veterans who were exposed during deployment, and to better address claims for disability benefits for these conditions.  Following completion of the questionnaire, participants are encouraged to participate in a free medical evaluation.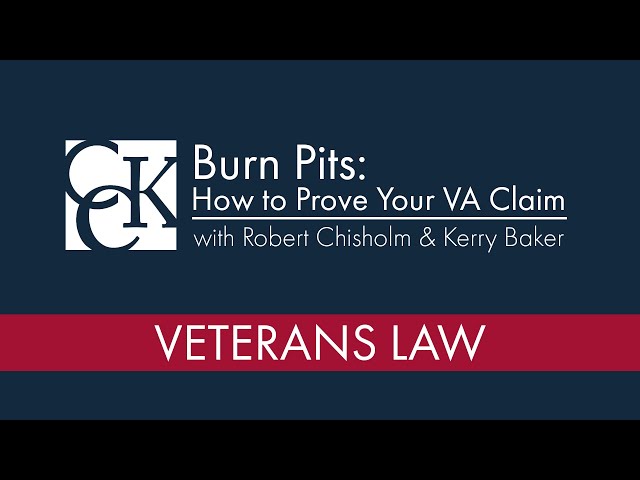 Data and Statistics from the Registry
VA released self-reported information from 164,295 veterans and active-duty servicemembers in the registry collected between June 2014 and December 2018.  In its report, VA released the following data and statistics based on veterans' and servicemembers' self-reported information:
Burn Pit Registry Facts
157,107 (93.6%) reported a burn pit exposure during deployment
100,352 (59.9%) reported duties involving burn pits
90,211 (53.7%) are interested in seeing a health care provider
114,954 (70.4%) were close enough to feel the blast of an improvised explosive device (IED)
63,378 (39%) report ever smoking
14,048 (8.5%) are Gulf War I veterans
55,801 (34%) saw a health care provider during their deployment for respiratory symptoms due to air quality
About 106,000 (64%) of those in the registry are veterans (retired or separated from service)
About 59,000 of those in the registry are currently in the service (active duty, Reserve or National Guard)
Most Concerning Self-Reported Burn Pit Exposure
VA compiled the following data regarding participants' most concerning self-reported exposures on health:
On-base air pollution during deployment (burning fuel, burn pits) (Deployment only) – 113,685 respondents (69%)
Off-base air pollution during deployment (factories, cars, burning trash, dust) (Deployment only) – 33,531 respondents (20%)
Don't know/unknown – 13,433 respondents (8%)
Military jobs while not deployed (Non-deployment only) – 1,860 respondents (1.1%)
Smoking (by participants or those near them) (Either deployment or non-deployment) – 968 respondents (0.6%)
Prefer not to answer – 572 respondents (0.3%)
Hobbies and non-military jobs (Non-deployment only) – 246 respondents (0.1%)
Most Common Self-Reported Respiratory and Cardiac Conditions
In regards to the most common self-reported respiratory and cardiac conditions, the registry found that 40 percent of participants listed allergies and another 37 percent listed hypertension.  While these two conditions were reported at higher rates, other conditions such as asthma and chronic obstructive pulmonary disease (COPD) were reported as well.
About the Author