Veterans Law
AFGE Letter Addresses Hiring Practices at Board of Veterans' Appeals
On December 1, 2022, the American Federation of Government Employees (AFGE) directed a letter to Congress addressing the "troubling hiring practices" for Veterans Law Judges (VLJs) at the Board of Veterans' Appeals (BVA).
According to the letter, these hiring practices are negatively affecting the quality and productivity of the Board and "destroying employee morale."  The AFGE also emphasized that these issues must be swiftly addressed as Board decisions are critical to veterans in need of disability benefits.
Purpose of AFGE's Letter
The American Federation of Government Employees, or AFGE, is an American labor union representing around 700,000 employees of the federal government.  As mentioned above, the AFGE sent a letter to Congress asking for assistance in resolving the hiring issues at the BVA.
Essentially, the AFGE is seeking to ensure fairer hiring practices, more timely decisions from the Board, and an overall improved experience for veterans.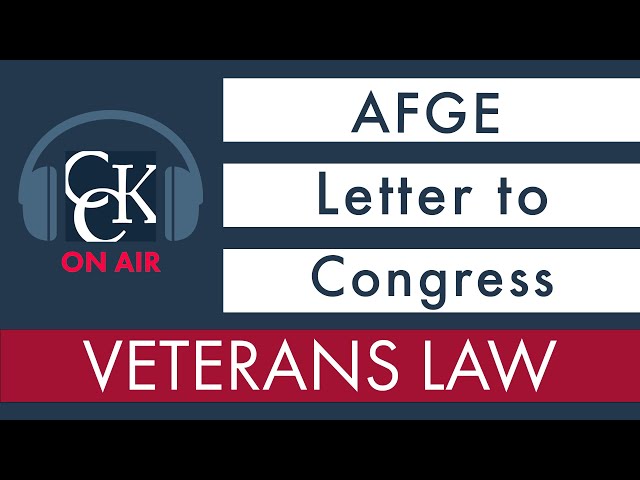 Issues With VLJ Hiring Practices
Veterans Law Judges (VLJs) are the adjudicators at the Board of Veterans' Appeals (i.e., the appellate body of VA).  If a veteran appeals a decision from a Regional Office (RO), their appeal will be reviewed by a VLJ.  Furthermore, Veterans Law Judges have the ability to reverse or remand decisions issued by an RO.
It is important to note that the BVA is led by a Board Chair who oversees the Veterans Law Judges.  At present, the Board Chair manages a team of approximately 1,200 personnel including Veterans Law Judges, attorneys, and operations and administrative professionals.
Considering these specific roles at the Board, the AFGE highlighted the following hiring issues:
Inexperienced Veterans Law Judges
For decades, VLJ applicants were required to possess at least seven years of experience in Veterans Law.  This is because Veterans Law Judges must apply complex, esoteric VA law and regulations to make decisions on veterans' claims.
However, in February 2020, this seven-year requirement was suddenly eliminated from VLJ hiring criteria.  Now, Veterans Law Judges can be appointed without any Veterans Law experience.  As a result, more than 85 percent of recently hired VLJs have arrived at the Board with no experience whatsoever.
Reduced Board Productivity
These inexperienced VLJs have drastically slowed down the Board process.  For example, from October 2021 to June 2022, thirteen inexperienced VLJs issued about one to six decisions per week.  In contrast, experienced VLJs issue about 13 to 26 decisions per week.
Based on these figures, the inexperienced VLJs will likely issue approximately 3,432 decisions compared to their experienced counterparts who will issue approximately 14,872 decisions.  This is a staggering difference of over 11,000 decisions, which represents more than 10 percent of the BVA's annual output.
On-The-Job VLJ Training
Due to the influx of unqualified VLJs, experienced VLJs are being forced to train the new inexperienced judges.  In addition, BVA attorneys are being asked to train their own supervisors, conflicting with the Board's longstanding policy that VLJs must train and mentor attorneys.  This on-the-job training further reduces the quality and quantity of Board decisions.
Demoralized Board Attorneys and VLJs
According to the AFGE letter, the practice of hiring inexperienced VLJs has demoralized attorneys at the Board who have spent years studying and practicing VA law.  This has led to some attorneys choosing to retire earlier than expected, affecting the Board's ability to retain quality employees.
In an August 2021 survey of more than 200 Board attorneys, 74 percent indicated that the hiring of inexperienced VLJs has discouraged their hopes of being promoted to that position.  Furthermore, many attorneys have reached out directly to AFGE to express their outrage at their "inability to compete for a VLJ position despite their superior qualifications."
Experienced VLJs at the Board also feel demoralized by the situation.  In fact, the Board's hiring practices prompted a group of these VLJs to write their own letter to law firm Chisholm Chisholm & Kilpatrick highlighting these issues.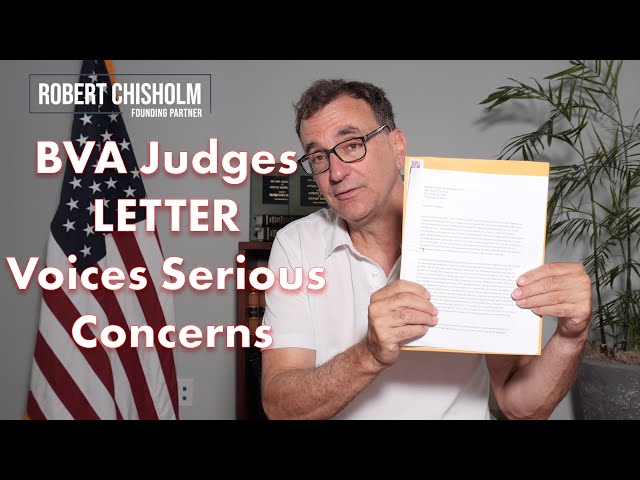 What Does This Mean for Veterans?
Ultimately, veterans are the most negatively impacted by these practices.  Inexperienced judges without proper training will continue to issue fewer decisions, meaning veterans will be forced to wait even longer for the hard-earned VA benefits on which they and their families depend.  Moreover, this will only perpetuate the already massive backlog of appeals at the Board.
Chisholm Chisholm & Kilpatrick offers free consultations to veterans who need assistance with a VA claim or appeal.  Reach out to CCK to learn more.
About the Author