Veterans Law
Board of Veterans' Appeals Docket Delays and Backlog
The Board of Veterans' Appeals (BVA) continues to experience a massive backlog of appeals, due in part to factors such as COVID-19, mail delays, issues with C&P exams, and more.  In particular, the Board has been increasingly slow to process appeals in the Legacy system.
As of February 27, 2022, there are a total of 200,235 appeals pending at the Board of Veterans' Appeals.  Of these appeals, 79,845 are pending in the Legacy system.  Legacy appeals are those filed prior to the implementation of the Appeals Modernization Act (AMA) in February 2019.  The remaining 120,390 appeals are pending in the AMA system.
The Board's goal for Fiscal Year 2022 is to dispatch 111,500 decisions.  However, as of February 27, 2022, only 34,673 appeals have been processed for this fiscal year across both Legacy and AMA systems.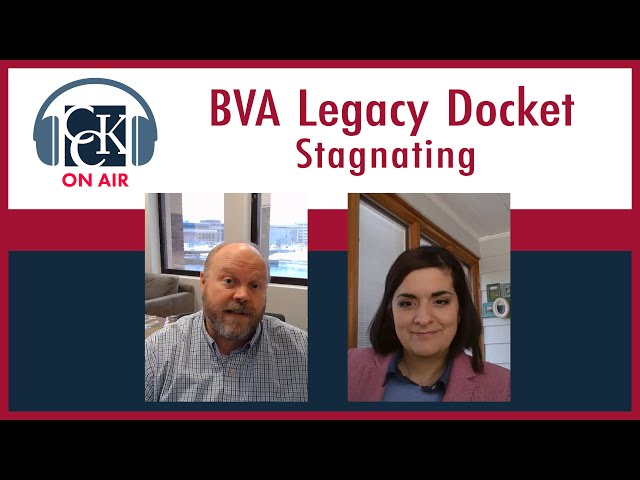 Delays in Processing Legacy Appeals
During the first week of August 2020, it was reported that the Board was working on appeals with docket dates up to July 2019, due to a large volume of incoming Legacy cases.  This is significant, as the docket date had been April 2019 only the week prior.  Importantly, this date applied only to the working docket and did not include hearings.
Currently, the Legacy docket decision date stands at August 2019.  This marks approximately 18 months of next to no movement in the Board's processing of Legacy appeals.
How Has BVA Responded?
The Board has claimed that delays in AMA appeal decisions are due to the prioritization of Legacy appeals.  However, despite these assertions, the Legacy docket date has remained virtually stagnant since August of 2020.  These ongoing delays are the result of several factors.
First, the Board is focused on returning cases that have been remanded by the Court of Appeals for Veterans Claims (CAVC), as well as on appeals in which a hearing has been requested.
The hiring of additional, sometimes inexperienced, Veterans Law Judges and attorneys has further slowed the Board's decision-making process.
Issues with the Board's "algorithm" may be another reason for the backlog. The system was designed to release 20 percent of AMA appeals for decision per week.  However, some cases are operating outside of this system, including cases involving attorney fees.
What Can Veterans Do About These BVA Delays?
As these delays continue, hundreds of thousands of veterans are left without access to rightfully earned benefits on which they depend to support themselves and their families.  Unfortunately, there are no real courses of action directly related to this backlog that most veterans can take to have their Board appeal decided faster.
In some instances, veterans can advance their case on the Board's docket if they are terminally ill, age 75 or older, facing severe financial hardship (e.g., being evicted or foreclosed upon), have faced a natural disaster, or meet the criteria for another qualifying circumstance.
CCK Can Help with Your BVA Appeal
The dedicated advocates at Chisholm Chisholm & Kilpatrick continues to monitor the situation at the BVA and maintains a backlog tracker for veterans to use.  If you require assistance appealing a decision from VA at the Board of Veterans' Appeals, or appealing a Board decision at the CAVC, contact the skilled team at CCK today.
We offer complimentary consultations to determine if we can help with your appeal.