Veterans Law
Additional Benefits for 100% Disabled Veterans
What is a 100% VA Disability Rating?
VA assigns disability ratings to veterans with service-connected conditions.  A disability rating is based on how severe the veteran's condition is and how the disability impairs their earning capacity.  VA disability ratings range from 0 to 100 percent using VA's Schedule for Rating Disabilities (VASRD).  When a veteran has multiple service-connected conditions, each will have  its own disability rating, VA combines them together using "VA Math." Importantly, a veteran's combined disability rating determines the amount of monthly compensation they will receive.
As mentioned above, VA will assign a disability rating based on the severity of a service-connected condition.  100 percent is the highest possible schedular disability rating there is.  There are two ways in which a veteran may be assigned a 100 percent schedular disability rating.  Either the veteran has one service-connected condition that meets the 100 percent rating criteria specified for that condition, or the veteran has multiple service-connected conditions whose individual disability ratings combine to 100 percent. 100 percent disabled veterans may be entitled to additional benefits as well (see below).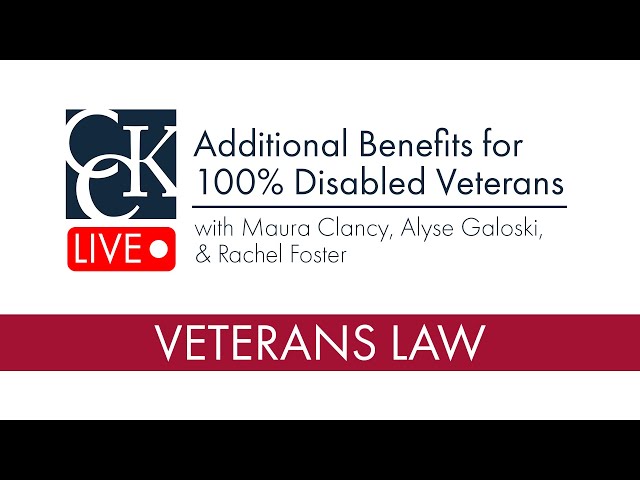 Total Disability Based on Individual Unemployability (TDIU) 100% Benefits
Total disability based on individual unemployability (TDIU) represents another way in which veterans can be compensated at the 100 percent level.  Essentially, if veterans are able to prove that they are unable to secure and maintain substantially gainful employment as a result of their service-connected conditions, they may qualify for TDIU benefits.  Again, TDIU pays the same monthly compensation rate as a 100% VA disability rating, which as of December 2022 is $3,621.95.
VA outlines TDIU regulations under 38 CFR § 4.16, which encompasses subsections (a) and (b).  Each subsection sets forth the standard by which veterans may meet the requirements for TDIU.  In order to qualify for TDIU under 38 CFR § 4.16(a), veterans must have:
One service-connected condition rated at 60% or higher; or
Two or more service-connected conditions, one of which is rated at least 40% disabling, with a combined rating of at least 70%.
Those who do not meet the schedular requirements under 38 CFR § 4.16(a) may still be considered for TDIU under § 4.16(b).  under this subsection, VA must refer your entitlement to TDIU to the Director of Compensation Service for extraschedular consideration.  From there, the VA adjudicators will approve or deny veterans' TDIU claims on an extraschedular basis.
Permanent and Total (P&T) VA Disability Ratings
Importantly, some of the benefits that are available for disabled veterans who are totally disabled (i.e., 100% rating), are conditioned on the veteran having permanent and total (P&T) status.  VA deems a disability "permanent" when it is reasonably certain, based on medical evidence, that the level of impairment will continue for the rest of the veteran's life.  VA should automatically consider whether a veteran's condition qualifies for permanent status when adjudicating their claim.
If VA has awarded P&T status for TDIU or the veteran's condition it will most likely be indicated in the decision letter.  On some Rating Decisions, there is a P&T box that will be checked if the veteran's 100% disability is permanent.  On others, there may be language like "Eligibility to Dependents Chapter 35 DEA / CHAMPVA are established" or "no future exams are scheduled" – both of which indicate permanence.  The exact language may vary with different VA Regional Offices.
Priority Group 1 for Health Care
When you apply for VA health care, VA will assign you to 1 of 8 priority groups.  These priority groups are based on the following:
Your military service history;
Your VA disability rating;
Your income level;
Whether you qualify for Medicaid; and
Other benefits you may be receiving (e.g., VA pension benefits)
Veterans with service-connected disabilities are given the highest priority.  Importantly, veterans with a 100 percent VA disability rating meet the eligibility requirements for Health Care Priority Group 1.  This group includes the following benefits:
Preventive care
Inpatient (hospitalization) services
Ancillary services
Mental health care
Geriatrics and extended care
Medical equipment/prosthetic items and aids
Medications/supplies
Dental care
Nursing home placement
Medically related travel benefits
Eyeglasses
Hearing aids
Automotive adaptive equipment (under certain conditions)
Home improvement and structural alteration grants (under certain conditions)
Clothing allowance benefits (under certain conditions)
Dependents' health care (if not eligible under TRICARE)
Emergency care at a non-VA facility (under certain conditions)
Foreign medical care (for service-connected and secondary conditions)
Emergency Care Outside of VA for 100% Disabled Veterans
Veterans in the Priority 1 Group described above that have a P&T disability rating are entitled to emergency care outside of the Veterans Health Administration for any disability.  Such emergency care is at VA's expense.  Veterans must simply show that VA was not reasonably available to provide the care that they needed at the time.
Dental Care Benefits for 100 Percent Disabled Veterans
If you qualify for VA dental care benefits (i.e., you have a 100 percent schedular disability rating or receive TDIU benefits), you may be able to get some or all of your dental care through VA.  The eligibility for outpatient dental care is somewhat different from the eligibility requirements for most other VA medical benefits.  Specifically, eligibility for VA dental care is categorized into classes.  The class you are in determines the benefits you will receive.
Veterans with 100 percent disability ratings are categorized into Class IV.  Importantly, these veterans are eligible for any needed dental care, such as scheduled cleanings and X-rays.  It also includes restorative procedures such as fillings, crowns, bridges, dentures.  Any oral surgeries that you might require, such as tooth extractions, root canals, and reconstructive surgeries due to trauma or serious illness are covered as well.  However, these dental benefits are not afforded to those veterans with only a temporary total rating.
Vision Care and Hearing Aid Veterans Benefits: 100% Rating not Required
For vision care and hearing aid benefits, veterans do not actually need a total disability rating.  All veterans with any compensable disability rating qualify for vision care and hearing aids.  Vision care includes routine eye exams, preventive testing (e.g., glaucoma testing, cost of eyeglasses).
Civilian Health and Medical Programs of the Department of Veterans Affairs (CHAMPVA)
The Civilian Health and Medical Programs of the Department of Veterans Affairs (CHAMPVA) is a health care program in which VA will share the cost of certain covered healthcare services that exist for the spouses and children of disabled veterans with 100 percent disability ratings.
This additional benefit is unique insofar as it is not just a benefit that is available to the veterans themselves.  Instead, it is also a benefit that they can use to the advantage of their family members.  Examples of covered healthcare services under CHAMPVA include ambulatory services, hospice treatment, certain inpatient and outpatient treatments or hospitalizations, family planning, medical services, and medical equipment costs.
Specially Adapted Housing Program Benefits: 100% Rating not Required
The Specially Adapted Housing (SAH) program offers grants to veterans with certain severe service-connected disabilities (which are typically rated 100 percent disabling).  The grants assist with building, remodeling, or purchasing an adapted home.  This can provide independent living that might not otherwise be possible.  The current maximum grant amount is $90,364.  Again, it must be used for the purpose of constructing or modifying a home to meet adaptive needs.  To be eligible for SAH grants, veterans must be entitled to disability compensation due to:
Loss or loss of use of both legs (i.e., unable to move around without the aid of braces, crutches, canes, or a wheelchair)
Blindness in both eyes, plus loss or loss of use of one leg
Loss or loss of use of one leg, and:

Residuals of organic disease or injury or
Loss or loss of use of one arm, affecting balance and ability to move without aid

Loss or loss of use of both arms at or above the elbows
Severe burn injury
Dependents Education Assistance Program
The Survivors' and Dependents' Educational Assistance (DEA) program offers education and training opportunities to eligible dependents of veterans who are permanently and totally (i.e., 100 percent) disabled due to a service-connected condition, currently receiving TDIU benefits, or who died while on active duty, or as a result of a service-connected condition.  DEA benefits may be used for degree and certificate programs, apprenticeship, and on-the-job training.  Dependents may receive up to 45 months of education benefits, if they began using the program before August 1, 2018.  If they began the program on or after August 1, 2018, they have 36 months to use the benefits.
Vocational and Rehabilitation and Employment (VR&E) Benefits for Veterans' Dependents
Eligible dependents can also pursue vocational rehabilitation and employment (VR&E) services.  This means that they can get career counseling, guidance on how to access various VA benefits, and personalized academic counseling.  If a veteran is entitled to DEA benefits (or if a veteran was entitled to DEA benefits at the time of their passing) it opens up dependents' eligibility for VR&E benefits as well.
Space-A Flights for 100 Percent Disabled Veterans
In 2018, Congress signed the John S. McCain National Defense Authorization Act, in which 100 percent disabled veterans became eligible for Space Available Travel (Space-A flights).  Veterans and their families can use Space-A flights to travel around the country and world at little to no cost.  To be eligible for Space-A flights, veterans must have a permanent and total service-connected condition.  These veterans must also obtain a DD Form 2765, "Department of Defense/Uniformed Services Identification and Privilege Card (TAN)".
The Space-A Program fills surplus capacity and seating on Department of Defense aircraft.  Disabled veterans are in priority group 6, meaning active duty service members on emergency leave, post-deployment respite, and other important transportation needs will have priority.  As such, disabled veterans should have a contingency plan in case of a scheduling change or sudden unavailability.  Nonetheless, the Space-A program offers 100 percent disabled veterans the chance to travel with ease.  Eligible veterans looking for flights should review schedules through Air Mobility Command (AMC).  Most AMC terminals, on military bases or at commercial airports, have a Facebook page that posts flight schedules and seat availability.  Once a flight and destination are selected, the veteran can register in person at the terminal, or by email/fax.
Commissary and Exchange Benefits for 100 Percent Disabled Veterans
100 percent disabled veterans can present their Veteran Health Identification Card to gain entry to Department of Defense (DoD) and Coast Guard installations, some commissary stores, and at the point of sale at commissaries, exchanges, and Morale, Welfare, and Recreation (MWR) retail activities to complete their transactions.  This allows veterans to access tax-free shopping and added discounts when shopping on-post.  Shopping at base commissaries for important food items can be a money-saving experience for veterans.  Some shoppers and military websites claim savings as high as 30 percent over civilian grocery chains.
Other State-Offered Benefits for Veterans with 100 Percent Disability Ratings
100 percent disabled veterans should also look into other state-offered benefits, such as those associated with property taxes and vehicle registration.  Veterans with 100 percent disability ratings may request a property tax waiver, although each state may have different qualification requirements.  Veterans may also qualify for free vehicle registration depending on where they live.