Video
Veterans' Benefits You May Not Know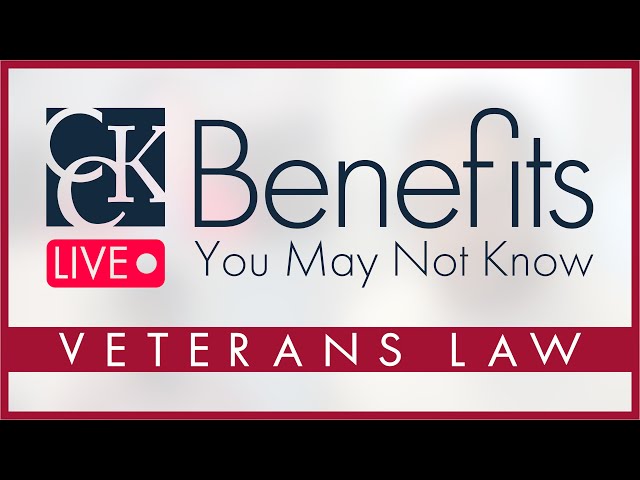 Video Transcription
Christian McTarnaghan:  Hi, everyone and welcome to another edition of CCK Live.  My name is Christian McTarnaghan and I'm joined by Michael Lostritto and Bethany Cooke.
And today, we want to talk to you about some additional benefits that you might not know about that you might be entitled to in addition to your monthly disability benefits at your percentage level of disability.
So, VA offers a variety of benefits and assistance programs to veterans of the U.S. military.  As I alluded to, some of them are compensation benefits, unemployability benefits, TDIU.  I think that we have a lot of information on our website about those types of disabilities.  But there are a number of lesser-known VA benefits that all veterans should be aware of, that can potentially provide additional support.
We're just going to sort of go through this one by one, some of them might take a little longer than others, and then we have a few tips heads at the end.  But Bethany, you want to take us away?
Bethany Cooke:  Sure.  The first one we're going to talk about is the death benefits that are available to veterans and their families.  We have some other Facebook live videos in which we talk about compensation benefits available to surviving dependents after a veteran passes away.  But there are a few other unique benefits that might be available as well.
The first benefit is veterans' burial and funeral costs.  It's possible to file for reimbursement if you are the person who paid those costs, and those forms are available on VA's website that you can use to file for those.
Additionally, it's possible to request a US flag to be draped over a veteran's casket, as well as a Presidential Memorial Certificate to honor the veteran's service.  There are a few other benefits available that you can request to honor a veteran besides the Presidential Memorial Certificate.  It's also possible to request and receive, for example, a grave, a headstone, a niche marker, as well as a government medallion.
Certain requirements have to be met to be eligible for all of these benefits. For example, if a veteran had a dishonorable discharge, then, unfortunately, none of these benefits are available.  But if the veteran does meet the eligibility requirements, you can get the information on how to apply for these benefits on VA's website.
It is important to know that a lot of these benefits are time-sensitive in terms of applying.  So, you want to make sure that you meet any deadlines, which is typically a certain time period after the veteran passes away, to request them.
Michael Lostritto:  Yeah, and Bethany, in addition to those benefits, another category of benefits that I think we're going to want to highlight here involves benefits for non-college degree programs, or certificates, or training.
Really, in addition to receiving credits that a veteran could use towards a college degree, there is a whole host of other non-college degree programs and certificates that the G.I. Bill makes available.
Some of these vocational training and certificate programs include things like HVAC repair, truck driving certificates, emergency medical training certificates, perhaps a veteran is interested in becoming a barber, or a hairstylist, those sorts of training and certificates are all provided within the G.I. Bill.
So, certainly something for a veteran who wants to receive some additional training and a certificate but doesn't want to go the college route may want to check into because those programs and certificates do exist.
Again, this benefit, I think, is really helpful for veterans who potentially want to change careers also.  I think these vocational programs and certificates are helpful for maybe veterans who started in one field and want to now pursue something slightly different.
Other non-college degree programs are available through what's known as the VET TEC Program.  The VET TEC or the Veteran Employment Through Technology Education Courses Program offers accelerated training in coding boot camps, something that's, I think, extremely popular now and probably will be continued into the future.  Or really, similar information science programs or software training programs that veterans can take advantage of.
Additionally, there are free IT certifications available to veterans.  And again, I think these are all just different paths and avenues that veterans can explore, benefits that they can explore, you know, should they choose to get additional training certificates or change career paths.
Christian: And I think it's really important to remember that in addition to, you know, the veteran taking advantage of some of the programs that you just talked about, Mike, there are also ways and also benefits for the dependents of veterans.  So, members of your family who are dependents, if you're eligible for dependents educational assistance, which is sometimes referred to as Chapter 35 Benefits, VA can approve special restorative training that would help the dependents of a veteran to overcome or lessen the effects of a physical or mental disability so they can work towards their educational training goal.
As everything in VA, and I know Bethany talked a little bit about, there are rules.  Eligibility has to be determined by a psychologist who, after looking and working with a vocational rehabilitation panel, can prescribe these restorative training courses, and they can help with speech and voice correction, language retention, lip reading, auditory training.  And also, VA can approve special vocational training to help dependents overcome a physical or mental disability.
I think that's really great about some of these benefits. I think the reason why we wanted to talk to everyone about it today is it's not just always for the veteran, it can also be for the veterans' dependents as well.
Bethany:  Yeah, and there's additionally financial aid available to both veterans and their dependents for schooling.  For example, there are educational scholarships available for dependents of disabled veterans.  There's a foundation called the Folds of Honor Foundation, which offers two educational scholarship programs for the dependents of disabled veterans.
The first scholarship, the Children's Fund Scholarship, serves K through 12 students, and the second scholarship, the Higher Education Scholarship, serves those seeking a first bachelor's degree or certification at a post-secondary institution.  Both of these scholarships are based on unmet need, meaning they're need-based.
When applying for them, you need to demonstrate your eligibility by submitting documentation by the awardee, showing that you do meet the need requirements.  These scholarships can be valued at up to $5,000 per dependent per school year.  And you can use the funds to cover a variety of things, including tuition, fees, books, room and board, uniforms, etc.
That's a need-based scholarship available to the veterans' dependents, but there's also financial aid available to veterans.  Recently, Student Loan Forgiveness became available to veterans.  There's a program called the Disabled Veteran Student Loan Forgiveness Program, which essentially discharges the federal student loan debt of qualified veterans.
To be eligible for the Student Loan Forgiveness, veterans do have to have either a 100% scheduler rating or a total disability rating based on individual unemployability, and be considered permanently and totally disabled for compensation purposes.
This is actually a pretty recent program.  I think it's been available to all veterans rated at 100% or in receipt of TDIU and permanent and totally disabled for the past couple of years.  But the Department of Education and the VA were reaching out to veterans who qualify directly.  But you can also fill out an application online if you're eligible in order to file for the student loan debts to be forgiven.
Michael:  Another non-compensation-related benefit that veterans should investigate involves VA pension benefits.  These benefits are monetary benefits, typically for veterans over the age of 65, typically income-driven.  These pensions are not specifically awarded to cover the cost of something such as an assisted living facility, but the funds can be used however the veteran sees fit.  They could be used to help veterans in advanced age with those sorts of costs and needs.
If the veteran isn't yet in an assisted living facility, the funds can be used for services like home care, aides, adult daycare facilities, anything like that that the veteran may need over a certain age.  And those funds can certainly be helpful for that purpose.
The basic pension is awarded, like I said, to veterans over the age of 65.  But it is stipulated upon financial or income-driven, I should say.  Basically, low-income thresholds are set, veterans must meet those special requirements, and if they do, then VA pension benefits can be available to them.
Aid and Attendance is another benefit that we deal with here.  We see in a lot of our veterans, what's known as a Special Monthly Compensation benefit, SMC benefit.  Aid and Attendance really can help cover the cost of daily living.  Perhaps, a veteran needs the aid and attendance of another person to regularly assist with activities of daily living.  This benefit can help with that cost.
These are benefits that are not automatically granted, they have to be applied for.  Veterans can contact either their VA Pension Management Center or the nearest VA Regional Benefit Center for assistance and instructions on where to file and mail an application for those benefits.
Veterans can apply in person or electronically.  Combined together, those two additional benefits really can be helpful for veterans who need some additional assistance, whether it be in an assisted-living facility-type setting or at home, and they need some basic aid and attendance.
Christian:  In addition to all these benefits we've been talking about, you also get help with preparing your taxes, which is something that we have to do every year.  Veterans and their families actually have access to free tax prep services through the Volunteer Income Tax Assistance offices on a military base.
That's a program where IRS-certified volunteers provide free basic income tax return preparation.  It can even help you electronically file if you are eligible to do that.  One of the benefits of using someone in this assistance office is that they understand some of the complicated nature of military-related tax issues.
Also, there are tax preparation services such as TurboTax that offer a free online IRS filing program if you're a disabled veteran with an adjusted gross income of $36,000 a year or less, or you qualify for the earned income tax credit.  That's definitely something veterans should take advantage of.
Bethany:  And another important benefits available to veterans and their families are a variety of life insurance options through the Servicemembers' and Veterans' Group Life Insurance Program.
This program offers a variety of life insurance options as well as competitive premium rates.  Some examples of the types of insurance available include the Servicemembers' Group Life Insurance, Family members' Servicemembers' Group Life Insurance Coverage, which provides coverage for a spouse and dependent children who rely on a veteran for financial support, as well as Traumatic Injury Protection, which offers short term financial support to help veterans recover from a severe injury.
There are a few others as well, not an exhaustive list, but there's also the Veterans' Group Life Insurance, which provides group life insurance after leaving the military service, as well as Service-Disabled Veterans Insurance, which provides coverage to veterans disabled because of an injury or illness caused or made worse by their active duty service.  In addition to the Veterans' Mortgage Life Insurance Program, which provides coverage to veterans with a severe service-connected disability for a home that has been adapted to meet their needs.
So, again, there are certain requirements that have to be met to be eligible for each of these life insurance options.  If you think any of this applies to you and you are interested, you can find information about the requirements and how to apply on VA's website.
Michael:  And finally, a few other kinds of miscellaneous benefits that I think are important to talk about here today involve both Commissary Privileges and disabled veteran preferences for federal jobs.
Starting with Commissary Privileges, these privileges are really available now for veterans to go in-person or online for any service-connected veterans, specifically with a rating of 0 to 100%, effective January 1st, 2020.  That can be very helpful for veterans who want to go and take advantage of those privileges.
The second kind of miscellaneous privilege or benefit, shall I say, that we want to talk about today, are preferences for disabled veterans when applying for federal jobs.
Veterans may be eligible to receive either what's known as a 0, 5, or a 10-point federal hiring preference in competitive appointments.  A veteran may apply to a federal position and receive a bit of a boost, either a 0, 5, or 10-point boost on the scale, the hiring scale, when applying to certain positions.
Veterans may also be considered for special noncompetitive appointments, which they are only allowed, you know, those privileges under eligible law. Those are things to look into if veterans are interested in working in some sort of federal capacity.
Finally, to kind of close it out, I think one thing that we want to mention also is just that, in addition to all of the benefits that we discussed today and other benefits that exist on a kind of a national, federal level, VA has a whole host, a variety of benefits offered to disabled veterans or even just veterans in general.
They really vary widely and they're different state by state, so I would really encourage any veteran that's interested to look up their own state rules and regulations and benefits that are offered, and see if there's anything that they can take advantage of.
Christian:  Great.  Thanks, Mike.  I think that's all we have for you today.  Thank you so much for joining us.
To learn more about these and other veterans' benefits, please be sure to check out our blog and our other YouTube videos.  Also, don't forget to subscribe to our channel so you get all the videos that you would want to watch on veterans' benefits and related issues.