Video
VA's 2023 Budget and Legislative Proposals: Veterans Affairs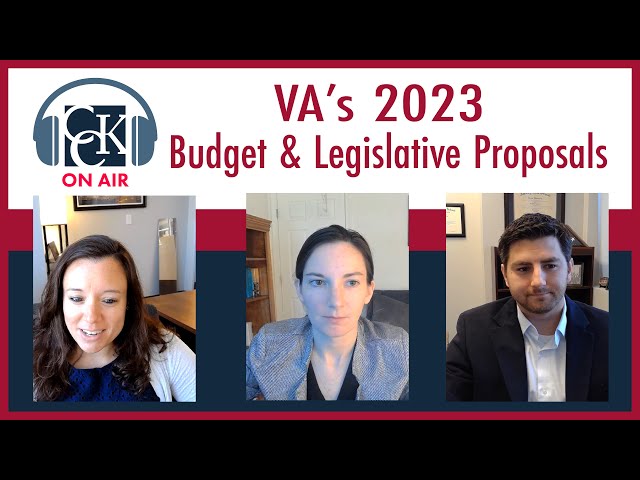 Video Transcription
Maura Black: Hello everyone. Thank you so much for joining us today for our CCK Live discussion. My name is Maura Black. I'm a managing attorney at Chisholm Chisholm and Kilpatrick. I'm joined today by Michael Lostritto, also a managing attorney at CCK, and Bethany Cook, an accredited claims agent at CCK.
Today, we're going to be discussing VA's 2023 budget and legislative proposals. It's that time of year again. Congress is trying to wrap it up for the summer, and so we have been tracking the progress of the budget and proposed spending initiatives for VA for the coming year. We've got a lot to cover. As you can imagine, we're not going to be able to get to every aspect of the budget, but we're going to do our best to hit the things that we see as the highlights.
I'll have Mike and Bethany covering most of the substantive topics from the budget. We will be tracking the progress of the budget too. Just to make everyone aware, this is just a proposed budget. So, the things that we're talking about today are still in a proposed state. They haven't been finalized yet. We'll be in touch with any relevant changes or anything down the road that would affect what we're discussing today.
So, again, thank you all for tuning in. Let's get started. I want to just kick off by giving some background to those of you who have not watched our recordings on this before or who are unfamiliar with this process. Each year the VA proposes a budget that outlines where it wants its funding to go and what its spending priorities are for the coming year. And although this budget, again, passed the house in March, it's still under review in the Senate. So, again, just emphasizing that these are all proposals as of this point.
The VA's total requested budget is $301.4 billion. I stumbled on that a little bit. That's a lot of money. But interestingly, it's about a $30 billion increase from the last proposed budget. So, about 11.3% higher than what VA had proposed last year.
And the primary ways in which VA plans to spend the budget include an overall effort to ensure that all Veterans, including women, veterans of color, and LGBTQ+ veterans, are provided with timely and quality health care services and benefits. And so, the budget will be used to, among other things, fully fund the largest integrated health care system that VA has ever had before; modernize VA's electronic health care record system; expand research and provide benefits related to toxic exposure; hire more claims processors; and strengthen VA's infrastructure through various construction projects, so, physical building projects; fund education assistance programs, offer veteran readiness and employment benefits; focus on certain groups such as caregivers and homeless veterans, who we will discuss later; and fund the national cemetery system.
That is our roadmap. Those are the items that we're going to try to hit today, at least in brief. And so Bethany, can you get us started with VA's proposals for spending surrounding toxic exposure research and presumptions?
Bethany Cook: Sure. So, one of the big things of the proposed budget addresses is the growing number of veterans suffering from burn pits and other toxic exposures, and the benefits that they deserve as a result of the disabilities they are getting from those exposures.
Recently, the Honoring our PACT Act of 2021 passed the House. This is a major bill. Its goal is to help an estimated 3.5 million veterans who are exposed to burn pits overseas since 1991 by establishing a list of 23 cancers and respiratory illnesses presumed to be linked to the poisonous smoke that was coming out of those burn pits.
This is not the only bill addressing toxic exposure. Some toxic exposure legislation passed both chambers last year, and there are also several other comprehensive bills addressing this issue that are still working their way through Congress. We're tracking all of those bills. We're hoping that as VA does more research and these bills move their way through, that more disabilities will get added to the presumptive list.
The proposed budget also increases resources within VPA for processing new presumptive disability compensation claims related to environmental exposures during military service, such as burn pits. It also invests $51 million in funding to support medical research related to military toxic exposures. The hope is that research will identify additional disabilities, specific disabilities that are at least as likely as not due to environmental exposures. And finally, the proposed budget is also establishing a new military exposures team with the goal of providing a dedicated focus and additional resources to issues related to military environmental exposure.
Maura: Great information. Thank you. This is definitely a pertinent topic. As Bethany mentioned, we have had numerous blog posts and videos about the toxic exposure progress that's being made at VA, whether it's through the establishment of new presumptions, which is good progress so that more veterans can get presumptive disability benefits, or just through the research initiatives that we know VA is taking to really delve into the particulate matter health effects and things of that nature. So, a very timely topic for sure.
Another one that we are constantly monitoring because it so significantly impacts the experience that veterans have with the claims and appeals process is any hiring efforts for claims processors and claims automation. So Mike, can you talk to us about that category?
Mike Lostritto: Sure. So, on the claims processor front the 2023 proposed budget includes almost $4 billion, $3.9 billion in discretionary funding for VBA's general operating expense account. And this is to allow the VA to hire an additional 379 claims processors, which is meant to support the growing demand and increased scope and complexity of veterans' claims, as well as to advance claims automation and modernization efforts.
This funding also supports 795 employees for processing claims related to the three new Gulf War presumptive conditions that VA implemented last year in 2021. In terms of automation, the proposed budget provides $120 billion to support automating the disability compensation claims process from initial submission through final authorization to keep up with the increasing number of veterans' claims.
Investments in automation are really intended at least to increase VA's ability to deliver what they claim to be faster and more accurate claims decisions for veterans. Hopefully, that will be the case if that, in fact, is passed. The proposed budget also includes $285 million for the Board. So, for BVA, the Board of Veterans' Appeals. This is an increase of $57 million from 2022, and the additional funding is intended to increase staff by approximately 256 employees and ultimately deliver hopefully more decisions in a timely manner.
Anyone who has appealed a case to the Board, particularly in AMA recently, understands all too well the delays that are occurring there at the Board. So, if this additional funding can improve that in some way, I think that would be a welcome change.
Maura: I feel like this is always a welcome line item because we do want VA to increase its staff because we know that timeliness is an issue across the Board at VA. So, hopefully, as you said, Mike, hopefully, the staffing changes and the increased budget to hire more full-time employees will have a direct effect on veterans' ability to get faster decisions. Only time will tell. I'm sure plenty of folks out there are listening to this and are not as hopeful. But this is what the goal is and these are pretty big numbers, I think spending-wise to support it. So, we are hoping that it results in a discernible difference in the experiences that veterans are having waiting for their claims and appeals to be decided.
The budget for 2023 is also going to increase resources for veterans' homelessness programs. About 2.7 billion has been earmarked for this. And the goal of this spending is to ensure that every veteran has permanent sustainable housing with access to health care and other supportive services to prevent homelessness. We know that VA already has some programs in place that deal with this, but it is definitely good to see the increased spending commitment to make this a thing of the past, hopefully someday, that VA is able to use its resources to eradicate the homelessness issue.
The spending that's been earmarked for 2023, in particular, will allow VA to hire 140 more social workers to assist homeless veterans in enrolling in health care, expands the veteran justice outreach program with approximately 440 staff, assists with the design and development of housing partnerships for aging veterans, and provide grant funds for special needs for transitional housing as well. And VA Secretary Denis McDonough has said that this particular spending increase will allow VA to put almost 40,000 homeless veterans into permanent housing by the end of this calendar year.
So, this is another thing that we're really hopeful the spending commitment will result in the type of improvement and meet the goal that the VA has on its radar, especially as it pertains to veteran homelessness issues. Bethany, sort of related, can you talk to us about the budget contemplation of health care expansion for veterans?
Bethany: Yeah, so this is a huge area. As we all know, there are a lot of problems within the VA's health care system that needs to be addressed. So, this topic, I'm gonna give a lot of specific statistics, but I think they're really important. But a quick background, VA officials have stated that the goal of this expansion and the general use of the proposed budget for the healthcare expansion is to aim their focus on world-class healthcare and enhance veterans' general wellbeing.
Some specifics, the budget is requesting prioritized investment in care for women veterans, ethnic minority veterans, and LGBTQ+ veterans populations that have been underserved by the health care system in the past. And they're also focusing on some key areas including mental health and suicide prevention, specialized care for women veterans, telehealth, opioid prevention, and treatment, as well as oncology research and treatment.
The proposed budget would fully fund the operation of the largest integrated health care system in the United States with over 9.2 million veterans enrolled. Some other things the proposed budget would specifically provide for, include 7.3 million unique patients to be treated by the VA. This will be a 0.6% increase from the estimate for 2022, as well as 148 million outpatient visits, which is a 7.98% increase from the estimate for 2022, as well as the mental health care programs. The proposed budget is indicating that $8.5 billion would go into the VA's mental health care programs, which would be up 15% from last year, as well as prosthetics care. VA has earmarked $4 billion for prosthetics care in that proposed budget.
And lastly, it proposes $1.8 million for caregivers' support stipends, which would be up 35%. So, big number, which is very much needed. The budget anticipated a significant increase in patient care costs as veterans resumed medical visits delayed or canceled by the pandemic over the last two years. That's why it's going up significantly across the Board. But besides that, VA is also planning to modernize its electronic health record system, they've already been trying to do this over the past year. The goal of that is to improve the quality of care. But VA needs more money to finish doing that, so the proposed budget would allocate $1.8 billion to do that.
As we all probably know, this has been an ongoing effort that has had a lot of issues coming up, it hasn't been as successful as VA hoped. So, that's why they are proposing a pretty significant increase in funds going toward it next year.
Maura: And Mike, sort of related to the health care topic is the VA's push to spend more and do more in terms of providing better quality mental health services for veterans. I think Bethany touched on this a little bit with some of the amounts that she was mentioning and the different ways that the healthcare type of spending that VA has set aside is going to go toward different types of services. But can you talk to us in a little bit more detail about VA's plans to improve mental health services in particular?
Mike: Absolutely. A really important topic. VA plans in its proposed budget to dedicate more than $13.9 billion, a big sum of money, for veterans' mental health services. This is an increase of 1.6 billion or approximately a 13% increase from the 2022 current estimate. They're really dedicating, at least in the proposed budget again, a significant increase in funding for this area. To break it down a little further, the request includes $497 million for suicide prevention programs, specifically. Suicide prevention in the VA world contains the Veterans Crisis Hotline service, suicide coordinators, and the cost of other efforts to improve awareness of the risk of suicide and improve the care to those veterans.
Additionally, beyond the mental health care services that the budget is going to fund, VA is intending to use some funding to update VA facilities. The proposed budget includes $3 billion for the construction and expansion of infrastructure and other facilities, such as VA medical centers and clinics, some of which will be in support of mental health services, and some will be for other services. But this funding supports seven major investments in new and replacement medical facilities and new or expanded cemeteries in three additional locations.
So, VA is dedicating a lot of money to both mental health services and to new and upgrading VA facilities. VA would make improvements and alterations to existing facilities as I said, but they really do look to expand health care services and capacities in other ways as well. So, there's a lot of money in this area that hopefully can go to improving much-needed services for mental health care.
Maura: Great. And I appreciate the update, Mike, as well about the $3 billion allocations for the construction and expansion of critical infrastructure and facilities like VA medical centers and clinics, as you had mentioned. That's a big deal. I think, nowadays, especially when we're seeing a lot more business and healthcare-type appointments being conducted in the remote setting. We know that a lot of veterans who prefer this approach do benefit from being able to be physically seen at the VA medical centers and collaborate with people in person. So, it's nice to see that this is something that VA wants to work on going forward, especially at a time when a lot of things are being outsourced so to speak to the remote setting.
An additional initiative that VA has set aside some money for as they do every year is for research. So each year, usually when we're talking about the budget, or just as long as the budget's been coming out, VA will identify a few major areas that they would like to spend their time researching with the funds that they have allocated in the coming year. I always find these to be particularly interesting. We have seen plenty of years have come and gone when VA has said that they're going to be researching things that have really been issues for a very long time.
I think this year, there's a good mix of timely things that the research will definitely serve well and is needed. And then there are some other things on this list that have been priorities for many, many years up until this point. So, we know that VA's research this year is intended to focus on the impacts of traumatic brain injury and toxic exposure. Bethany talked about exposure and we've talked about it many many times given its prevalence in the news and in our government today. But specifically, the research on TBI and long-term exposure effects will focus on long-term health outcomes that include burn pits, but also the more general particulate matter exposure that VA has referred to in its recent presumptions.
In addition, research will focus on Coronavirus or COVID-related research and impacts. I think this is an interesting one that a lot of different agencies will be focusing on but it is good to see it on VA's radar. Enhancing research through scientific computing, precision oncology, and diversity, equity, and inclusion or DE&I programs. And each of these areas of focus will receive between $8 million and $20 million in addition to the current funding that those areas have.
So, Bethany, one final one is and I mentioned this before to the cemetery Administration. One final area is burial benefits. Can you talk to us about what it is that the 2023 budget has sort of flagged for the burial benefits context?
Bethany: Yeah, so the proposed budget for 2023 requested $430 million for the VA in the National Cemetery Administration in order to meet veterans' emerging burial and memorial needs. The planned money would fund the operation of 158 national cemeteries and 34 other cemeterial installations and also provide for their maintenance as national shrines.
This money would also fund the cost of administrating seven related programs. Of those programs are the Veterans Cemetery Grant Program; Headstone, Marker, and Medallion Program; Presidential Memorial Certificate Program; First Notice of Death Program; the Casket and Urn Reimbursements; and Outer Burial Receptacle Reimbursements. And beginning in 2023, it would also fund cremation urns and commemorative plaques. So, that $430 million, VA's goal with that budget, is to provide 95% of veterans with access to a burial option within 75 miles of their home. So, that would be a big deal if VA could make it happen.
Maura: Excellent. Thank you both so much for all of this information. We hope that those of you who are tuning in found this information helpful. Feel free to compare and contrast, if you're really into this sort of thing, the past budget allocations and this year's.
Again, this is just a proposal but I think we've all noticed some really important initiatives that are on VA's plate for this coming year. I, at least, feel hopeful with what VA intends to accomplish. And we're really hoping that VA can accomplish the goals that it has stated. They're all really important and will affect a lot of veterans and their family members if the VA can get it together and make it work. So, we're really hopeful and we're rooting for them for sure.
Thank you again, Mike and Bethany, for contributing today. Again, everyone, thank you for tuning in. We hope you found this helpful. And definitely feel free to access our other videos and blog posts through our website at cck-law.com or through our YouTube channel to which you should definitely subscribe so that you don't miss these and other important updates in the future.
Thank you all.