FAQs
What Are Symptoms of Exposure to Military Burn Pits?
Following exposure to military burn pits, veterans often experience serious symptoms and detrimental health problems.  Furthermore, exposure may lead to fatal diseases such as various types of cancer and respiratory conditions.
What is a Burn Pit?
Open-air burn pits are large areas of land that were used as a means of waste disposal on American bases in Iraq, Afghanistan, and Djibouti after September 11, 2001.  Wastes, such as plastics, medical waste, rubber, human waste, and more, were burned in these pits, releasing toxic fumes and harmful chemicals into the atmosphere.
As such, many veterans of Operation Enduring Freedom (OEF) and Operation Iraqi Freedom (OIF) have since developed serious health conditions from these hazardous exposures.
Health Hazards of Burn Pits
Joint Base Balad in Iraq was home to a massive burn pit that spanned over ten acres.  The Department of Defense sampled air from this base and found particulate matter, polycyclic aromatic hydrocarbons, volatile organic compounds (VOCs), and toxic organic halogenated dioxins and furans.
All these substances can cause significant damage to the respiratory system, skin, central nervous system, and cardiovascular system.  More specifically, chronic respiratory conditions have been associated with exposure to particulate matter.  Many forms of cancer have also been linked to dioxins.
The main dioxin released by burn pits is TCDD, also one of the major toxins in Agent Orange.  TCDD has been linked to cancer and other serious illnesses.
Does VA Presume Service Connection for Burn Pit Exposure?
While VA has established presumptive service connection for some conditions caused by Agent Orange exposure, there is currently no presumptive service connection for conditions linked to military burn pits.
Presumptive service connection, in the case of Agent Orange, essentially means that the veteran does not need to prove a connection between the in-service event and their condition..  The veteran need only provide evidence that they have a disability on VA's list of conditions associated with Agent Orange and that they served in one of the time periods and locations during which VA has acknowledged Agent Orange exposure occurred.
Since there is no presumption for military burn pit cases, VA adjudicates these claims on a case-by-case basis.
Common Items Incinerated in Burn Pits:
Human waste
Medical waste
Plastics
Paint
Rubber
Wood
Aluminum cans
Rotten food
Petroleum
Lubricants
Toxic chemicals
Styrofoam
Ammunition
Unexploded ordnances
This list, however, is not exhaustive and more items and materials may have been incinerated in military burn pits.
Military burn pits create large fires which can send thick billows of black, rancid smoke into the air.  The wind can then carry this smoke for miles in all directions.  As a result, more people are impacted by the toxic fumes than just those in the immediate vicinity of the burn pit.
U.S. Department of Labor Ruling
In February 2018, a judge with the U.S. Department of Labor ruled that exposure to open-air burn pits was linked to the development of the plaintiff's lung disease.
While this decision could help support some veterans' cases, it is not binding to the Department of Veterans Affairs.
Common Symptoms and Conditions Related to Burn Pit Exposure
The burning of hazardous materials and chemicals in open-air pits emits toxic substances and carcinogens that can cause a host of diseases, some severe and even deadly.
If you suffer from any of the health conditions below following burn pit exposure while in the military, you could be eligible for VA disability compensation:
Asthma diagnosed after service
Head cancer (of any type)
Neck cancer (of any type)
Respiratory cancer (of any type)
Gastrointestinal cancer (of any type)
Reproductive cancer (of any type)
Lymphoma cancer (of any type)
Lymphomatic cancer (of any type)
Kidney cancer
Brain cancer
Melanoma
Pancreatic cancer
Chronic bronchitis
COPD
Constrictive bronchiolitis or obliterative bronchiolitis
Emphysema
Granulomatous disease
Interstitial lung disease
Pleuritis
Pulmonary fibrosis
Sarcoidosis
Chronic sinusitis
Chronic rhinitis
Glioblastoma
This list is not exhaustive, so if you have been diagnosed with a different condition that you believe is linked to burn pit exposure but does not appear above, you could still be eligible for VA disability compensation.  Many of the conditions overlap with the presumptive conditions related to Agent Orange exposure, however, VA does not yet recognize presumptive service connection for conditions stemming from military burn pit exposure.
Respiratory Issues and Burn Pits
Smoke from military burn pits can have both short- and long-term health effects on those exposed.  Specifically, exposure can affect a person's lung health.  Some immediate effects of burn pit exposure can include coughing, throat discomfort, or difficulty breathing.
Smoke can be particularly problematic when it spreads through the desert air, which is often already full of allergens and pollutants.  The combination of these factors can pose a substantial risk, especially for someone who may be predisposed to asthma or other lung conditions.
Many of the immediate effects of burn pits do subside once the person is able to breathe clean air again.  However, harmful toxins may continue to linger in the person's lungs long after exposure to the burn pit has ceased.
A 2011 report from the Institute of Medicine (IOM) indicated that veterans exposed to burn pits in Iraq and Afghanistan experienced lasting reduced lung function.  However, the report acknowledges that evidence is limited.
VA and Burn Pits
Even as accumulating evidence strongly suggests a direct link between burn pit exposure and serious chronic illnesses, VA has been slow to acknowledge such a connection.  As a result, veterans seeking VA disability benefits for a health problem related to burn pit exposure may face an uphill battle.
Our team of veterans disability attorneys can work to gather the most compelling evidence to prove to VA that your exposure to burn pits caused your current disability.  This may include expert medical opinions and the latest medical research.
Legislation and Research Regarding Effects of Burn Pits
The Veterans Burn Pits Exposure Recognition Act of 2020, introduced on November 21, 2019, could help veterans more easily establish service connection for burn pit exposure if passed.  The bill intends to amend Title 38 and would remove unnecessary obstacles during VA's claims process.
While VA does not currently recognize burn pit-related health conditions as presumptive, it does have a registry.  Eligible veterans can fill out a questionnaire for The Airborne Hazards and Open Burn Pit Registry to help VA better understand the long-term effects of burn pit exposures.
Veterans may also complete a burn pit registry questionnaire and an optional health evaluation at a VA medical facility.  This health evaluation is a free benefit to which veterans are entitled.  This exam is not a Compensation & Pension (C&P) exam and is not required to receive VA benefits.  However, both the health exam and the burn pit registry questionnaire may be used to support the veteran's claim.
Additionally, VA notes that the evaluation will be used to support research examining the effects of airborne hazards.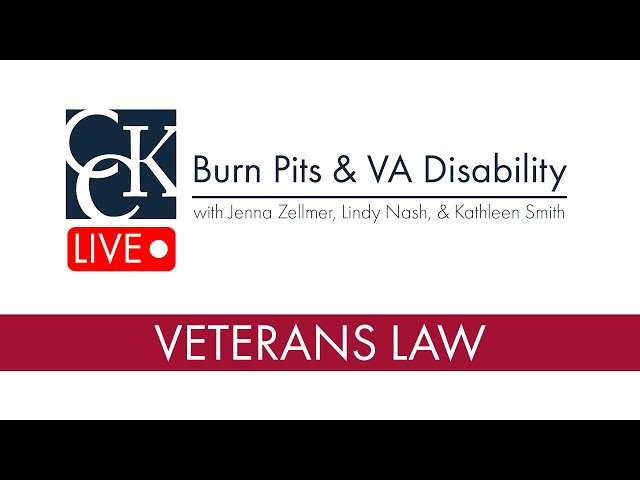 Fighting for VA Disability Benefits for Burn Pit Exposure
To secure VA disability compensation for a burn pit health problem, we must show three things to VA:
A current diagnosis of a disabling condition;
Evidence of an in-service injury, illness, or event (such as burn pit exposure); and
A nexus, or link, between the current diagnosis and the in-service occurrence.
Diagnosis of a Disabling Condition
If you have a diagnosis of a disabling condition you believe to be caused by burn pit exposure, you already have the first thing you need to start the process of pursuing benefits from VA.  Medical evidence, including diagnoses, lab reports, and doctors' statements, will help build your claim.
Establishing Service Connection
In most cases, you must prove that your disabling condition is directly related to your military service to receive VA disability.  For burn pit cases, you must prove that your exposure was at least as likely as not to have caused your disability.  As previously mentioned, this can be challenging as VA has not yet definitively acknowledged the health hazards posed by burn pits.
Call Chisholm Chisholm & Kilpatrick LTD Today for a Free Case Evaluation
The team of experienced attorneys and advocates at Chisholm Chisholm & Kilpatrick LTD has the knowledge and resources to fight for the benefits you deserve.  Call 800-544-9144 today for a free case evaluation.